Can Darren Clarke get the better of Davis Love III at 2016 Ryder Cup?

By Iain Carter
BBC golf correspondent
Last updated on .From the section Golf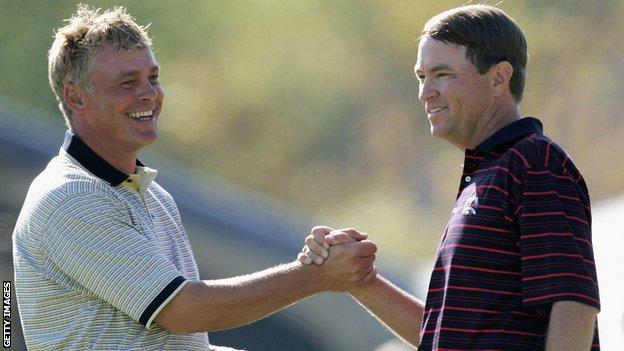 Darren Clarke and Davis Love III closed out a dramatic half point and then shared cigars, puffing away in a spirit of great friendship.
Fast-forward six years to Celtic Manor and these regular practice partners were opposing vice-captains, with Clarke telling Love they should make sure any future reigns as skipper should coincide as well.
That prospect seemed dashed when Love took charge of the United States effort at Medinah in 2012, with Clarke assisting Europe skipper Jose Maria Olazabal.
However, the continent's continued domination of the Ryder Cup, winning eight of the last 10, has prompted the USA's radical rethink.
So how ahead of Hazeltine in 2016, how do the new skippers compare?
Pedigree
Clarke's credentials are impeccable. He played five Ryder Cups and was on the winning team on four occasions with a 57.5% win ratio. Furthermore, he has twice been a vice-captain and on each occasion - 2010 and 2012 - was on the winning side. His stirring display in 2006 at the K Club just weeks after the death of his wife, Heather, inspired a record-equalling victory. He deserves a place in Ryder Cup folklore. 9/10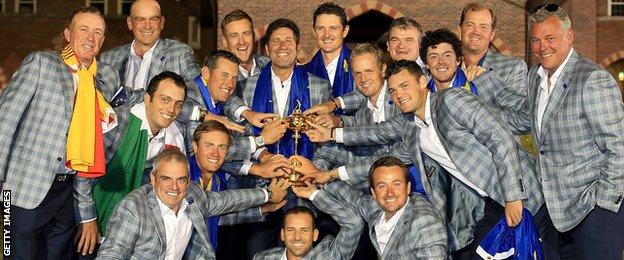 Love was a mainstay of the US team from 1993 until 2004. He made a winning debut at the Belfry, losing two out of three matches with Tom Kite but winning a tight and highly significant singles against Costantino Rocca. In his only other victory as a player, he was unbeaten at Brookline in 1999. A losing vice-captain at Celtic Manor, he was the man in charge of the 'Medinah Meltdown', when the US surrendered a 10-4 lead to lose 14½-13½. 7/10
Passion
Clarke is the only player to instigate an interview ban against me. While it was hard to agree with his move, the sentiments behind it tell you everything. Clarke was outraged that Europe's 2006 side wasn't voted Sports Personality Team of the Year by BBC Radio 5 live listeners. He's subsequently softened his position - winning the 2011 Open Championship helped - but no-one can doubt the 46-year-old's passion for the Ryder Cup, which has been a driving force throughout his entire career. 9/10
Love is a different character. More diplomatic and less likely to rock the boat, he is the type of chap liked by the PGA of America. But don't let that detract from a fiercely competitive streak that can only be fuelled by his last two Ryder Cup experiences. As Corey Pavin's assistant in Wales, he saw the Americans lose by a single point. The margin of defeat was the same at Medinah. 9/10
Handling pressure
This could be the one question mark over Clarke's captaincy. He is an intuitive competitor, hard working and passionate. When he won the Open in 2011, he was enveloped in an air of serenity, having arrived at Royal St George's raging at an inability to putt. Finding that sense of calm will not be easy in the cauldron of the Ryder Cup, especially if things start to go wrong. Maintaining his cool in the media room will be another challenge, although he has matured greatly and possesses plenty of experience in this regard. 7/10

Love also faces a tough challenge. As a returning captain who lost so dramatically last time he was in charge, the American will be under intense pressure. The new US set-up he is spearheading will also come under intense scrutiny. But he knows what to expect and has vowed to learn from the mistakes at Medinah. Love is a cool-headed thinker who is less likely to fall victim to the errors of his last captaincy. 8/10
Tactical acumen
Look at how brilliantly Clarke worked out the winning formula to land his first major. He is very sharp in this regard and his wealth of Ryder Cup experience cannot be underestimated. Having said that, he was part of a management structure that saw Europe lose three of the four sessions at Celtic Manor and slump to that six-point deficit at Medinah. His choice of vice-captains will be significant. 8/10
Love admits he made mistakes at Medinah, particularly with the location of the flag on the pivotal par-three 17th. It didn't do his team any favours. However, his pairings were largely outstanding and earned a four-point cushion going into the final day. He should have learned better time-management skills and have a better idea of how to put his players in the best frame of mind throughout the three days of competition. 8/10
Ability to inspire
Having been backed by all of Europe's big guns, Clarke is off to a flier in this regard. With the likes of Rory McIlroy, Justin Rose, Graeme McDowell and Lee Westwood behind him, Clarke carries great authority into the role. He will be shrewd - and the players will like that. Having fallen victim to poor man-management on his debut under Seve Ballesteros in 1997, Clarke should possess the sensitivity to get the best from all of his players. 9/10
Love's job is to harness the potential of the young American stars like Jordan Spieth, Rickie Fowler and Patrick Reed. He has to be ruthless with the old guard and cannot waste captain's picks on undeserving players. If that means ignoring the claims of a Tiger Woods, Phil Mickelson or Jim Furyk, so be it. This will be his biggest test because the wrong calls would undermine a new qualifying system that looks better suited to serving the American cause. 8/10
Totals: Clarke 42/50; Love 40/50