Padraig Harrington: Hard work - and putting in the dark - paid off

By Iain Carter
BBC golf correspondent
Last updated on .From the section Golf75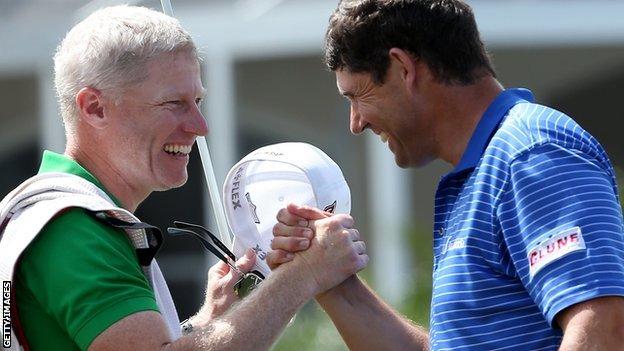 Every top golfer will tell you success is the product of sheer hard work. There is, of course, inherent talent but that only carries its true value when backed up by relentless practice and application.
Few players demonstrate this maxim better than Padraig Harrington, who returned to the winner's circle on the PGA Tour for the first time in 2,395 days with his play-off victory in the Honda Classic.
We have missed that penetrating look from his scarily dark eyes over the past seven years. The burning intensity was back at the PGA National as he sealed a tortuous victory, his first in the genuine big league since the final major of 2008.
That victory in the PGA Championship at Oakland Hills was his third major title. The 43-year-old's golfing life has been a struggle since, and he came into the Honda event ranked a lowly 297 in the world.
It looked as though the Irishman had blown his chance when a poor start to his final round on Sunday left him four strokes behind leader Ian Poulter with 11 holes to play on the resumption.
But as Poulter capitulated, Harrington relished the chance to chase; a pursuit aided by his exceptional work ethic.
Padraig Harrington facts

Born:

31 August 1971

Turned pro:

1995

Height:

1.86 m (6ft 1in);

Weight:

83 kg (183 lb)

Major championship wins:

The Open (2007 & 2008) PGA Championship (2008)

Nationality:

Irish

Wins by Tour:

European (14), PGA (6), Asian (4), Japan (1), Other (10)
The tournament had been exhausting because of a string of weather delays. But that didn't stop Harrington pounding away on the range or, as was the case on Sunday night, refining his routine in the twilight on the putting green.
"I practised my putting last night until about 7 o'clock - in the dark," said Harrington after a hugely popular victory.
"And I got something going again."
It gave huge confidence to a man whose career looked ruined by the yips in 2012.
"If I had a 10-foot putt to win, actually a 15-footer as it turned out, I wouldn't want anyone else to putt it," he said.
Harrington sunk his clutch 15-footer for birdie at the last to force his way into a play-off with 21-year-old Daniel Berger. That after double bogeying his 71st hole after a horrible five iron into the water.
Yet at that same par-three on the second hole of sudden death, the Dubliner attempted the same three-quarter swing with the same club. This time he nailed it to four feet.
It was the best tee shot of the final round on that treacherous hole and forced his young opponent into an errant response that found the water.
Harrington ultimately reaped the rewards for all the hard and idiosyncratic work that he does. Last week he was hitting balls walking into them 'Happy Gilmore' style with an elastic band looped around his knees.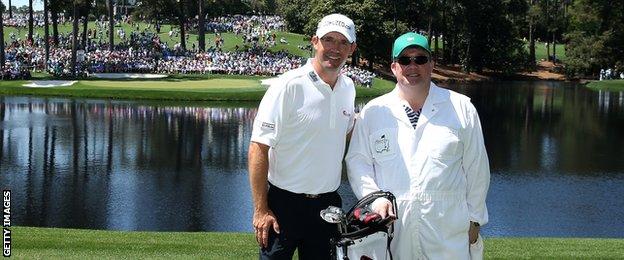 His golf ball is peppered with dots that make it resemble a football, his putter grip is thickened and tapered to assist his left-hand-below-right grip.
The tinkerer's list no doubt goes on for a man who is prepared to try all sorts of methods to find a winning formula. And having now added this win to victory in Indonesia at the end of last year, he must feel it has been more than worthwhile.
"Obviously a lot of things are being said about what this means," Harrington said. "The one thing you learn is you don't win as often as you think.
"When you win, make sure you enjoy it."
He certainly will come April, when he will return to the Masters having missed the first major of last year because he had fallen so far down the rankings.
"I just got very intolerant of my mental game, my focus. It was never swing-related, all focus-related and I just got frustrated with it," he said.
Harrington fought his way through some very dark days before becoming the oldest winner of a tournament that put together the strongest field of the year to date.
But it wasn't enough to earn him a place in the year's first World Golf Championships event at Doral this week.
So, while the world's best fight it out at the next Florida stop, Harrington can give himself a deserved break, and reflect on a massive step forward that returns him to the world's top 100.
Somehow, though, it is hard to see him approaching it that way.