Masters 2015: Can Rory McIlroy find form worthy of a green jacket?

By Iain Carter
BBC golf correspondent
Last updated on .From the section Golf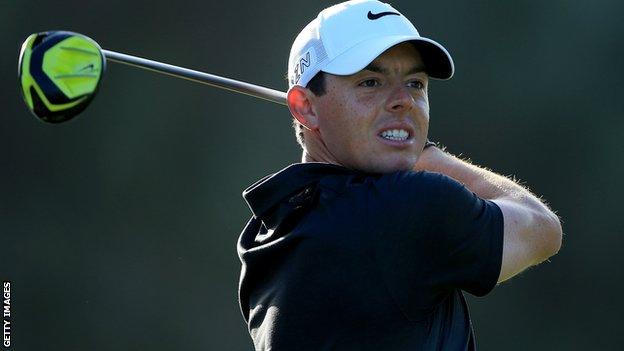 Rory McIlroy knows there is much to be done ahead of the Masters if he is to complete the career grand slam next month.
Since arriving in the US the world number one's swing has been blown out of kilter. Now serious work begins to try to find the accuracy required for the year's first major.
And we learned from what proved an unpopular Trump National course that McIlroy is likely to need his very best form to land a first Masters green jacket.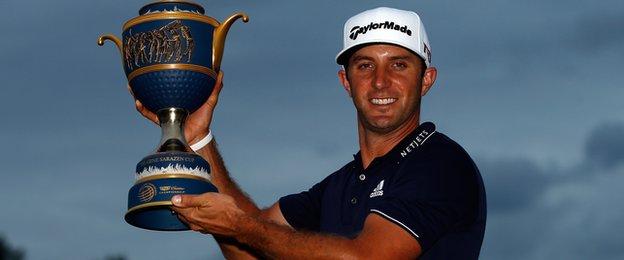 Despite several players complaining the newly rebuilt layout was an unfair test, it did identify several potential Augusta challengers.
Dustin Johnson looks a new man following his six month "leave of absence". He has recently become a father for the first time but his rededication to the game was more than evident in a victory earned with golf of the utmost maturity.
Johnson's big hitting game and sure touch around the greens should make him a Masters contender for many years to come. Whether he yet possesses the exquisite finesse required at Augusta, though, remains to be seen.
There are no such qualms surrounding Bubba Watson who will be defending his green jacket next month. The two-times Masters champion has been runner-up at Doral in each of the years he has won at Augusta.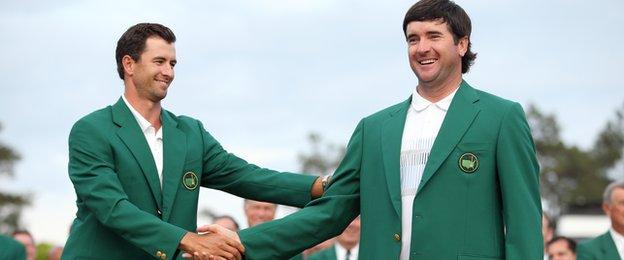 At Doral the left hander finished third and again showed his game is in fine order. He too can boast a more mature attitude in the recent wake of becoming a father for the second time.
Continuing the paternal theme, Adam Scott - whose 2013 Augusta victory was sandwiched by Watson's two triumphs - made an impressive return to action after a 12-week absence. The Aussie has also just become a father for the first time.
More relevant was his assured putting display having ditched the broomhandle implement that helped land his only major to date. Using the claw grip on a conventional model he demonstrated a solid touch on the Blue Monster greens.
But McIlroy remains the main focus. This is illustrated by the fact that his three iron hurled into the lake during his second round was the most talked about incident despite a plethora of storylines at Doral.
Certainly Donald Trump saw it as his best vehicle to gain yet more publicity, making sure the TV cameras were rolling as he presented the player with the errant club after it had been rescued by a scuba diver.
McIlroy escaped scathing criticism for his fit of pique because he has a plentiful supply of credit in his PR bank.
Social media was inundated with images of the incident. Most fans were amused but some questioned whether someone like Tiger Woods would have escaped so lightly.
McIlroy on throwing clubs
"It felt good at the time but now I regret it. Frustration got the better of me.
"Following on from last week, I feel like it's very close and to hit shots like that you get frustrated, but I shouldn't have done what I did."
This question was also posed by popular American blogger Geoff Shackelford and in his online poll 84% of those who voted said the former world number one would have been lambasted.
I suspect they are correct but rewind to when Woods was a 25-year-old taking the game by storm (as is the case with McIlroy now) and there would surely have been a more sympathetic response from media and fans.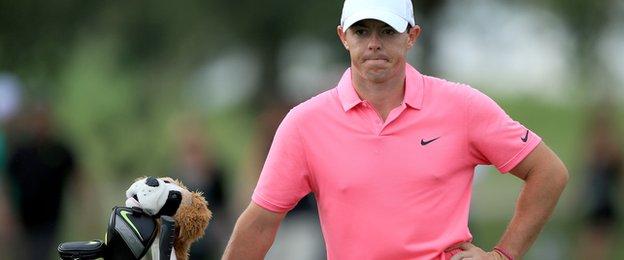 Of more significance to McIlroy is the stroke that prompted his uncharacteristic display of temper. It was a shot that started left and continued in that direction.
This is the miss that he is seeking to rectify ahead of the Masters. A draw is ideal for Augusta and this should play into McIlroy's hands as it is his natural ball flight.
However finding such a shot to hold against a left-to-right breeze is proving problematic at the moment.
When he was contending in Abu Dhabi and winning Dubai at the start of the year there was little breeze. This has not been the case in Florida over the last fortnight.
As McIlroy dumped two balls in the water on the final hole at Doral, his caddie JP Fitzgerald joked that they had left their game in the desert.
Tellingly McIlroy said: "I guess the wind over the last couple of weeks has just exposed a couple of things I need to work on. So in that regard it's not been a bad thing.
Previous Green Jacket winners

Tiger Woods (1997, 2001, 2002, 2005)

Phil Mickelson (2004, 2006, 2010)

Angel Cabrera (2009)

Charl Schwartzel (2011)

Adam Scott (2013)

Bubba Watson (2012, 2014)
"There wasn't much wind in Abu Dhabi and Dubai and I could sort of get away with it a little bit. You need to control your ball flight better in conditions like this.
"The last couple of weeks I haven't done that."
So he heads for the range to try to rectify the faults that have undermined his efforts on the PGA Tour so far this year. The encouraging thing is that he still managed to finish in a share of ninth place at Doral.
Amid the bashing of balls McIlroy will spend some time at Augusta but this will be as much for social golf with friends and family as anything else.
He will find a course playing much slower than when the world's best arrive for the Masters, although it will still be a useful exercise in reacquainting himself with the place.
He will compete at Bay Hill the week after next. It is a course that will provide a thorough examination and the wind is likely to blow.
His performance there will tell us how much progress has been made on the range.
Regardless of how he does in Orlando, McIlroy is assured of arriving in Georgia as the short odds favourite for the one major he has yet to win.
Right now the pressure to rediscover a game to justify that billing is starting to grow.