Marc Warren: Masters invitation would crown great start to 2015

By Kenny Crawford
BBC Sport Scotland
Last updated on .From the section Golf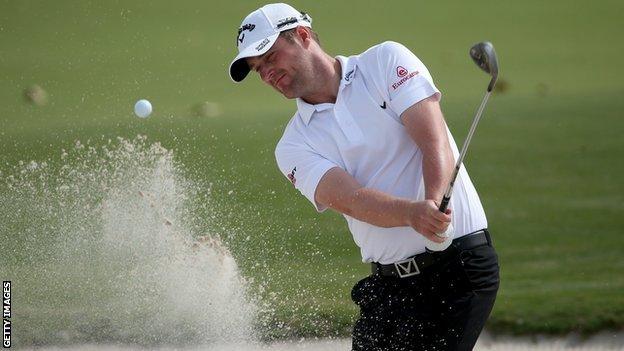 Marc Warren is excited about the prospect of a first invite to the Masters but says recent steady form pleases him more.
The Scot, currently ranked 52nd, must be in the world's top 50 by the end of this week's Valero Texas Open to make Augusta on 9 April.
"From the middle of last year I've been as consistent as I've ever been," Warren told BBC Scotland.
"I just want to go and perform well in Texas and feature on the leaderboard."
World number 38 Stephen Gallacher, 1988 winner Sandy Lyle and top amateur Bradley Neil are Scottish golfers already on Masters invitation list this year.
The prized Masters invite
"There's a letter which looks pretty cool - I've seen Paul Lawrie's and Stephen Gallacher's before. It would be nice, at one stage, to get some of those and get them framed up."
Warren has three European Tour titles to his name, the most recent of which came at the Made In Denmark tournament last August.
At the end of 2014, the 33-year-old was placed at 69th in the world and strong finishes at the Qatar Open (2nd), Malaysian Open (9th) and WGC Cadillac Championship (17th) have nudged him up the rankings.
Finishing in the top 20 in San Antonio might well be enough to make the Masters, but the Scot feels it would "not do him any good" to try and work out the permutations.
"Once you get close to the top 50 it can play on your mind a little bit," said Warren.
"But it's been a big positive for me that it hasn't been on my mind. I've just kept doing what I'm doing.
"Fortunately the people at the Valero Texas Open have given me an invite for this week, which gives me a great opportunity to get into the Masters.
"But this event in Texas is a massive event in its own right, so to be brutally honest, my focus is all on that at the minute. The Masters is always going to be there next year, so if I get in or not, it's not the be all and end all at such an early stage of the season."

Talking technique
"When I play shots my swing thought is verbalised - actually saying to myself what I want to do. It keeps me more aware of the situation, instead of gliding along not fully concentrated."
The presence of Warren's wife and young son, where possible, during long stints abroad are helping keep "a sense of normality" on tour.
It is just one factor that has helped him cross the bridge of being a player who peaks occasionally, to one performing at high level on a regular basis.
"My finishes have all been there or thereabouts," said Warren, winner of the Scandinavian Masters in 2006 and the Johnnie Walker Championship in 2007.
"At weekends, if I'm not doing that great, I'm tending to have a good third round or last round to get myself up the leaderboard.
"That's something that was definitely missing from my game the first few years on tour. When I was hot, it was great, I could win tournaments, but the off-weeks were missed cuts.
"You can't get top 50, or anywhere near top 50 without playing at a high level consistently."