Masters 2015: Stephen Gallacher excited by Augusta National return
Last updated on .From the section Golf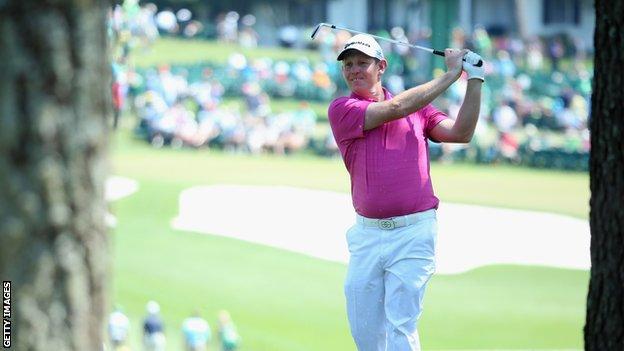 Stephen Gallacher is relishing the chance to experience the Masters again next month, having enjoyed his first taste of Augusta National last year.
The Scot made the cut in a tie for 10th place on his debut, finishing the tournament joint 34th on six over par.
"You hear stories from the guys about what it's like and when you get there it's actually better than you think it's going to be," said Gallacher.
"It's so good, the best event I've played in, outside of the Ryder Cup."
The 40-year-from West Lothian opened with rounds of 71 and 72 last year and recovered with a final-day 70 after a ragged 81 derailed his challenge on the Saturday.
"The course suited my eye but you can't be complacent," he told BBC Radio Scotland.
"I had three rounds of par or better then chucked in an 80 out of the blue - that was three double bogeys in a row - 10, 11, 12 - from the fairway.
"If you take your eye off the ball at all, it can eat you up. It's a very strategic course - it's all about angles.
"You can't over-hype the place enough. There's not a blade of grass out of place.
"I waited until I was 39 and I couldn't wait to get there. It was the only major I hadn't played in.
"As a kid growing up, it was always 'this putt is to win the Masters'.
"It's utterly unique. They do things no other place would ever dream of but they do it with subtlety.
"I've got great memories of last year. Playing the par three event before the tournament. I was fortunate; my son and daughter carried my bag round - that was special.
"Driving up the lane [Magnolia Lane] after you get through the gates. I thought it was huge but it's only a couple of hundred yards long, even doing that gets the goose bumps up."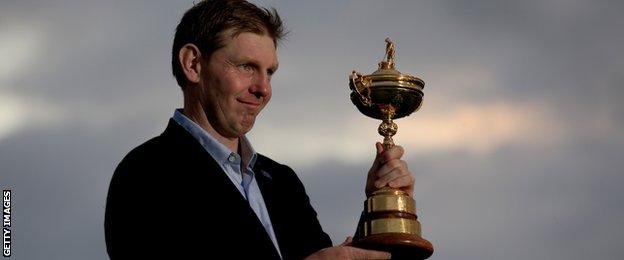 Having also made his Ryder Cup debut last year in the winning team at Gleneagles, Gallacher is currently ranked 38th in the world.
"It's a two-year cycle and staying there [in the top 50] is all about consistency," he said.
"If you know you are going to be in the majors, you can plan the year and find the right formula to bring out your best. That's the biggest help.
"When you are in the top 50, you feel like you belong at these tournaments."
Gallacher, who describes himself as a "late bloomer", also fared well in the Open last year, finishing in a tie for 15th at Royal Liverpool, and believes he can contend for one of the sport's most coveted prizes.
"Making the Ryder Cup was a massive thing for me psychologically. It's given me the desire to make the next one.
"It's all about the preparation. If you prepare properly and get a bit of luck, who knows?"