Masters 2015: Bubba Watson feels ready for a third Augusta challenge

By Iain Carter
BBC golf correspondent
Last updated on .From the section Golf188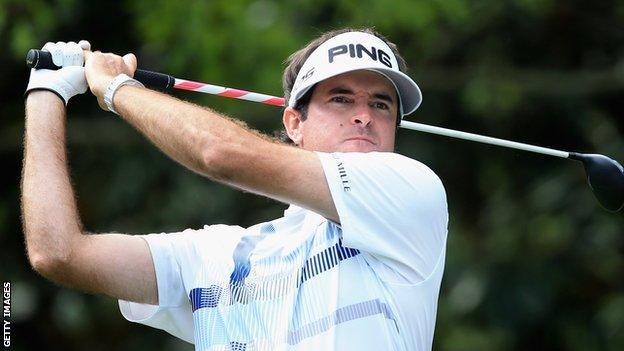 Bubba Watson started winning majors at an age when many of golf's greatest names had already finished collecting their biggest titles.
Perhaps the man who defends his second Masters title next week offers some hope to Tiger Woods while he contemplates his new ranking outside the world's top 100.
As concern grows over Woods's golfing future, historians point to strong evidence suggesting the 39-year-old's days as a major winner may be behind him.
Tom Watson, Seve Ballesteros, Gene Sarazen, Arnold Palmer and Walter Hagen all won their last majors in their early thirties. Sir Nick Faldo, at 38, was younger than Woods is when he collected the last of his six majors in 1996.
Recent Green Jacket winners

Tiger Woods (1997, 2001, 2002, 2005)

Phil Mickelson (2004, 2006, 2010)

Angel Cabrera (2009)

Charl Schwartzel (2011)

Adam Scott (2013)

Bubba Watson (2012, 2014)
That was the year Woods started winning on the PGA Tour and first climbed into the world's top 100, where he spent a cumulative 13 years as world number one.
Woods was 32 when he won his 14th and most recent major seven years ago.
Bubba Watson, meanwhile, is finding life in his mid-thirties rather to his liking. He will go into his Green Jacket defence as the third-best player on the planet.
The 36-year-old collected his first Masters in 2012 and, after overcoming the youthful Jordan Spieth 12 months ago, looks well equipped to win again.
By his own admission, Watson's first Augusta defence was hampered by the debilitating attention generated through being the reigning champion.
"In 2013 I was a newcomer," he said. "I was still trying to find my feet. I was still trying to figure out, somehow, I'm Masters champion.
"Showed up at the Champions Dinner for the first time, and I was the honorary guy there; I'm the guy that had to pay the bill for the dinner. I had to sit at the head of the table.
"Media attention is different because you're defending champ. It's just a lot of things went on and I'm not making that as an excuse in my bad play, but I still made the cut."
Watson finished 50th in his first Masters defence. He was tetchy and stressed throughout the week and there was a palpable contrast in his mood a year later.
He seemed inspired by the inception of Augusta's Drive, Chip and Putt initiative that, for the first time, brought youngsters to the club's range on the Sunday before the Masters began.
Watson warmly embraced the idea before compiling rounds of 69, 68, 74 and 69 to provide the sixth left-handed Masters win since Mike Weir started the southpaw trend in 2003.
This year's defending champion plays an instinctive brand of golf. Self-taught, he relies on his ability to shape the ball at will.
And Augusta lends itself to this exciting form of the game. The absence of rough, and low-hanging branches on sky-scraper pines, allows for shot-making skills to come to the fore.
It's a lesson that should be learned by too many courses that rely on heavy rough. They produce one-dimensional golf where creativity is stifled and hacking the ball forward is the only option.
Watson, though, conjured a brilliantly bent wedge from the trees on the 10th to win his 2012 play-off against Louis Oosthuizen.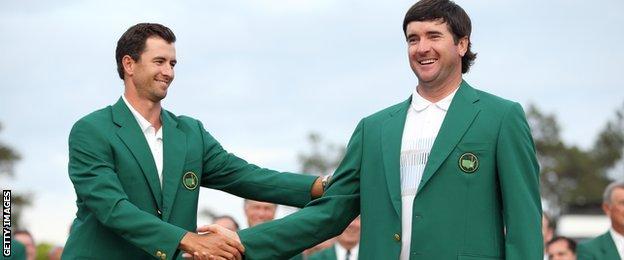 Last year there was the 370-yard drive at the 13th that clipped trees thinned by an ice storm, his ball coming to rest just 140 yards from the famous par-five's pin.
"As soon as I hit it, I was like, 'Oh, man,'" he said. "I have to wait to see what the crowd's reaction is, because we can't see it when it goes over the trees. And when they cheered, obviously I knew it was going to be pretty good."
Spieth was watching from the tee and thought the drive was heading out of bounds.
He recalled: "I know he thought he hit it too far left. So I was thinking, 'hit the green here, make a four and he makes six, I'm right back tied for the lead'."
As it turned out, Watson had a sand wedge approach which set up a routine birdie that took him three clear heading down the closing stretch of holes.
And so he returns to Augusta next week as defending champion. Watson says he has grown in maturity having adopted a second child, a daughter called Dakota.
He chose the name, deliberately opting for one beginning with a D. With a wife called Angie and a son named Caleb, the family's Christian names go A-B-C-D.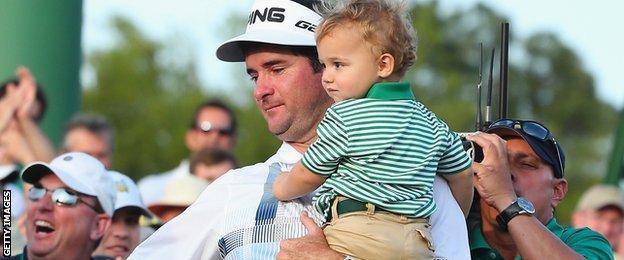 Figuring out Augusta in Masters week is a little more complex than the run of the alphabet, but Watson feels ready to deal with the demands that await him.
"I know my routine, I know what I want to do and I know what I need to do," he said. "And now I know what the Champions Dinner is all about and now I know what the head of the table feels like.
"Hopefully just knowing that I'm not as nervous, not as skittish, not as anxious to get to see all these great champions in this Champions Dinner.
"So hopefully this time I perform a little bit better and hopefully everything works out on Sunday and I have a chance to win."
It is the perspective of a more mature golfer, who aged 36 is at the height of his powers.