Masters 2015: Rory McIlroy ready to make history

By Stephen Watson
BBC Sport Northern Ireland
Last updated on .From the section Golf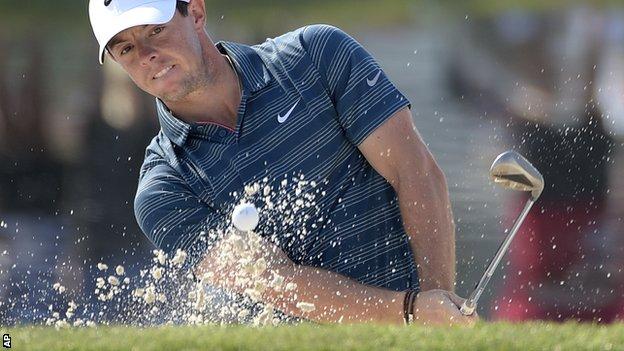 Rory McIlroy says as long as he wins the Masters by the time he is 60 he will be happy, but I don't think he will have to wait that long to fulfil his life-long dream.
The 25-year-old from Holywood has been talking about slipping on a famous Green Jacket since he started playing golf as a child.
In an interview with BBC Northern Ireland when he was just eight years old, Rory boldly predicted he would win all four majors during his career. Big talk in 1998 from a talented little golfer - but now Rory is on the verge of making it all come true.
Recently when I reminded him about that interview he said even thinking about it gave him goose bumps.
Rory is on the verge of something special. Victory at Augusta would be his third successive major victory, and he would become just the sixth player in history to complete the coveted career Grand Slam. He would also be the first European player to achieve that feat and the first Irish golfer to be crowned a Masters champion.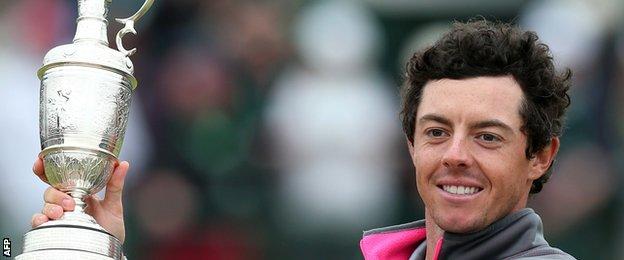 The world's number one player has been asked questions about the Masters since winning the USPGA Championship at Valhalla last August. It was his second major win in a row after lifting the Claret Jug for his Open triumph at Royal Liverpool a few weeks before. Added to his US Open title of 2011, the stage was set for a shot at the slam.
When we sat down recently to look ahead to Augusta, Rory could have been forgiven for sounding a little weary with all the Masters chat. He'd had seven months of it, but he was completely the opposite.
He talked passionately about embracing the hand of history on his shoulder, dealing with the pressure of attempting to put his name in the golfing record books, and the challenge of winning three of golf's major titles back to back to back.
And, as I have always found him, he was brutally honest. Rory described the Masters experience in 2011 when he blew a four shot final round lead, as the most important day of his career so far.
It was, he told me, a learning curve he will never forget. He was also able to poke fun at himself about that day. "Don't hit driver at 10" he laughed as he told me what Rory of today would say to Rory back then.
The 10th hole was where Rory's challenge unravelled that year as his wayward ball found itself near the renowned Augusta cabins.
But Rory also reminded me that it didn't take him long to bounce back, as just a few weeks later he secured his first major title, the US Open at Congressional. He has always been mentally tough. How impressive was last season when he won two majors, a world golf championship, the flagship PGA event on the European Tour, the Race to Dubai and the Ryder Cup with everything that was going on off the course?
I am sure it is a lot easier not to be scarred by what happened at Augusta four years ago when you have four major titles on the mantelpiece, but Rory has unfinished business at the holy grail of golf.
The scale of what lies in store is immense, but he certainly seems to be taking it all in his stride. Whether he wins it this year, next year or sometime in the future doesn't really seem to matter to him. Rory has the inner belief that it'll happen at some point, and since everything else he's predicted has come to pass he's allowed to sound confident.
During our chat we also reminisced about Rory's first visit to Augusta which, not by coincidence, was the same year as mine. I was there to report on his debut in the event. I was pleasantly surprised to hear that he was as overwhelmed by the venue as me back in 2009.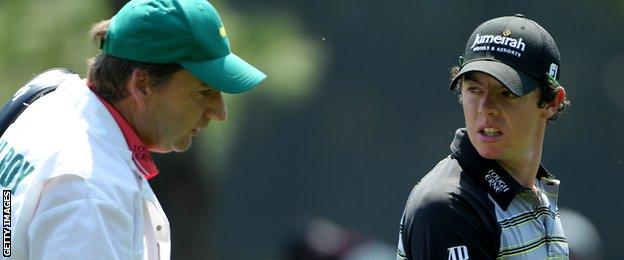 Augusta is a unique, exclusive place. No phones, no running, no lying down, no bare feet - the rules for spectators and golfers are strict. Rory admitted it took him a few years to feel at home. He worried about even taking a divot from the manicured fairways!
Tied for eighth place is his best Masters finish - that was last year after six attempts. But Rory told me he now feels ready to deal with the huge demands that await him.
That's why I'm backing Rory McIlroy for a Green Jacket next week to complete what would, in my opinion, be Northern Ireland's greatest ever sporting achievement.
A programme on Northern Ireland's Major Champions will be shown on BBC2 Northern Ireland on Wednesday, 8 April at 19:00 BST.
You can listen to coverage of the Masters on Radio 5 live and 5 live sports extra; watch live coverage of the final two rounds on BBC One, BBC Two and BBC Red Button and highlights of rounds on Friday; and follow live updates on BBC Sport Online from 9-12 April.