Masters 2015: Bradley Neil feels ready for Masters test
Last updated on .From the section Golf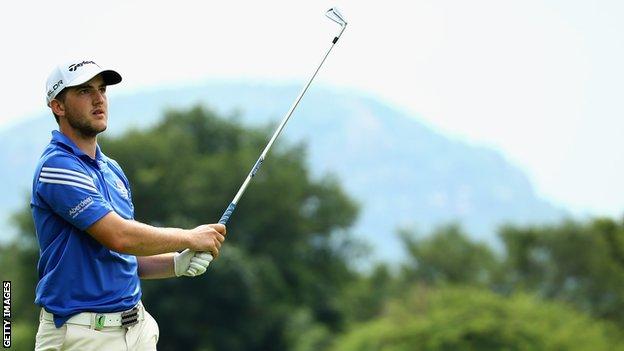 Bradley Neil is hoping a few practice rounds at Augusta National will have relieved him of first-time nerves when he makes his Masters debut this week.
The 19-year-old Scottish amateur played the famous course last week
"I got the whole wow factor - those first-time nerves and jitters out of the way," he told BBC Scotland.
"Now, when I go back, I know what I'm going back to and know what to expect. I'm not going to be surprised by anything."
Neil heads for Augusta having won the Amateur Championship but knows the size of his task as he seeks to become only the second British amateur to ever make the Masters cut after Peter McEvoy 40 years ago.
"It was a fantastic experience to go out there and see that for the first time and not just having to watch it on TV," he said.
"It's something that's going to stay with me for the rest of my life."
Neil insists he is also prepared for the culture shock of being in the worldwide spotlight having already experienced last year's Open Championship.
"From an amateur point of view, to see that many people, even just for a practice round, was a big surprise," he said.
"In amateur life, you just pitch up, there's nobody there to watch, you have the starter and you're on your way with your two playing partners.

"It is so different at professional tournaments and something you have to adapt to."
However, Neil is confident of his own ability to handle the pressure.
"I don't let many things faze me on the golf course," he said. "I'd like to think other people would say I've got a solid game, I do very well under pressure. I hole the putts when it matters and I'm fairly long off the tee as well and straight.
"I would like to leave the Masters having achieved the low amateur medal. I missed that at the Open - I had a chance. It was between me and three other guys.
"If that doesn't happen, to learn as much as I can and to finish as low as I can is the aim."
Neil will join Sandy Lyle, the veteran former Masters champion, and Stephen Gallacher as the only Scots to be competing at Augusta.
He admits that he has surprised himself by reaching the stage of preparing to turn professional at such an early age.
However, Neil insists that he feels no pressure at being touted as "the next big thing" from Scotland.
"A lot of people think, now they've got here, they've got to change if they want to get better," he said.
"But I've played a couple of tour events and I don't think I need to change anything. I just need to improve everything.
"That is a big mental side. To be confident enough to think your game is good enough if you keep improving week in, week out to make it on the tour."