Peter Alliss: Golf equality for women 'causing mayhem'
Last updated on .From the section Golf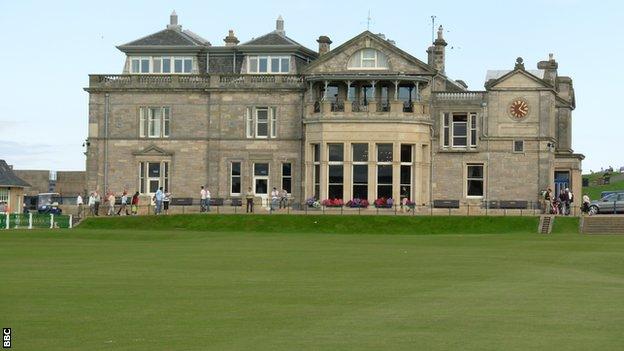 Veteran golf commentator Peter Alliss says women golfers have suffered from a drive for equality in the game.
"I'm told the Ladies Golf Union has lost 150,000 members since equality for women came in," said Alliss.
"Hundreds of women have left golf clubs because they've gone from paying half fare to full fare. It's caused mayhem."
Four-time major golf champion Dame Laura Davies said that time rather than financial pressures might be the reason for the fall in numbers.
She told BBC Radio 5 live: "Years ago maybe a lot of women did not go out to work, but now a lot of them earn their own money and I'm sure if they wanted to spend it on membership, it would not be a problem.
"I would say it is more likely to be a time thing."
Ladies' Golf Union finance director Sam Burton said membership numbers had fallen, but only by about 30,000 - from 189,000 to 159,000 - since 2010, when the introduction of the Equality Act made it illegal for clubs to offer discounted membership fees that restricted the times women could use courses.
Historic courses and female membership

In September, the Royal and Ancient voted to allow female members for the first time in its 260-year history

In January, Royal Troon said it would undertake a review of its membership policy

In March, Royal St George's ended its omission of women members after 128-years

Muirfield and Royal Troon remain the only two Open venues to not allow female members
"I wouldn't dream of joining a club where women had less rights than men, and neither would my friends," she said.
"I can't agree with what Peter is saying - it's a terribly outdated view."
Alliss, 84, who is a former professional player and a longstanding commentator for the BBC, told the Radio Times: "All of the wives of members at these clubs could have used the facilities for free.
"When I was at Muirfield a couple of years ago talking to a few of the lady members, I said, 'What about this equality? You must be happy about that?'
"'God no,' they said. 'We can come here and do what we like, we can play golf and don't pay anything.'"
Number of people playing golf once a week in England

Gender

2008-09

2009-10

2010-11

2011-12

2012-13

2013-14

Male

758,800

738,800

723,200

733,000

643,300

626,100

Female

138,800

122,100

110,000

117,500

108,600

104,200
Women's PGA founder and former Women's Open champion Vivien Saunders said she agreed with Alliss's comments.
"The age group under 50 are fine. A lot more independent women have their own money," the 68-year-old told BBC Radio 5 live.
"It's the women over 60. A lot of them, their husband controls the finances, they've never worked, and they are the ones who are dropping out of the game.