Masters 2015: Rory McIlroy's Grand Slam bid at Augusta

By Tom Fordyce
Chief sports writer
Last updated on .From the section Golf
For a place with a reputation somewhere between Fort Knox, Disneyworld and the Garden of Eden, there is much to take you by surprise at Augusta National.
There is the six-lane expressway a decent three-iron from the first tee, an on-course lunch of sandwich and coffee for £1.60, and a grassy plain between the eighth and 18th fairways so large it's as if founder Bobby Jones set his mint julep down on the blueprints and designed around it.
Into these tales of the unexpected comes a world number one who hopes to deliver exactly as his ranking predicts.
Eight and a half months of hype have passed since Rory McIlroy won the Open at Hoylake, completing the third leg of a career Grand Slam and in the process establishing this week's Masters as his first opportunity to complete the stellar set.
With the Northern Irishman still only 25 years old there is no logical reason for the strange sense of now or never that is drifting around the azaleas and loblolly pines.
Neither does precedent suggest it should happen this week. Five men in history can call themselves Grand Slammers in the Masters era, but only two of them - Ben Hogan and Tiger Woods - have won three majors on the bounce, as McIlroy is attempting to do here.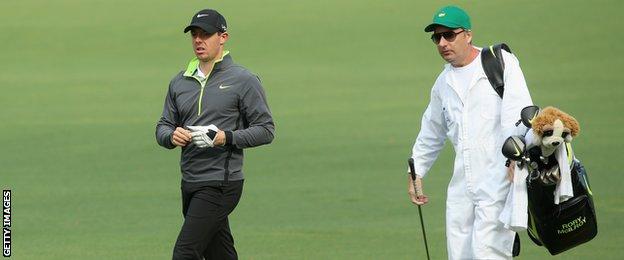 The bookmakers believe otherwise, and the demeanour of their favourite in the past few days has underscored those lop-sided odds.
McIlroy, flat-tummied and triangular through his upper body where once he was puppyish and chubby, strode the rolling fairways on his practice rounds with what you would describe as a swagger if that did not imply over-confidence.
His record here is patchy: just one top-10 finish in six visits.
It is also where the wheels came off at such speed in 2011 that lesser talents would have been wrecked - leading by four shots going into the final round, only to record a seven at the par-four 10th, four-putt the par-three 12th and end up an unhappy also-ran in 15th.
But this is not a hostile environment for him, and he is not the same golfer he was four long years ago. The kid is gone. The man is on a mission.
Golf's Grand Slammers

Gene Sarazen

Slam completed in 1935, aged 33

Ben Hogan

Slam completed in 1953, aged 40

Gary Player

Slam completed in 1965, aged 29

Jack Nicklaus

Slam completed in 1966, aged 26

Tiger Woods

Slam completed in 2000, aged 24
Just as the sometimes arcane traditions of Augusta protect the players here like nowhere else - no shouting from the galleries, no running, no cameras, no phones - so the four-time major winner can draw strength from the most detailed of preparations.
For the last three weeks he has done nothing but drill the sort of shots he will need over his next four rounds - first at home in Florida, then on a private visit to Augusta two Fridays ago.
A year ago he picked the brain of local resident Jeff Knox to unlock the secrets of these capricious greens. This time, free to explore the dips and hollows for six hours with only a club caddie for company, he has tried to figure it out himself.
Established wisdom is that this is a course to suit the southpaws. Six holes feature a right to left dog-leg where left-handers can hit stock fade shots. Half the winners in the last 12 years have been lefties.
Equally, every champion in the first 66 years played right-handed.
More important than set-up is style - the ability to shape your drives in both directions and an understanding that it is less about hitting greens than where on their slippery surface you might land your ball.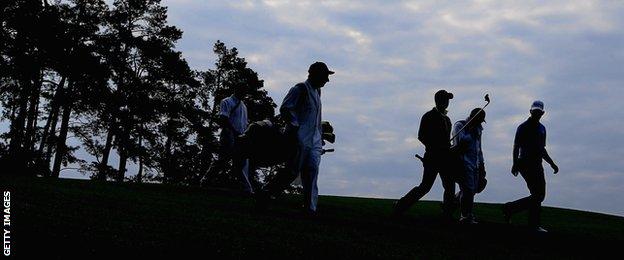 McIlroy describes it neatly as a second-shot golf course. He equally admits that he has not understood it so well in the past, not least in being too aggressive on the quartet of par fives.
A year ago Bubba Watson was a cumulative eight under par on those longest holes. McIlroy was even par. The American's margin of victory come Sunday evening? Eight shots.
A related aim is to keep a more steady hand on the tiller when stormy waters appear. With the exception of the nightmarish capitulation of 2011, his challenges have been undone less by disappointing rounds than nine-hole stretches where the mind and form have wandered.
"I think I'm better equipped now to handle it if things don't go quite the right way," he says.
"Mentally, I feel like I'm in a far better place on the golf course, and able to handle adversity whenever it might come my way out there.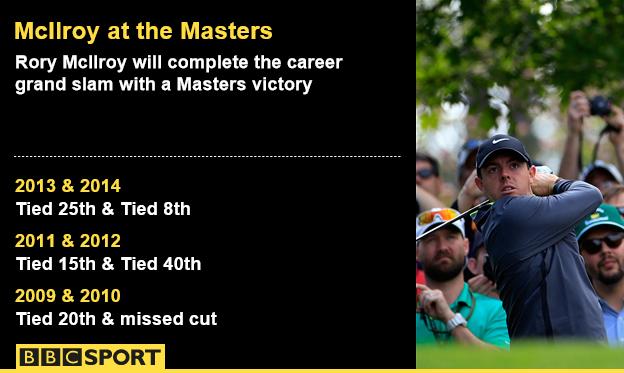 "I think the first tee shot here is probably the only first tee shot of a tournament these days that I still get nervous at, the one that you get butterflies and your heart races a little bit faster than it does usually.
"You've just got to realise that there are holes out here that par is a good score and you move on. You try and pick off your birdies when you can."
A little heat and hoopla has been sucked away by the return of Tiger Woods, four times a champion at Augusta but back here this week like a weary old heavyweight seeking one last glorious title fight.
It is seven long years since Woods won the last of his 14 majors. Since the start of last year he has just one top-50 Tour finish.
For all his charm offensive here - seldom has a player tried so frantically to appear so relaxed - the greater threats to McIlroy are likely to come from Watson, champion twice in the last three years, the similarly precocious Jordan Spieth and the late-blooming Jimmy Walker.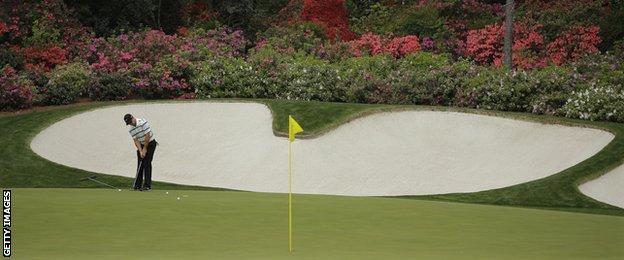 Even more intimidating are the great names who never managed to achieve what McIlroy is attempting to pull off here in Georgia.
While only Woods has completed the Grand Slam at a younger age (Jack Nicklaus was six months older when he became the fourth to do so), Arnold Palmer, Tom Watson and Sam Snead all tried and tried again to no avail.
Palmer - three majors up on McIlroy - was still only 31 when he won the third of the four, the 1961 Open, yet in 34 further attempts could never add the US PGA. The closest that Watson got in 24 tilts at the same title after his win at the 1982 US Open was fifth in 1993.
Seve, Faldo, Norman, Langer? Not even close.
To most players it would be too much too soon. But McIlroy is not most players, just as Augusta is like no other course in the game.