Masters 2015: Flickers of the old Tiger Woods, but is it enough?

By Tom Fordyce
Chief sports writer at Augusta
Last updated on .From the section Golf
Masters 2015
Venue:
Augusta, Georgia
Dates:
9-12 April
Coverage:
Live radio coverage on BBC Radio 5 live and BBC Radio 5 live sports extra. TV highlights of rounds one and two followed by BBC Two live coverage of Saturday and Sunday. Follow live updates of every round on BBC Sport Online from 9-12 April.
Read full details here
They all fade away in the end, even the greatest of all.
It is the cruellest lesson in sport, and it is inescapable. Had Tiger Woods been on the first tee early on Thursday morning he would have seen it: Jack Nicklaus, Arnold Palmer and Gary Player, 34 majors between them, dinking drives down the fairway in benevolent old age, that once indestructible talent reduced to faint echoes and distant memory.
Woods, seven years on from the last of his own 14 major wins, has come to Augusta like an ageing prize-fighter desperate to convince that he has one more title shot left in him.
The hype is still there, the style still instantly recognisable. But the physical gifts have dwindled, even as the brain still says: I can do this, I can get it back.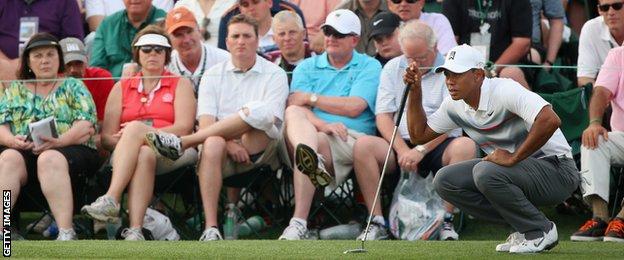 Such is the aura that Woods created in his glorious time at the top - and he was a player like none other, playing a way no other man could - that it still exerts some of its old grip.
No matter that Thursday was his first round of competitive golf in more than two months, that he is outside the world's top 100 for first time since his debut PGA Tour win in Las Vegas 19 years ago, that since the start of last year he has finished in the top 50 of a tournament just once.
When he proclaimed on Tuesday that he was back, that he had found the miraculous answer to his long-term travails, much of that logic went out of the window. Everyone wants to believe. Everyone wants to be convinced.
It is reminiscent of Muhammad Ali in his own late 30s, persuading the disciples and dreamers he was still the indomitable force of old even as the sorry defeats kept piling up.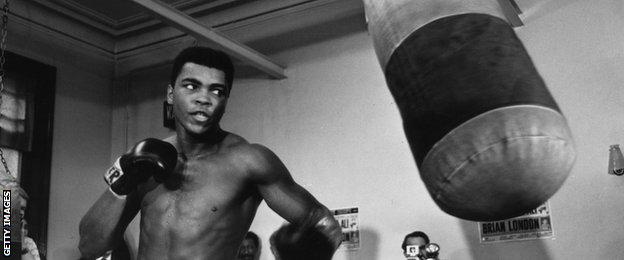 In some ways the two men have much in common - the most famous sportsmen of their generations, creators of impossible storylines - and in some way so little. While Woods used to like playing soldiers, obsessing over Navy SEALS videos and computer games and even injuring his knee while indulging in mock military exercises, Ali would give up his world titles in protest at a real war and real political injustice.
Ali was unable, for so long, to accept that his rare talents had dwindled away. Woods has seemed to lose the distinction between performing well on the range at home and doing the same in the toughest arena of all.
Better chips have come out of a microwaved cardboard box than the stuff Woods produced around the greens at the aptly named Waste Management Open earlier this year. He was recognisable all right, but only as a club hacker who hadn't bothered practising.
On a scorching Augusta afternoon that was no longer the problem. His short game was excellent. His touch around the greens was sure. It was what led to those shots that was his downfall.
Woods's major victories

Masters (4)

1997, 2001, 2002, 2005

PGA Championship (4)

1999, 2000, 2006, 2007

US Open (3)

2000, 2002, 2008

Open Championship (3)

2000, 2005, 2006
The grandstands here can appear a safe-house for the world's least loved colours. Angry Mustard, Washed-Out Pea, Bloodshot Pink, Apologetic Mauve.
Those polo shirts were a model of restraint compared to Tiger off the tee - first drive right, second drive right, dropped club on the sixth as his ball swished into the pine needles once again, self-admonishment on the ninth following two below-par shots.
Why has he chosen to come back here, stepping straight into the glare of a tournament that attracts the public like none other?
In many ways it makes sense - coming back to where it all began, coming back to the place where he has won more majors than anywhere else.
His triumph at Augusta in 1997 broke records and established a new hegemony. Even since the last of his four titles in 2005, through periods when his form has slipped and false-started, he has finished Masters tournaments second, tied second, tied third, three times tied fourth and once tied sixth.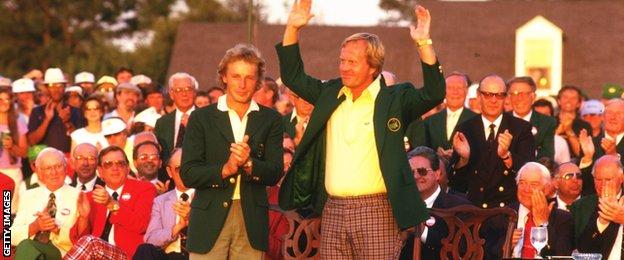 At 39 he should not be too old. Nicklaus was 46 when he pulled off that romantic charge through the back nine in 1986, six years after his previous major win, Ben Crenshaw 43 when he won the second of his Masters titles in 1995, 11 years after previous major win. Gary Player, Sam Snead and Mark O'Meara all won here in their 40s.
The galleries, dressed in the brand his endorsement pushed to new levels of popularity, show no sign of caring about the car crashes in his personal life, figurative and literal.
It is the perfect course. Yet he has an imperfect game.
Moments after being given a standing ovation by the crowds lining the 11th fairway and 12th tee, he stuck his iron into Rae's Creek.
There was a groan, and not even one of horror. Disappointment, but not surprise.
To finish one over par was no disintegration. World number one Rory McIlroy, no longer his heir apparent but now comfortable on the throne, was only two shots better off.
But when you have changed the game, forced even the living museum that is Augusta to be rebuilt, a supporting role in the chorus line can never be enough.
And there, out in front by three shots, a full nine ahead of Woods, was a 21-year-old, Jordan Spieth, doing to Woods and his generation exactly what Tiger once did to the champions of his past.
Even those who never fell for his buccaneering charms it can be melancholy to watch.
There are flickers of the old genius. His iron shot from deep in the trees to the left of the seventh fairway, hit with a skip and jump and total disregard for precedent and aerodynamics to the heart of the green, could have been imagined by few and pulled off by fewer.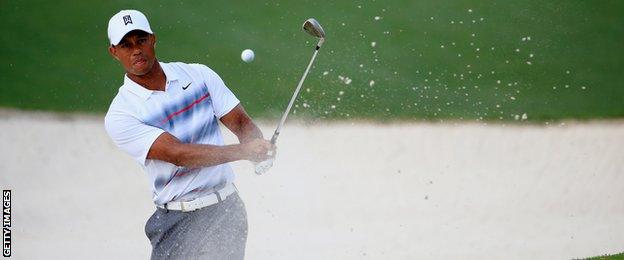 But flickers are all they were, the conjuring only required because control had already been lost. It was the punt of a gambler, of a man who cannot trust the prosaic.
A man who once lived in a world of physical certainty and total self-belief now has to battle the bewilderment of his own body not doing what he wants.
Woods was always obsessed with advancing his swing. Now, on his fourth guru and fourth remodel, he is lost in old muscle memory and new drills, the old certainties gone, the new ones always tantalisingly out of reach.
Where has this compulsive fine-tuning got him? Drifting like a ghost at the scene of his greatest triumphs, chasing something no longer there.
Each morning, by the white wooden gates to Augusta, a brimstone preacher warns the queuing spectators of the certain hell they face ahead. A well-hit three-iron away, in benign golfing heaven, the ancient saints in Palmer, Nicklaus and Player are venerated all the same.
Woods is not yet ready to go the same way. He will keep raging against the dying of the light, maybe well enough to win one final day in the sun.
But it will come in the end, just as it always has, just as it always will.