Masters 2015: Jordan Spieth staying calm in first major pursuit

By Tom Fordyce
Chief sports writer at Augusta
Last updated on .From the section Golf
Second round leaderboard
-14
J Spieth (US);
-9
C Hoffman (US)
-7
J Rose (Eng), P Casey (Eng), D Johnson (US);-6P Mickelson (US);
-5
E Els (SA)
Selected others:-2
T Woods (US), R McIlroy (NI)
Full leaderboard
Runaway Masters leader Jordan Spieth says patience will be the key if he is to convert a five-shot halfway lead into his first major triumph.
"I got off to a great start and had a chance to win last year on Sunday," he said. "I'd like that same opportunity.
"This is halfway and I'm aware of that. I'm not going to get ahead of myself."
Spieth sank six birdies in a bogey-free 18 holes and his cumulative total of 130 shots across the first two rounds is a new Masters record.
"I'm going to try and stay in the moment and be patient these last two days and understand that it's going to feel like a whole other tournament," he added.
"I need to not focus on anybody else, no scoreboard watching, set a goal and understand that the course is going to be harder.
Unstoppable Spieth?
The greatest margin of victory at the Masters was achieved by Tiger Woods in 1997, winning by 12 strokes
The most notable comeback in Masters history was in 1956, when Jack Burke Jr trailed by eight strokes heading into the final round and recovered to win
"I know where to hit it to the best pin positions and I know where the best leaves are, and I really need to pinpoint those spots and work on my speed control on the greens."
The tournament record of 18 under, set by Tiger Woods when he won his first Masters in 1997, is within reach for Spieth.
But he said: "Each round on the weekend of a major [when] in contention can feel like you're playing almost two rounds in one.
"You can't get too up or down at the beginning of the day, the first nine holes, and you have to understand that at a place like Augusta National and a tournament like this, a lot of lead changes can happen.
"Holes can lend birdies and they can lend double bogeys, so you just have to really be patient, not try and force anything, and allow the angles to play themselves out.
"Anybody in this field that's playing well is capable of possibly shooting 14 under the last two rounds, and I've got to be able to counter that with better than how they are doing right now.
"But I feel comfortable this week. I haven't really felt very nervous. I've felt in a good place."
Hope from history for Woods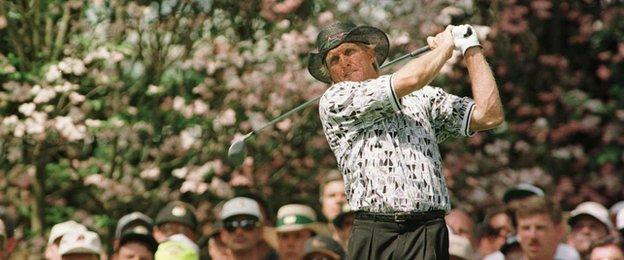 Should Spieth hold on - and no player since Raymond Floyd 39 years ago (who, incidentally, also held the 36-hole record) has led outright at the Masters from start to finish - he would become the second youngest man in history to win a green jacket.
The man who holds the honour of being the youngest, Woods, who won the Masters aged 21, is not ruling out his own chances of a fifth title after a vastly improved short game rescued more errant tee shots to leave him two under.
Woods said: "I'm 12 back, but there's not a lot of guys ahead of me - and with 36 holes here to go, anything can happen, you know, 1996 proved that.
"I'm very proud of what I've done, to be able to dig it out the way I have.
"I was at a pretty low one in my career, but to basically change an entire pattern like that and put it together and put it in a position where I can compete in a major championship like this is something I'm very proud of."
Rose takes heart from 2007
Justin Rose began the day five under only to bogey three of his first four holes.
However, birdies on the eighth and 10th reignited his round before another on the par-three 16th moved him on to seven under for the tournament.
"It was a tricky start but I just tried to remember a couple of other rounds here and I think it was in 2007 when I got off to a poor start in the final round and went on a run so I was just trying to create momentum," he said.
"You can't press it too hard on this course you have to let your birdies come and take your opportunities when they come."
Rose is level with fellow Englishman Paul Casey who finished four under for the day has had just one bogey in his opening 36 holes.
"If you told me the beginning of the week seven under would be seven back I wouldn't have believed you," he said.
"Really it's a two horse race as it looks right now. They [Jordan Spieth and Charley Hoffman] keep ploughing ahead like that we are playing for third or fourth."