Paula Creamer: American golfer calls for women's Masters
Last updated on .From the section Golf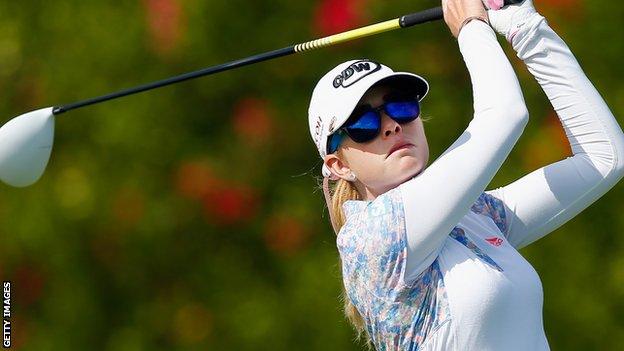 American Paula Creamer has called for a women's Masters at Augusta National.
The club accepted its first women members in 2012 but chairman Billy Payne has said it is unlikely Augusta could host another tournament.
But Creamer, 28, suggested a women's version could be played the week after the men's event in April.
"I think the patrons and everybody would love to have two weeks there, two tournaments. Why wouldn't you?" the 2010 women's US Open champion said.
There are currently five major tournaments in the women's game; the US Women's Open, Women's PGA Championship, Women's British Open, ANA Inspiration and the Evian Championship.
The world number 27 added: "It's 2015. I think Augusta and the Masters and everybody with that event, they want to grow the game so badly.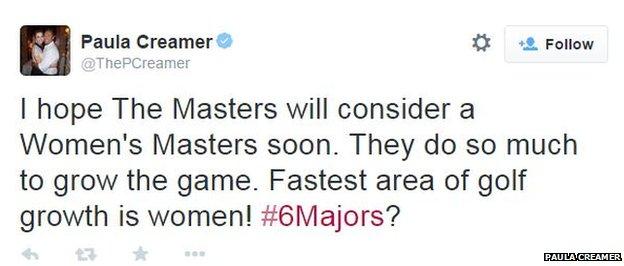 "That's what it is, about growing the game and giving people opportunities. There's no reason why we can't do that in women's golf. We're just as much a part of growing the game.''
Payne has previously said: "The time that we dedicate to the preparation and conduct of the tournament is already extensive. I don't think that we would ever host another tournament."
But Creamer responded: "There's no reason why you can't revisit things. I think somebody's got to speak up and somebody's got to say something.
"It's an idea, I don't think that people should be ashamed to talk about it. I'd like to know truthfully why we wouldn't be able to have a tournament there. Definitely women's golf deserves something like that.''