Rory McIlroy, Jordan Spieth & Charley Hull can revive golf

By Iain Carter
BBC golf correspondent
Last updated on .From the section Golf141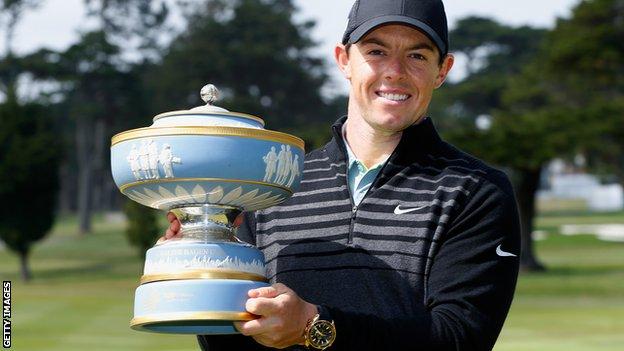 Iain Carter, BBC golf correspondent
Rory McIlroy's WGC Match Play victory further enhances an impressive and potentially significant buzz generated by a fascinating start to the golfing year.
It was the world number one's second victory in 2015 and follows a fourth-place finish at the Masters behind Jordan Spieth, his closest rival in the rankings.
American Spieth is just 21 years old, while McIlroy's win over Gary Woodland in the WGC final enabled him to join Tiger Woods and Jack Nicklaus as the only players to claim 10 PGA Tour titles before their 26th birthday. The Northern Irishman did it with a day to spare.
This came a week after England's Justin Rose reinforced his claims to be regarded as one of the sport's elite with a brilliant victory in New Orleans.
These are the kind of results and performances that capture the public's imagination.
I played with a couple of juniors at the weekend and asked them who are their favourite players? "McIlroy," said one. "Rose," said the other.
It would have surprised nobody if one of the girls enjoying a starter lesson on the range had joined the conversation by saying: "Charley Hull," because the 19-year-old prodigy from Kettering has already become such a prominent figure in the women's game.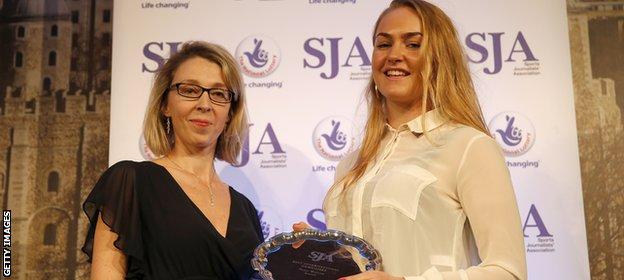 So, significantly, there are genuinely exciting role models as the game seeks to reverse the recent decline in participation figures.
There are also no lack of initiatives aimed at developing the game, such as the second running of National Golf Month in the UK, which continues until June and showcases opportunities to take up golf.
"It's a simple idea and it's target is to get participation growing," project director Douglas Poole told BBC Sport. "There's a strong focus on trying to get families to play."
Poole, a former professional who has also worked in travel, is chairman of the British Golf Industry Association.
Golf's elitist and exclusive image has, in the past, proved a barrier to attracting new players but Poole is confident clubs are changing.
Falling off course
A recent Sport England survey found that golf participation numbers have dropped by 21,600 over the last year.
The study found that the number of people playing once a week in the year up until October 2014 had dropped from 751,900 to 730,300.
In the year up until October 2006, the figure was 889,100 - meaning 158,800 regular players have been lost to the sport in the last eight years.
"The newer people running golf clubs are much more commercial," he said. "It's like running a fitness centre - you need to have members.
"It's the view of many that, when you have an event now, we don't put on blue blazers and white shirts and collars and ties to present prizes. We do it in our golf gear.
"This old fashioned image of plus-fours and thick socks is finished. Within five years we will have changed the face of golf in the UK."
It can't come soon enough for someone like Jon Woodroffe a teaching pro at the busy double-decker World of Golf range in New Malden, south west of London.
He has taught more than 50,000 lessons, specialising in free beginner sessions to hook newcomers.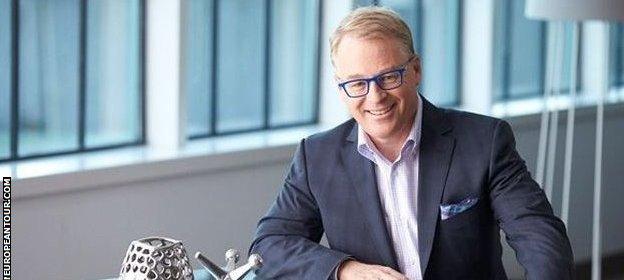 "Golf is still seen as elitist, sexist and exclusive," he said. "All the things I've been working for 30-odd years to get away from - the 'you can't do this at the golf club' type attitude.
"We are trying desperately to make that image change but, unfortunately, there is the odd place and these are the ones that people hear about.
"Golf has been it's own worst enemy but they are waking up to the fact that with the recession they've got to change.
"They've got to become family friendly and invite people into the game because there are plenty of other things out there for people to do."
There's a growing feeling that golf needs to tap into different sections of society to move forward.
"I think the potential in the UK is to get more women involved," European Solheim Cup captain Carin Koch told BBC Sport. "With that you get more kids and families.
"I was shocked to hear some of the rules that still exist here - the clothing rules and women can't play before 11 am or whatever it is. We need to make it fun and new."
But do those who run the game genuinely share her vision of the way forward?
"Not yet, I don't think," the Swede admitted. "But hopefully they will get there."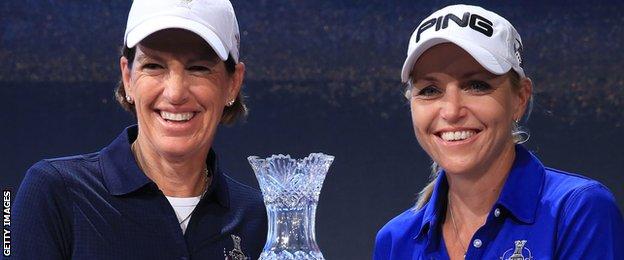 Exciting talents such as McIlroy, Spieth, Rose and Hull might prove the catalyst and be able to inspire a resurgence in golf.
There will be huge crowds at Wentworth when McIlroy defends his BMW PGA title and the following week at Royal County Down, where he is tournament host for the Irish Open.
Those events come at the end of National Golf Month.
"We need the icons in all of our sports," said Poole. "The great thing about Rory is that he's still the boy next door. He hasn't changed.
"People like the way he plays, he's a bit of a gun slinger, goes for all his shots and people want to play like him. It's not boring old golf.
"We need those guys. They're not going to bring back more senior players but what they're going to do is make a lot more younger people want to try the game."