Rory McIlroy on major wins, Tiger Woods, training and legacy

By Dan Roan
BBC sports editor
Last updated on .From the section Golf
Golf's world number one Rory McIlroy says he wants to be "the best player of my generation".
In an ominous warning to his rivals, McIlroy has pledged to get even better.
He told BBC Sport: "I think I'm pretty close to playing my best golf. I'm definitely able to feel more equipped to win now."
Although McIlroy believes his exceptional form is down to being happy away from golf, he revealed he has considered quitting at 40.
"If you're happy off the golf course, you're going to play better on it," he added. "I'm playing well on it, so it must mean that everything is going well off it."
In a wide-ranging interview, McIlroy also talked about:
Learning from the "phenomenon" Tiger Woods
How a shortened format could improve participation
How he handled Masters disappointment
On being the best of his generation
McIlroy, who won the WGC Match Play title two weeks ago, now has six top-10 finishes in his past eight PGA Tour starts.
But he is surrounded by a talented field of young challengers, including Masters champion Jordan Spieth, 21, Patrick Reed and Rickie Fowler, who responded to suggestions he was overrated with victory at the Players Championship.
"I feel like I'm in a generation with a lot of young guys that are coming up and I want to be the best of this generation," said McIlroy.
"I want to win a lot more tournaments, I can win a lot more majors. I haven't put a number on it because I don't want to put that burden on myself. I just want to be better than everyone else.
"I've put in a lot of hard work over the past 12 months, just working that little bit harder, just those tiny little differences that separate a top-five finish from a win."
McIlroy, who already has four majors to his name, does not intend to play into middle-age, saying: "I don't anticipate playing senior golf or championship golf."
Of his potential retirement at the age of 40, he said: "That's 14 years away, that's longer than most sports people have, and I've already had an eight-year career in golf.
"Twenty five years should be enough to help me achieve what I want to. If there comes a time when I feel I can't win or give it my best I'd very happily hang up the sticks and do something else."
On not being able to replicate 'phenomenon' Tiger Woods
McIlroy still has a long way to go to catch Tiger Woods's 14 major titles. Woods, like McIlroy, has faced constant media scrutiny for not only his performances on the course, but also for private relationships.
Twelve months ago, McIlroy ended his engagement with Danish tennis player Caroline Wozniacki days after they issued wedding invitations - admitting "the problem is mine".
He then settled a long-running legal dispute with his former management company, Horizon Sports Management.
"The one thing I've learned from Tiger, from getting to know him, is how hard he works - the ones who work the hardest do the best," said McIlroy.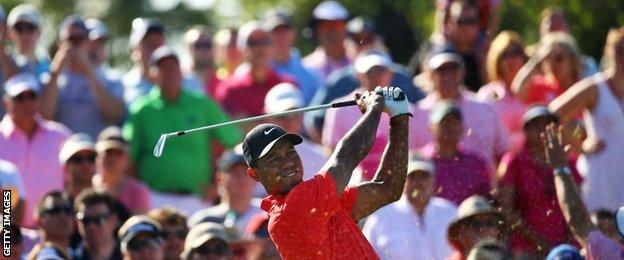 "I'll never be able to do for golf what Tiger did. He was a phenomenon, he brought so many more people into the game because of his background and how he started on tour.
"It's about balancing life and he's becoming better at that with kids. He's taking being a father very seriously and wants to spend as much time with his kids. Finding that balance between golf and personal life and family is something he's got better at and it's something I'll have to figure out in coming years.
"I'm a very family-orientated person, come from a solid background in terms of my family, my mum and my dad, and it's what I'd want one day with the same family structure."
Why golf takes too long
A recent Sport England survey found that golf participation numbers have dropped by 21,600 over the past year. The number of people playing golf once a week in the year to October 2014 had dropped from 751,900 to 730,300.
People playing golf once every week in England

Year

14-25 year olds

16-25 year olds

All ages (16+)

2009-10

95,700

860,900

2010-11

73,100

833,200

2011-12

55,900

850,500

2012-13

61,400

52,400

751,900
McIlroy hopes he can help inspire youngsters to take up the game.
He said: "I definitely think I can be a catalyst along with some of the other young players coming up. Jordan Spieth, Rickie Fowler, Jason Day, Hideki Matsuyama from Japan, we're all guys from different corners of the globe and that's a huge thing as kids seeing younger guys excel at golf will make them want to play.
"The real thing with golf at the minute is it takes a little bit too long. A shortened format would help as people don't have five or six hours a day to go and play golf.
"A shortened format would get someone out on the golf course for a couple of hours - even if it's just to play nine or 12 holes."
The danger of over-training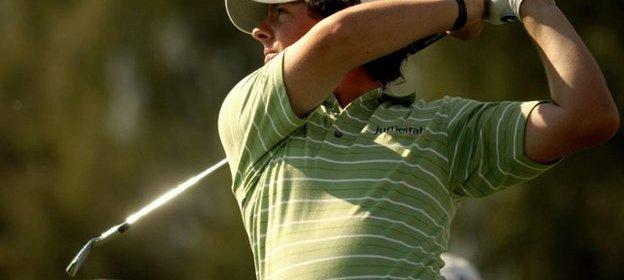 "I definitely believe you can over-train," said McIlroy. "I take my physical well-being much more seriously than I did five years ago and I needed to.
"I had a few back issues and they were preventing me from practising as much as I wanted to, they were hindering me at tournaments. I wasn't in a good place so that's when I needed to strengthen my body just to play golf - some core stability, some strength in my legs - but from there it became a hobby for me.
"I enjoyed living a healthy lifestyle, enjoyed training and I'm much different to how I used to look.
"I haven't had any back issues or injuries since. That's the real reason we do it - injury prevention - so you can go out and play as much golf and not feel the effects."
Handling expectation
McIlroy has been top of the golf world rankings since August 2014 but says he can handle the expectation.
He said: "I cope with it better because I'm more used to it. At the start it was a little bit of an adjustment, going into the tournaments as favourite.
"But now I play tournaments week in, week out and you get used to it. I don't go into tournaments thinking I'm the guy that is expected to win, I just know that if I play near my best I'll have a good chance."
Coping with disappointments
The Masters is the only major McIlroy has not won. He finished fourth in April, four years after he blew a four-shot lead going into the final day at Augusta to finish tied for 15th.
"When you don't play as well as you hoped for, there's a big element of acceptance, you accept it didn't quite go the way you've wanted it to," said McIlroy.
"You take the positives from it and you try and learn from them. But if someone said to me at the start of the Masters you'd finish fourth I'd be disappointed - and I was. I felt like I played well enough for the most part to have a chance.
"Once I got into the position where I didn't have anything to lose then that's when I started to free up and play better.
"After the Masters, it was like a weight was taken off my shoulders because it was eight months of anticipation and now that's gone away.
"I have three great chances to win majors coming up. I'd like to go to Augusta next year not as a four-time major champion, but to have added at least one to the resume."