Colin Montgomerie can dominate Senior Tour - Paul Lawrie
Last updated on .From the section Golf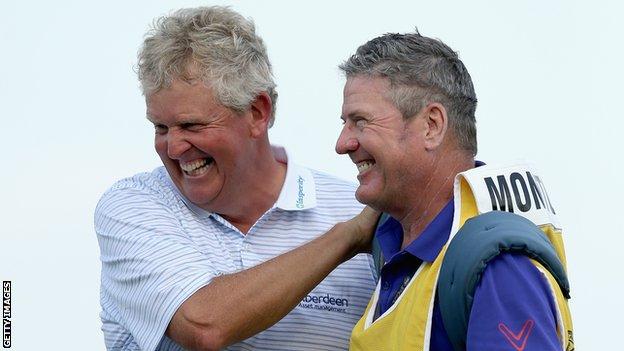 Colin Montgomerie can be a force on the Senior Tour for years after winning his third senior major, according to former Open champion Paul Lawrie.
The 51-year-old Scot successfully defended the Senior PGA Tour Championship title on Sunday, finishing four strokes clear of Mexican Esteban Toledo.
It followed on from Monty's triumphs in the 2014 Senior PGA and US Open.
"It was like watching the Monty of old," Lawrie told BBC Scotland.
"He hit some beautiful iron shots, he drove the ball magnificent, and he looked to be holing out really well. As good a player as he is, when he starts getting like that he's going to be tough to beat," Lawrie added.
"I want to see Scottish people do well, I was chuffed when he won, that's three senior majors now, he's doing brilliant. He looks like he's back to playing the way that he used to play."
Lawrie was speaking after withdrawing from the BMW PGA Championship at Wentworth before the start of his second round with a groin complaint.
The 46-year-old was also critical of slow play at the tournament.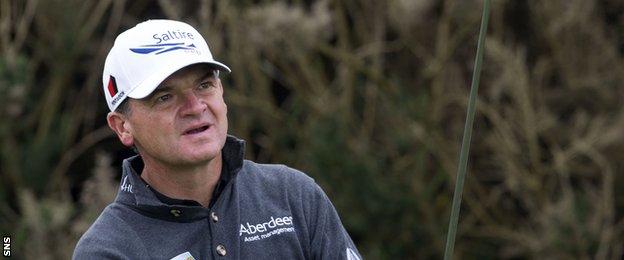 "It's a huge problem, not just in the pro game," he said.
"I watch the juniors - five or six practise swings, throw the grass up, change the club two or three times. All that takes a good minute, a minute-and-a-half when you're actually allowed 40 seconds.
"They're getting that from watching TV, they're getting that from watching the guys on Tour. It's becoming pathetic the time they're taking.
"My whole routine from arriving at my ball and hitting the right club, no more than 20 or 25 seconds. Some of them are taking two minutes."
Lawrie is keen to get more kids into golf and is set to replicate his successful golf foundation in Aberdeen by moving north to Nairn.
"We'll do some coaching, we'll do some flag events for under-10s, under-12s. Numbers are obviously falling in the game, we want kids to start playing golf again, get them off their computer games and away from the telly."