Ian Woosnam 'happy to be in touch' at Wales Seniors Open
By James Pontin
BBC Wales Sport
Last updated on .From the section Golf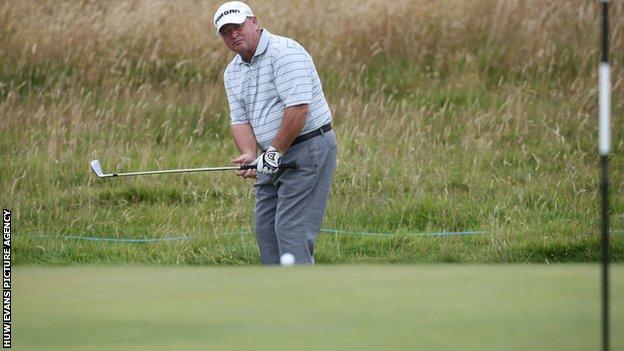 Welsh golfer Ian Woosnam is joint leader of the Wales Senior Open after shooting a second round of 66 at Celtic Manor Resort on Saturday.
Woosnam, 57, who moves to four under par, will be in the final group on Sunday with co-leader Peter Wesselingh, who shot three under on day two.
"I could have had another couple of putts," said Woosnam.
"But I'm quite happy just to be in touch. We'll see what happens tomorrow."
With the chance of poor weather the organisers have taken the decision to have a two-tee start on the final day, with spectators having the unusual sight of a three-man final grouping.
Peter Fowler will make up the third alongside Woosnam and Wesselingh in the final group.
Woosnam is looking to secure his second title within a month and secure a rare professional win on home soil.
Fifteen years ago Woosnam was in the final group of the Wales Open only to be pipped to the title by Steen Tinning, but has raised hopes after second round which included five birdies.
"I just hung on in there again," Woosnam said.
"I'm not striking the ball right at all, struggling with my driving a little bit.
"It's not the purest of striking I must admit but I'm scoring alright."
Woosnam is looking to see out a win even if it does mean missing his scheduled flight back to his adopted home in Jersey.
"I just hope I can make my flight home," he joked.
Wesslingh who cites his good form to a return to an old putter says he will have to be at his best to overcome Woosnam, who he played alongside at last week's USPGA Seniors Championship.
"He's [Woosnam] playing so well," said Wesslingh.
"I'm going to have to play really well tomorrow and there's still guys back in the pack who can do it."