Aimee Ponte: Guernsey golfer targets Island Games golf gold
Last updated on .From the section Golf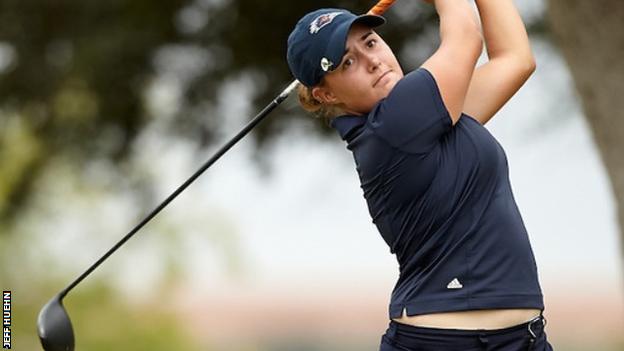 Guernsey golfer Aimee Ponte says she is capable of winning gold at this month's Island Games in Jersey.
The 19-year-old, who is on a golf scholarship at the University of Texas in San Antonio, won individual silver and team gold in Bermuda two years ago.
"I'm going into the tournament thinking I can win," she told BBC Guernsey.
"In Bermuda I didn't really have any expectations, I was just going to go out there and play as best I could and see what would happen."
Ponte, who was sixth at the 2011 Island Games and won team bronze, moved to the United States shortly after the last Games in Bermuda.
And Ponte, who won her first Guernsey women's title when she was just 13, says her experience in the USA has boosted her confidence.
"With the experience I've had over the last two years, the golf that I've played and the courses that I've played, I feel a lot more confident than I ever have going into any tournament," she said. "I'm very excited.
"Now I'm at that stage where I have to be confident because I know a lot of people are counting on me to do very well, so I want to live up to those expectations."