Cole Hammer: American, 15, qualifies for US Open
Last updated on .From the section Golf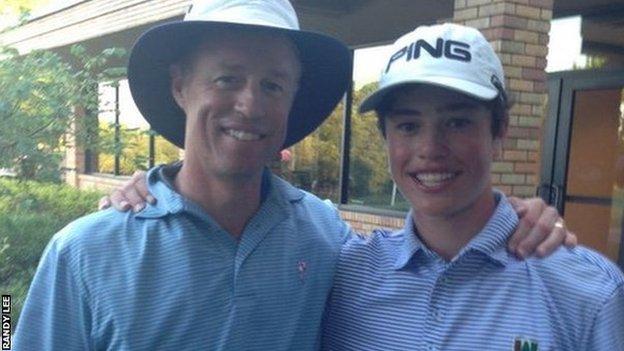 Rory McIlroy and Jordan Spieth beware - a 15-year-old American is ready to compete for the US Open title later this month.
Cole Hammer, of Houston, will become the third-youngest golfer to play in the event, which takes place from 18-21 June at Chambers Bay.
"I never dreamed I could do it," said Hammer, after qualifying in Texas. "This means the world to me. When I saw Jordan Spieth win the Masters, I said: 'I can do this.'"
China's Andy Zhang remains the youngest player to play in a US Open - doing so aged 14 in 2012, when he missed the cut at Olympic Club.
Hammer, at 15 years 10 months, is five months older than Hawaii's Tadd Fujikawa was when he missed the cut at Winged Foot in 2006.
He overtakes American Tyrell Garth Jr, who was three days short of his 16th birthday when he played in 1941.
Having come through local qualifying at Deerwood, Hammer finished second at Northwood to secure a place in the 156-strong field assembled for the US Open, won by Martin Kaymer in 2014.
"I've never been to a US Open before, I was just hoping to make the US Junior later this summer," said Hammer, who uses his father Greg as caddie. "We didn't have any plans for that weekend, but I guess we do now."
Nine other qualifying events were held across America on Monday, with three-time PGA Tour winner Chris DiMarco, 2010 Ryder Cup participant Jeff Overton and former world number one David Duval all missing out.