World rankings skewed against Europe, says Kylie Walker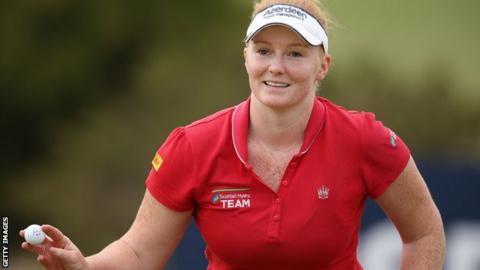 One of Scotland's top golfers is calling for a revamp of how the women's world rankings are calculated.
Kylie Walker says players on the European Tour are at a disadvantage compared to those from overseas.
The 28-year-old is ranked 159 in the world despite being the only multiple winner on last season's European Tour.
"I think things could be looked over with world rankings and maybe make a few changes there," Walker told BBC Scotland.
"The quickest way up the world rankings is if you are playing in the United States. The LPGA is the number one tour in the world."
The rankings are based on performances on the eight major tours around the world.
But the number of points available in each event depends on the strength of the field as determined by the competitors' existing rankings.
It means that Walker, the second best Scot in the standings behind Catriona Matthew and 23rd on the European Tour prize money list, is outside the world 150 despite her successes last season in the Netherlands and Germany.
As she prepares for the US Women's Open in Pennsylvania next month, she says it is her ambition to eventually follow Matthew by earning her tour card in the USA.
"The ultimate goal is to go as far as I can in golf and, to do that, you need to be playing with and against the best players in the world," said Walker.
A number of young Scots are now beginning to make an impact on the women's game, with Pamela Pretswell, Carly Booth and Sally Watson among others regularly in contention on the Ladies European Tour.
Walker says they are all friends off the course and the competition encourages each other to do well.
"We all feed off each other," she said. "We all look to Catriona Matthew as she is Scotland's number one.
"We always keep an eye on what she is doing in the States. She is just so solid and consistent.
"With us in Europe, there is now a real strong Scottish contingent, with eight or nine girls with their tour cards.
"It's brilliant to be playing with each other week in, week out."
Walker heads to the Netherlands next week to defend her Dutch Open title and will then travel to America before returning to play in the Scottish Women's Open at Dundonald Links and the British Open, which this year is being held at Turnberry.