Jason Palmer eager to overcome injury to play at US Open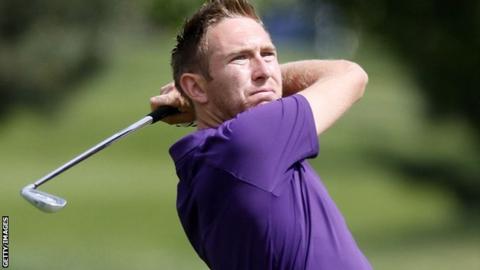 Jason Palmer says he is "scared" to even contemplate the chance injury may force him out of next week's US Open.
Palmer, 30, only managed 14 holes in his first round at the Lyoness Open in Austria on Thursday before a wrist problem was "too painful to continue".
But the Leicestershire professional is determined to play in his first major.
"I will be doing whatever I can to get the wrist right and get some proper diagnosis," he told BBC Radio Leicester. "But I'm just a bit scared."
Palmer secured a place on the European Tour for this year and, having earned a place at the US Open which gets under way on 18 June, he has no intention of not at least trying to play.
"I will definitely be heading over to the US Open, make no mistake about that," Palmer added. "I might be a bit patched up but I will be there.
"I went in to the physio unit earlier in the week and they seemed to think it was a bit of bone bruising.
"I am so excited to be playing in a major so to be potentially have that chance slipping through my fingers is pretty painful right now."