US Open: Graeme McDowell relishing major Chambers Bay test

By Stephen Watson
BBC Sport Northern Ireland
Last updated on .From the section Golf
The Pacific Coast has been a happy US Open hunting ground for Graeme McDowell.
Northern Irishman McDowell became the first European winner at the event in 40 years when he triumphed at Pebble Beach in California in 2010.
Two years later, McDowell was back in contention along the west coast as he finished second behind Webb Simpson at the Olympic club in San Francisco.
So perhaps there's no better place than this week's venue, Chambers Bay in Tacoma Washington State, to try and recapture his major-winning form.
McDowell's 2010 triumph kick-started a remarkable run of success for Northern Ireland's golfers.
Rory McIlroy romped to victory in the US Open at Congressional a year later with Darren Clarke adding the Open Championship a few weeks later before McIlroy went on to capture three more majors in the next three years.
McDowell told me he thinks this week's venue might just suit Northern Ireland's major champions.
At first glance, Chambers Bay has the appearance of a links which wouldn't look out of place on the north coast of Northern Ireland where Portrush man McDowell grew up.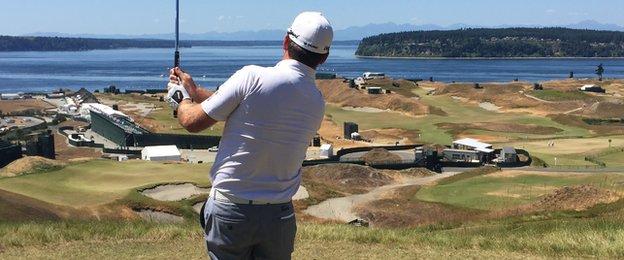 But whereas Portrush has been around for over a century, incredibly this course only opened eight years ago.
Before that it was an operational sand and gravel mine which has now been transformed into a breathtaking piece of golf architecture.
It's a stunning place, which is going to be a very tough endurance test of mind and body for the players.
McDowell wore his pedometer during a practice round this week and clocked the course as a 12-kilometre plus hilly hike.
The Robert Trent Jones Jnr-designed course possesses many quirks.
The steepest downhill shot in US open history is the tee shot at the ninth which falls 100 feet to the green.
Number 13 also has the widest fairway in major-championship history at a whopping 115 yards.
And to round matters off, the 18th has an eight-feet deep bunker in the middle of the fairway on a hole which can play either as a par-four and par-five.
Add in the the massive undulating putting surfaces and this won't be a golf tournament for the faint-hearted.
Graeme allowed us to watch and film his practice round up close this week.
It was a fascinating insight into how a model professional prepares for one of the sport's biggest events.
An hour on the range before another six gruelling hours on the course. Vital preparation with his caddy Kenny Comboy to ensure they're ready when the tournament gets under way.
"There's just a lot to get to know and a lot to learn. First impressions are that it could kind of blow you away," said the European Ryder Cup star.
"You have to play smartly. This is all about the second shot in and around the greens.
"You have got to be conscious of where you are missing your irons, keeping the ball to the correct side of the flags."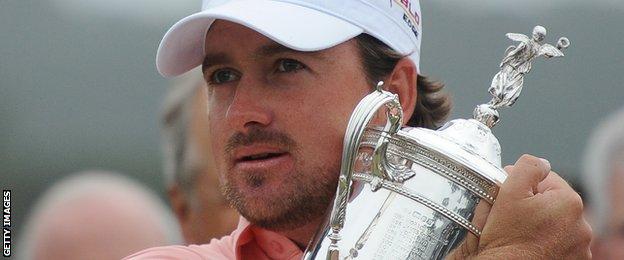 McDowell believes long-distance putting is going to be vital this week and is hoping to rediscover the kind of form on the greens which helped him top the putting statistics on the PGA Tour last season.
"I feel like I'm well tuned it after the Irish Open at Royal County Down," said the 35-year-old.
"You are going to be putting from 40 and 50 and 60 feet on a dozen holes every round, so it is difficult.
"But this is a course which has got a Portrush and County Down feel to it.
"I like it, it's a fun test. Certainly it will be for the spectators though I'm not sure the players will have fun grinding around. Ten over par could win the tournament."
It has been a difficult year so far for McDowell who admits that his game has struggled to deal with the demands of a new addition to the family, with the birth of his new daughter Vale.
"It's been a tough season but for right reasons," he said.
"I am really enjoying my family and that side of my life, perhaps the motivation on the range hasn't been as it should be for the last eight months. But I have that back now and the old signs are coming back."
Chambers Bay would certainly be the perfect place for the Portrush man to produce another magical major moment.