Anna Nordqvist receives LPGA Classic trophy smashed in post
Last updated on .From the section Golf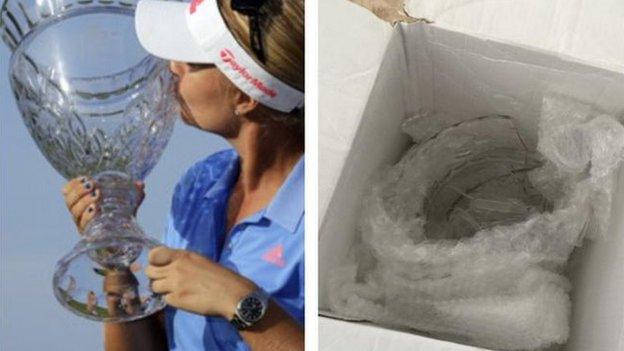 Swedish golfer Anna Nordqvist sealed her LPGA Tour Shoprite Classic victory by kissing the glass trophy.
The world number nine's one-shot win over Christel Boeljon in New Jersey on 31 May was a moment to cherish - her first tournament success for a year.
But the next time she saw the trophy it was in pieces - smashed in the post.
On Thursday she tweeted courier FedEx, thanking them "for delivering my Shoprite Classic [trophy] in a thousand pieces. No words to describe it."
The use of an emoticon with tears on its face perhaps underlined her frustration.

Her tweet of complaint has drawn comments from sympathetic fans who have used the photographic evidence to not only question the courier, but also the way the trophy was packaged.
Ironically, after success in New Jersey - Nordqvist's fifth LPGA Tour win in seven years - she said: "I fought hard today and can't believe I'm sitting here with the trophy."
Alas, Nordqvist may need to make a trip to her local recycling site but maybe the $225,000 (£142,000) of prize money she claimed softened the blow.