Scott Jamieson eyes return of early pro promise
Last updated on .From the section Golf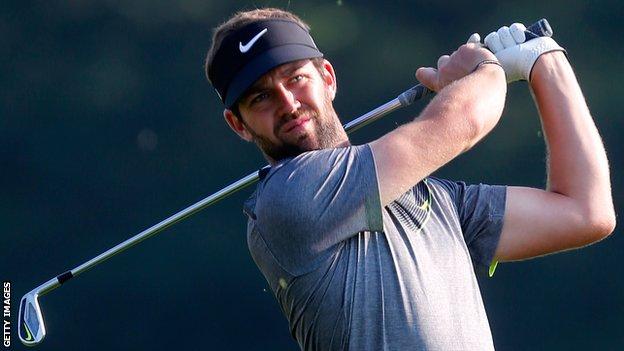 Scott Jamieson admits he has struggled to come to terms with being unable to build on his early successes as a professional golfer.
"The last two years, I've probably not handled not having the results that I was having in my first two years," he told BBC Scotland.
"Hopefully, I am going to iron those out this year and press on."
From a world-ranking high of 71st in 2013, Jamieson is presently at 277 and says that, although he is showing great consistency this season, it has not yet translated into monetary gains.
"It has been a very solid year but a very different year for me," he said.
"My first four years, I would probably make as many cuts as I would miss, but the cuts I made I would feature and I would have four or five top-10s.
"I have yet to have a top-10 this year, but I think I have made 12 out of 15 cuts, so it has been a bit different, a bit more consistent, but it is not as lucrative that way.
"You are better off missing three cuts and then having a top five."

In his first season as a professional, Jamieson topped the EuroPro Tour rankings and then qualified for the European Tour after finishing in the top 15 after his one year on the intermediate Challenge Tour.
"The last two years for me have been a bit of a downturn after my first three years, which I couldn't have imagined going any better," he said.
"Getting a win under my belt reasonably early in my European Tour career, I wouldn't say it came earlier than I expected, but the momentum kept rolling.
"You either keep expecting or look for the same level of improvement all the time and in golf that's maybe unrealistic because there obviously has to be a pinnacle at some point."
Jamieson's form slump coincided with the birth of his daughter, Zoe, a year and a half ago, but he has no regrets about starting a family.
"It is the best thing that's ever happened to me," he said. "Fortunately, I've always been a morning person, so getting up early doesn't bother me too much.
"I do remember my first couple of years on tour. You just assumed that everyone you're competing against is 100% prepared for every day, they've had a great night's sleep, their practice at home's been going perfectly.
"And then, all of a sudden, if my wife and Zoe come with me to a tournament, you maybe don't have a great night's sleep, you are maybe feeling a bit groggy in the morning.
"But then you look around and think, well, I'm not the only guy here who is married with a kid. Everyone else has had to deal with this."