Luke Donald returns to form in time for Open challenge

By Iain Carter
BBC golf correspondent
Last updated on .From the section Golf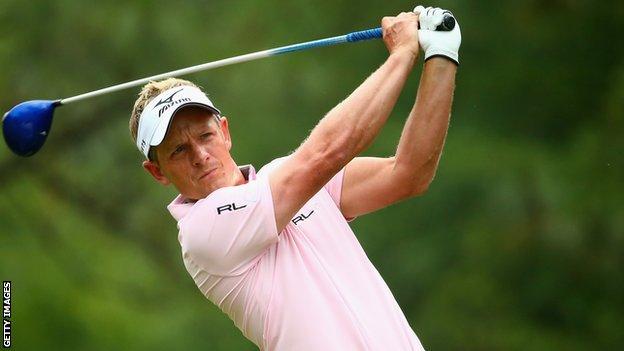 The last time the Open was staged at St Andrews, Luke Donald was firmly ensconced in the world's top 10 and on the threshold of climbing to the top of the world rankings.
Back in 2010 it would have been hard to imagine the Englishman struggling for the right to compete the next time the Championship visited the home of golf. After all, the Open returns to the Fife town every five years.
Donald, though, has needed to show commendable determination to ensure his St Andrews place and extend an unbroken run of 26 consecutive major appearances.
That run might have ended earlier this month had he not come through qualifying for the US Open. Having to go through such a process is some come down for a man who dominated the rankings in 2011-12.
"Obviously it's grounding," Donald admitted when he spoke to BBC Sport before competing at Chambers Bay. "It's something I wouldn't have wanted to have to do but the golf hasn't been quite what I wanted in the last year or so."
Donald's razor-sharp short game elevated him to the world number one spot in a spell when he was a constant name on leaderboards on both sides of the Atlantic.
His deadly accurate chipping and putting gave him an edge that made up for his relatively short hitting. In that period he won five times with victory at the 2011 WGC Matchplay in Arizona the biggest title of his career.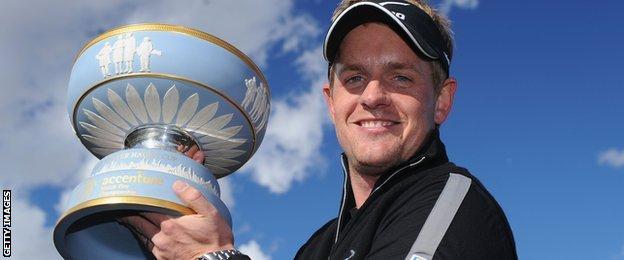 The main omission was an inability to take that world number one form into the majors. The mantle weighed heavy on his game when the biggest prizes were up for grabs.
It was as though he was labouring under the pressure of having to justify his number one status - which was nonsense because only results determine rankings.
So it was ironic that his best tilt at a major precipitated his dramatic fall from grace. Donald was in the thick of the chase for the US Open won by Justin Rose in 2013.
The former number one faltered in the final round and concluded he needed to change his swing to make it more reliable on the toughest golf courses.
He changed coaches and sought a swing that relied on his bigger muscles. As Donald worked on these processes he neglected his short game and effectively became Samson after a visit to the barbers.
In 2014 he managed only a quartet of top four finishes without a victory. There was little to excite from the rest of his season.
Donald tumbled down the rankings and then began 2015 with three missed cuts on the PGA Tour.
Before he knew it he was out of the world's top 60, hence the need to qualify for Chambers Bay.
Reunited with his long time coach Pat Goss, Donald has returned to concentrating on his traditional strengths.
"Certainly I've seen a lot of progress in the last few months and even just going through in qualifying is a step in the right direction," he said. "I've just got to get these little victories to get me back to where I feel like I belong."
A week after finishing 58th in the US Open, Donald demonstrated his progress with four rounds in the 60's at the Traveler's Championship won by Bubba Watson.
US Open final leaderboard
-5J Spieth (US);-4L Oosthuizen (SA), D Johnson (US);-3A Scott (Aus), C Smith (Aus) B Grace (SA);-2C Schwartzel (SA);-1B Snedeker (US);LevelR McIlroy (NI), S Lowry (Ire), J Day (Aus)
Selected others:+3S Garcia (Spa);+5T Fleetwood (Eng), J Gunn (Sco), J Rose (Eng), M Warren (Sco);+6P Casey (Eng);+9L Westwood (Eng);+11I Poulter (Eng);+12L Donald (Eng)
The Englishman's closing 66 left him seventh which was good enough to grab one of four places available for July's Open.
And so the run of major appearances continues with Donald making use of the new system that replaces the flawed International Final Qualifying.
By giving spots at events on the leading tours around the world, the R & A are more likely to assemble a stronger field.
And it feels right that someone like Donald should be at St Andrews. The 37-year-old is turning a corner at a time when it would be easy to settle for family life spending his amassed millions.
Instead he is relishing the challenge of rediscovering his best golf. You could sense that at Royal County Down in the recent Irish Open where he posted a decent top 20 that might have been an awful lot better.
"I really enjoyed the Irish, my ball striking was good," he said. "I was compressing the golf ball and in those windy conditions you needed to do that.
"I'm excited about how my golf is going. The feelings of hitting good shots and making putts and feeling comfortable out there are a lot better than they were a few months ago."
Donald feels much better equipped to mount another assault on the rankings. It's a heartening story of determination and fight in an ever more competitive golfing world.
And he's looking to do it bit by bit. "In the past I have gotten a bit too far in front of myself," he said. "Even last year that was the case when I was watching my ranking move that way.
"You're just not going to be that successful if that's the kind of things you are concentrating on."
So it will be one shot at a time for Donald when he returns to the home of golf where five years ago he finished 11th.
Now, at the very least, he's given himself an opportunity of improving on that performance.