European Masters 2015: Becky Morgan happy with 'decent week'
By James Pontin
BBC Wales Sport
Last updated on .From the section Golf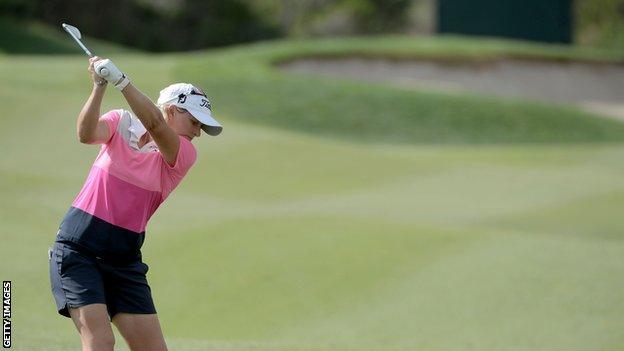 US-based Becky Morgan was happy with her return to Europe after finishing on six under at the Ladies European Masters.
Morgan, 40, carded four birdies but gave them all back to the course on a tricky final day at the Buckinghamshire course.
"I'm a little disappointed to have bogied the last hole, but the wind was tricky today," she said.
"It would have been nice to challenge, but [it was] a decent week"
American Beth Allen won the European Masters, finishing 12 under.
Morgan, who lives in Florida, was playing in only her third Ladies European Tour (LET) event of the year as she splits her time either side of the Atlantic.
"Playing fairly constantly over four rounds has given me a confidence boost - I've not been able to do that over in the States," Morgan added.
"I'm going to have two weeks over in the States and I'm going to try and qualify for the British Open.
"If I can't doing it there then I'll do it Scotland. I've got a couple of chances so it will be back and forth over the pond a couple of times."
Becky Brewerton and Sahra Hassan both missed the cut leaving Amy Boulden as the only other Welsh golfer to compete the final two rounds.
The 22-year-old from Llandudno finished on level par, closing with a one over round of 73 and admitted it had been a tough week.
"I'm not putting well enough at all which is unfortunate as that's normally one of the strongest parts of my game," Boulden said.
"It's been a frustrating week for me. It's been slow out there which doesn't help as I couldn't really get into a routine."
Boulden came into the European Masters looking to impress the Solheim Cup captain Carin Koch.
The Swede had said before the tournament she was keeping an eye on the youngster from north Wales.
Boulden's chances of making the team for September's showpiece event appear to be distant.
But with a busy month ahead, Boulden has not given up all hope of making the European team.
"I've got two weeks off now to get my game ready for he next three weeks as I've got three weeks in a row."
Boulden travels will start at Troon with the Scottish Open before moving onto Turnberry for the Women's British Open and then the Czech Republic for the Pilsen Masters.
"I'm looking forward to it. That's when I normally play my best golf - building up momentum - so I'm looking forward to that."