Open: Rory McIlroy's injury puts rivalry with Jordan Spieth on hold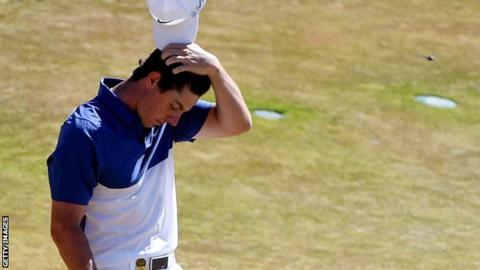 Rory McIlroy lives life to the full. He is not a one-dimensional athlete and if he fancies a kickabout with his mates then he will throw down the sweaters for goalposts.
Never mind that there's an Open title defence just around the corner and that a young pretender from America is muscling in on his position at the top of the world rankings.
While Masters and US Open champion Jordan Spieth's preparations for next week's Open have prompted much discussion, there will be many more question marks over why McIlroy put his St Andrews appearance in jeopardy.
It was a kickabout with old school friends back home in Northern Ireland that led to him going over on his ankle. He suffered a "total rupture of left ATFL (ankle ligament) and associated joint capsule damage".
It's the ligament that runs from the nobbly bit on the outside of the ankle into the top of the foot.
So this was an expensive game of football, especially when you consider those sweaters carry branding that expects to be exposed at golf's biggest events.
But the damage goes far deeper than that felt by the player's sponsors. It is a massive blow for McIlroy and the game in general.
Golf was salivating at the prospect of him going head to head with Spieth - the two men who hold all four major titles. There is every reason to believe the sport is on the threshold of being driven by a great rivalry between these two young guns.
So there will be many who say the world number one has been recklessly irresponsible and unprofessional. He should have been wrapping himself in cotton wool with the only exercise coming in the gym and on the range.
This, after all, is the most important part of the season and McIlroy's game appears perfectly suited to the Old Course, where he finished third five years ago.
However, as a character, McIlroy has to remain true to his make-up. He has always recognised that there is more to life than golf.
It's why he has tried skiing in the past; it's why he took part in that ill-fated kickabout.
This is a perspective that has surely helped to make him a four-time major champion.
There are plenty more golfers who have suffered similarly. Paul Casey suffered a dislocated shoulder snowboarding, Miguel Angel Jimenez broke his leg skiing and Martin Kaymer hurt his foot go-karting.
None of which will be of any comfort to McIlroy right now. This is a serious looking injury, particularly as it his left ankle, which bears his weight through impact and follow through.
Spieth, meanwhile, doesn't seem to have given himself his best chance of extending his run of major victories. His choice of tournament for this week could scupper hopes of a historic Grand Slam.
Spieth is honouring his commitment to play the John Deere Classic rather than properly readying himself for the links challenge of St Andrews.
With victories at the Masters in April and at the US Open last month, the 21-year-old Texan is on track to become the first player to collect all four major titles in a calendar year.
Only Tiger Woods has held the complete set simultaneously but even he couldn't manage the feat in one season, so Spieth has earned the opportunity to accomplish one of the toughest achievements in sport.
But is he giving himself his best chance of adding the Claret Jug to his Masters Green Jacket and US Open trophy?
Even though it is a laudable trait to remain loyal to a tournament, particularly the one that yielded his first PGA Tour victory, the answer has to be no.
Spieth has foregone the opportunity of playing any kind of links golf in the build-up. Instead, he will be playing the parkland form of the game in Silvis, Illinois before boarding a charter flight laid on by the American sponsors on Sunday night.
He will arrive at St Andrews on the Monday afternoon and will have to try to cram the knowledge for a course he has played only once and that is famed for its nuances.
At Chambers Bay last month, Spieth heeded the call for early preparation and tapped into his caddie Michael Greller's wealth of local know-how. This contributed massively to his second major title.
Without a similar level of preparation it feels as though, with the game's most prestigious title on the line, he will hand the initiative to a host of rivals.
Sadly, though, McIlroy seems to have given the rest of the field an even bigger head start.