Rory McIlroy: Open can cope with absence of world's best player

By Tom Fordyce
Chief sports writer
Last updated on .From the section Golf140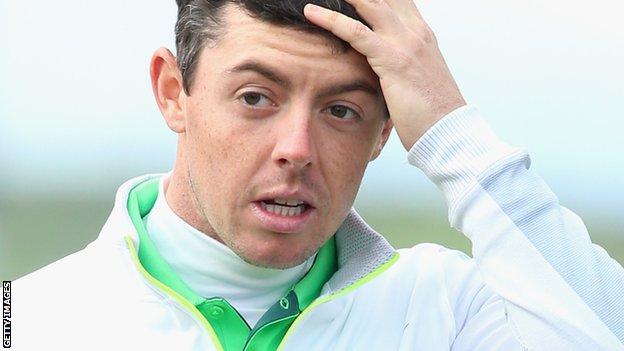 If Rory McIlroy woke up feeling bad on Monday morning, having ruptured his ankle ligaments in a kickabout, imagine how the bloke who tackled him must have felt.
McIlroy, the world's number one player, will miss his sport's number one tournament. As defending champion and the biggest draw in the game, it is a blow not only for the Northern Irishman but for an Open sat in the middle of a saturated sporting summer.
But neither should the impact be overstated, and not only because an Open at St Andrews is far bigger than any individual player.
This was being billed by some as the next stage in an incipient rivalry between McIlroy and world number two Jordan Spieth, no longer the young pretender but the dominant golfer of the season thus far.
It is an alluring plotline: the two men have a combined age of just 47, less than the world's top two in tennis, a sport traditionally considered more youthful and athletic; between them they have won the past four majors; one is all monstrous driving and curly hair, the other a study in course management whose cap hides a little less with every passing month.
Yet the 'rivalry' narrative is an inaccurate one.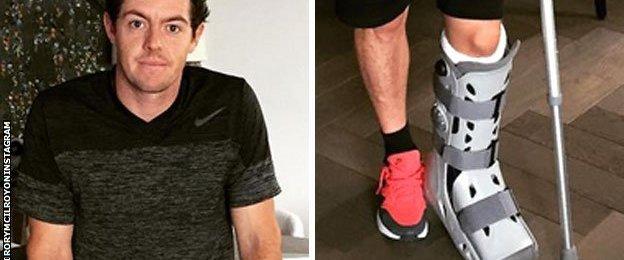 While McIlroy has finished fourth and tied ninth in Spieth's triumphs at the Masters and US Open in the past three months, the pair are yet to see their adjacent world rankings reflected in a final-afternoon showdown.
The match-up is too recent to have the draw of a Sam Snead v Ben Hogan - Snead once said the three things he feared most in golf were "lightning, Ben Hogan and a downhill putt" - let alone an Arnold Palmer v Jack Nicklaus or Nicklaus v Tom Watson.
Neither do they harbour antipathy towards each other, never mind the open dislike of Gene Sarazen and Walter Hagen. Spectators might prefer one to the other but they are not the sort of characters to fire partisan passions beyond an admiration for their abilities and the golfing rewards these have brought.
And it is to do Spieth a great disservice to suggest that he needs McIlroy's presence elsewhere on the course to make his own challenge more fascinating to the millions watching.
Rory McIlroy's Open record

2014:

Royal Liverpool - winner

2010:

St Andrews - tied third

2013:

Muirfield - missed cut

2009:

Turnberry - tied 47th

2012:

Royal Lytham - tied 60th

2007:

Carnoustie - 42nd

2011:

Royal St George's - tied 25th
The Texan may have trouble describing the best part of his own game, settling on the rather prosaic "playing badly well" when others might term it course management and precocious self-control.
But he is a sportsman only the misinformed would not want to watch: only the sixth player to win the Masters and US Open in the same year, the youngest player to win the US Open since Bobby Jones 93 years before. He is also the second youngest Masters winner in history and the first man to win it wire to wire in 39 years.
The fact he is on course to potentially become the first player to win all four majors in the same calendar year may owe a little too much to hype - there is good reason why the greats of distant past and recent brilliance never managed to pull it off - but having won the US Open on a course that behaved just as a links should, his chances at St Andrews and the US PGA at Whistling Straits, on the shores of Lake Michigan, are based on solid logic.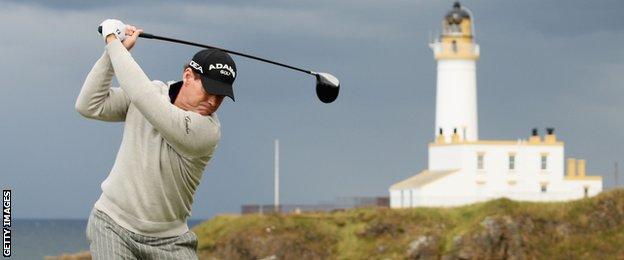 These are difficult times for golf. Club membership in England dropped by 20% between 2004 and 2013, and by 14% in Scotland over the same period. The past eight years have seen the numbers playing regularly in England plummet by 180,000.
The absence of its most well-known and exciting player from a tournament shown on terrestrial television across all four rounds, therefore drawing in the casual viewer, would appear another significant setback.
But golf's troubles both pre-date McIlroy's rise and outweigh it. Just as his triumph at Royal Liverpool a year ago could not reverse that decline in playing numbers, so his achievement in adding the US PGA title a few months later was not enough to see him win BBC Sports Personality of the Year's public vote.
This is not to understate McIlroy's brilliance nor his draw. But this is just one Open in what will be a long and successful career.
And just as golf is lucky to have him, so it has myriad other stories and characters that will inevitably come to the fore next week on the Old Course.
Sensible followers of sport never write off a tournament before it has begun to unfold. If it is contenders from the British Isles with major wins to their name that work for you, there is Justin Rose.
If it is US mavericks, there is Dustin Johnson. If it is greats of the past, there is the final Open of Nick Faldo. If it is greats reduced to also-rans who yet retain a different sort of fascination, there is the return of Tiger Woods to a course where he played his first ever Open and dominated in spectacular fashion in 2000 and 2005.
And then there are all the plotlines that are yet to develop. That there was no Woods beyond the first two rounds at the 2009 Open at Turnberry did not prevent Tom Watson producing a narrative that was unforgettable and so nearly unprecedented.
Woods was entirely absent at Royal St George's in Sandwich in 2011 due to injury, an Open where McIlroy went in as the stellar attraction having dominated the Masters a few months earlier only to capitulate on the final day.
Instead it was another Northern Irishman who would provide a finale that stirred the soul like few Opens before or since.
McIlroy's tie for 25th that year was barely a footnote compared to Darren Clarke's triumph against logic and the passing years.
McIlroy's absence four years later, while a disappointment, is just one story of many.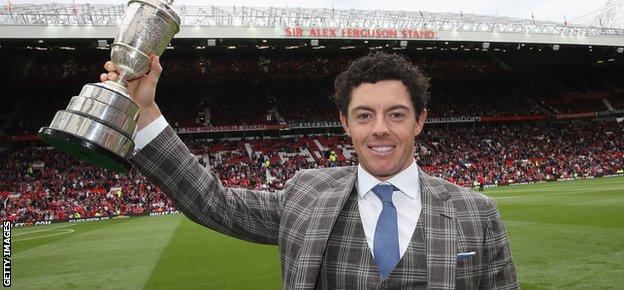 This is an updated version of a piece published on 6 July.