Rory McIlroy's Open absence would disappoint Jordan Spieth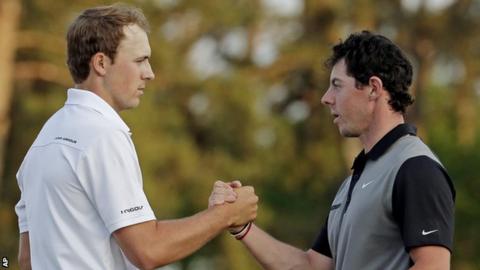 Double major winner Jordan Spieth says Rory McIlroy's absence from the Open will "dampen" the occasion and is hoping the defending champion can recover from injury in time to play.
McIlroy, 26, is a doubt for next week's championship after rupturing an ankle ligament playing football with friends.
"I obviously wish he was there," Spieth, winner at this year's Masters and the US Open, told the Golf Channel.
"You want all fields to be full strength no matter who it is."
BBC golf correspondent Iain Carter on Rory McIlroy's injury
"This could not have come at a worse time and the wisdom of having a kickabout is sure to be questioned. Clearly it was a freak accident at a time when McIlroy was relaxing ahead of the most important period of the season. The fact it is his left ankle is also problematic. This is the side he hits towards and that bears his weight through the impact and follow through."
The 2015 Open begins on 16 July at St Andrews in Scotland.
Texan Spieth, 21, is ranked two in the world behind 26-year-old Northern Irishman McIlroy, a four-time major winner.
Spieth does not believe McIlroy's anticipated absence from the Open will make his life any easier on the Old Course.
"You want the defending champion, much less the best player in the world at the event," he said.
"Losing the number one player in the world for a major championship would be tough. It kind of dampens it."