Richard Gottfried: 661 crazy golf courses and counting
Last updated on .From the section Golf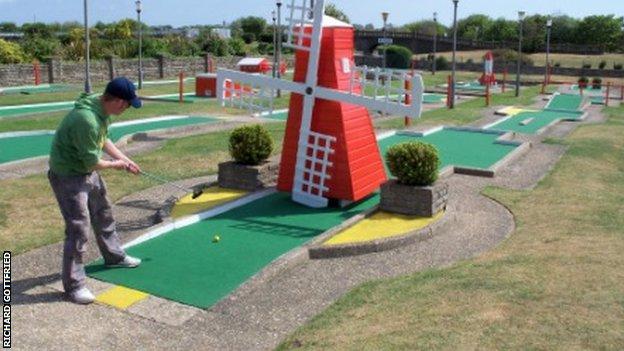 Windmills, clown faces and plastic mountains - familiar foes for the British seaside visitor on the crazy golf course. But one man is more accustomed to them than any other.
During the week Richard Gottfried works in a marketing office in Hemel Hempstead, but at weekends he is on a quest to complete every single UK crazy golf course.
So far, the man from Luton has completed a staggering 661 courses up and down the country, and believes he still has 50 more to go.
"As far as I'm aware, no-one has ever visited every course in the country," he told BBC Sport.
"It becomes an addiction. You realise there are so many different types of courses, ones with windmills and ones which have been played on since the 1920s."
For Gottfried, it all began when he and his wife visited Southsea in Hampshire and, after sampling its delights, "it's spiralled from there".
"People let me know through Twitter and my blog about new courses and say 'have you checked this out?' There are always new courses springing up, I know of three this summer."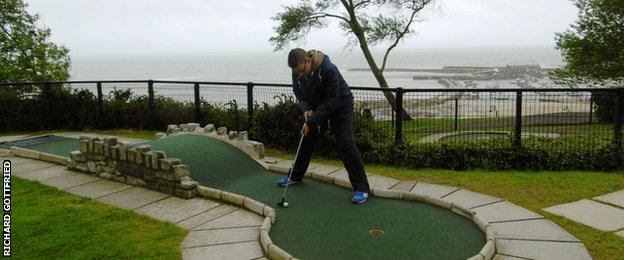 Gottfried, who has competed at international championships, says it may be a "never-ending" pursuit because of these new courses but if he does ever complete it he would love to try out the United States, Canada or Spain.
So where is his favourite place to go for his crazy golf fix?
While a fan of Hastings - which "has got tougher in recent years" - Gottfried has a special place in his heart for Skegness.
"You've got nine courses along the seafront and all different types of courses; windmills, pirate adventures and the original crazy golf course in England."