The Open: Electrifying Rickie Fowler set for St Andrews challenge

By Tom English
BBC Scotland at Gullane
Last updated on .From the section Golf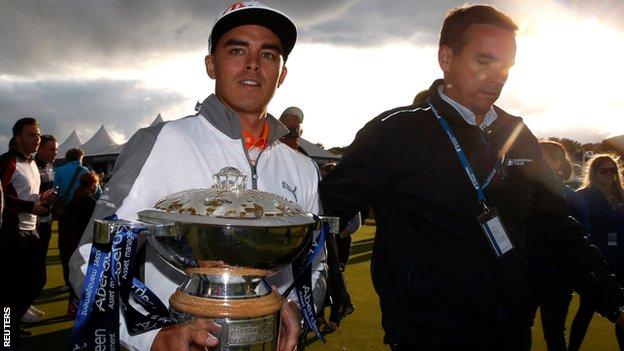 Scotland didn't get the winner of its dreams - Marc Warren's wonderful bid for glory at Gullane falling two shots short - but it got a champion it revelled in all the same.
When Rickie Fowler finished birdie-birdie-par-birdie to take the Scottish Open by a shot - his first victory not just in the home of golf but on the entire European Tour - the locals acclaimed him as one of their own.
This was a special finale to a fine tournament. A denouement that saw Fowler produce his best stuff in difficult conditions and render as nonsense once again that anonymous players' poll of a few months back that had him down as one of the game's most over-rated talents.
Over-rated? No. Electrifying? Yes. This was Fowler's second title of the year, following on from the Players' Championship in May and it was won in a style that made the odds-makers cut his price for the Open at St Andrews. From 28-1 on Sunday morning to 20-1 now, if you're lucky. Expect that number to tumble further.

"The only thing that can get a little more special than this would be winning next week," said the new champion. "It's obviously going to be tough to better my finish last year, being runner-up with Sergio Garcia, but the way my game feels right now I like my chances.
"I feel very good about my game and I'm excited about going back to St Andrews where I've played well. I definitely want to be known as a great player. I want to be one of the best players in the world and to be able to win around the world and be a global golfer is something I want to be.
"To win on a links golf course, my favourite style of golf, in Scotland the week before the Open at St Andrews is great timing."
The ovation at the endgame at Gullane wasn't quite the rapture reserved for the ultimate honorary Scot, Phil Mickelson, in his imperious weeks at Castle Stuart and Muirfield in the summer of 2013, but it was reminiscent of it. The warmth of the crowd was utterly heartfelt and in the context of the Open championship this was a day that might well prove significant.

With his record at the Open - and his genuine love of links golf - Fowler was surely on everybody's shortlist of potential winners at the Old Course. Now that he's mastered Sunday's testing conditions around Gullane - the increase in wind meant that the afternoon starters had more golf course to contend with than at any point in the whole week - he goes to St Andrews in the rudest of health.
The American has played in the Open championship on five occasions, the first of them at St Andrews in 2010 when Louis Oostuizen was the only show in town. Fowler shot 79 in his opening round to blow himself out of the race but rallied marvellously, basking in the greatness of the Old Course and going 67-71-67 in his last three rounds.
The pair of 67s on Friday and Sunday weren't bettered by a single man in the field, the uncatchable Oosthuizen among them. It got him a share of 14th place by Open's end and with it came the realisation that there was a whole lot more to Fowler's surfer dude persona than target golf on the PGA Tour.
This wasn't just a guy who could shoot the lights out at the Open. Fowler understood and fell in love with the links from the get-go.
He's been a factor in the Open twice since then, finishing in a tie for fifth behind Darren Clarke at Royal St George's in 2011 and again last year at Hoylake when he shot four rounds in the 60s and was joint second behind Rory McIlroy - who played like God.
Fowler spoke of St Andrews and a potential joust with the man-child, Jordan Spieth. "Jordan's been playing some incredible golf and it's been fun to see. You never know, down the road, there could be some good battles with Rory (when fit), Jordan and me."
For now, we'd settle for Fowler versus Spieth coming down the stretch at St Andrews on Sunday. Wouldn't that be something to see?