Open 2015: Who will win at St Andrews' Old Course?

By Iain Carter
BBC golf correspondent
Last updated on .From the section Golf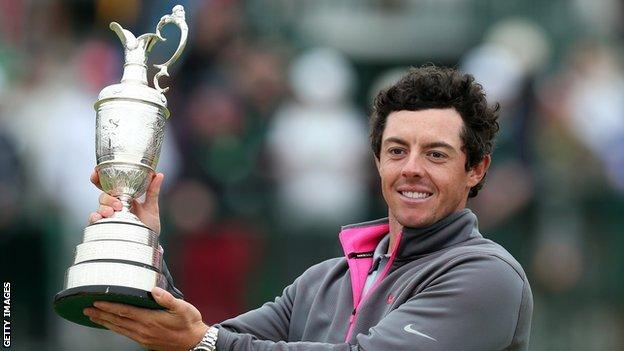 144th Open Championship
Venue:
St Andrews
Dates:
16-19 July
Coverage:
Live across BBC TV, Red Button, Connected TVs, online, Radio 5 live, sports extra, tablets, mobiles and app
For a setting famed for its subtleties and nuances, the Old Course at St Andrews paradoxically produces champions who bludgeon their way to the Claret Jug.
The last four winners at the venue have been among the longest hitters in the game. No-one propelled the ball further than John Daly when he won in 1995.
In 2000 Tiger Woods averaged 319 yards off the tee as he strolled to an eight-shot victory, while five years later he was repeatedly smashing it 340 yards en route to a five stroke triumph.
South Africa's Louis Oosthuizen was no slouch in his win by seven shots in 2010. He was fourth in the driving stats.
This trend is a reflection of the modern game played with equipment which strips golf of its guile of past days. At the Old Course, provided you avoid treacherous bunkers, you can belt it long and prosper.
"Once the hard core ball came into effect, the game changed almost like never before," observed former PGA Tour pro Brandel Chamblee. "St Andrews is a golf course highly prejudiced to power."
The 53-year-old is now one of the most respected pundits in the sport. He brings astute analysis and a deep knowledge of the game's history to his role as a lead analyst on the Golf Channel.
Ask him who he thinks will win the Open and you are in for a fascinating listen. Woods? "No, absolutely flat no," he says. Phil Mickelson? "Marginally so, he might have a run at another major but at 45 his best days are behind him."
Then of course there is the sensation that is Jordan Spieth, the 21-year-old winner of the year's first two majors and the victor at the John Deere Classic in Illinois on Sunday.
"There are so many areas where Jordan is the best," Chamblee told BBC Sport. "In from 20-25 feet he's first [on the PGA Tour statistics], approach-putt performance he's first."
The American pundit then reels off several more detailed statistical justifications with the rapidity of a machine gun before concluding: "There's a lot of reasons to like Jordan Spieth there."
Last five winners of the Open at St Andrews
2010 - Louis Oosthuizen
2005 - Tiger Woods
2000 - Tiger Woods
1995 - John Daly
1990 - Nick Faldo
But the young Texan does not fall into the category of big hitters who have dominated St Andrews Opens in recent years. He doesn't have the length to fly many of the bunkers, which means longer, more difficult approach shots.
"If you were to look at the type of player who has won there over the last 20 years you can then have some concerns over his ability to get past some of the bunkers," said Chamblee. "They will come into play for him."
But there is hope for Spieth and other players who do not enjoy exceptional power from the tee because changes have been made to the Old Course.
When the alterations to nine holes were first announced, they prompted outrage among traditionalists. Changing the famed Old Course was tantamount to drawing a moustache on the Mona Lisa.
In reality they have been subtly implemented and there will be little fuss even though they may affect the tenor of the tournament.
Additional bunkering down the right of the second and third as well as a new hazard on the ninth hole may constrict the influence of the biggest hitters.
"If the changes play out as they've intended then perhaps Jordan will have a better chance," Chamblee said. He points to the Masters and US Open champion's "maturity" as the element that separates him from the rest.
"It is just as amazing as the physical skills of a Tiger Woods."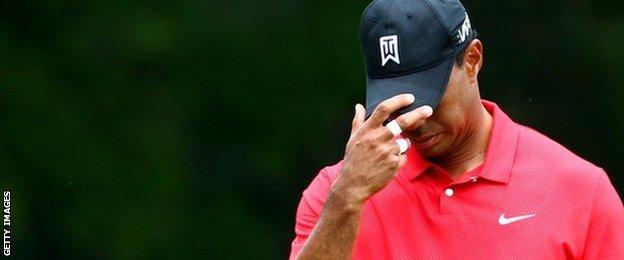 And he means those of the Woods of old, not the one that comes into the Open ranked 241 in the world.
Despite an encouraging bogey-free finish to his last competitive outing at the Greenbrier, where the three-time Open champion finished 32nd, Chamblee gives him no chance this week.
"He is by far the worst on tour at scrambling this year," added Chamblee. "He's still got a bit of a two-way miss going.
"His irons are a bit better but the Greenbrier was a pretty easy golf course and compared with the Open Championship it was a field of far lesser strength.
"So Tiger Woods? No. He does not have a chance of winning at the Old Course by a long shot."
Chamblee favours the man who three-putted the final green at Chambers Bay to hand US Open victory to Spieth last month. Dustin Johnson fits the big-hitting bill to a tee and having come close in 2011 has the game to prosper on a links softened by recent rains.
He is equally enthusiastic about Henrik Stenson's chances. The Swede was third behind Oosthuizen in 2010 and, like Johnson, a first major victory is long overdue.
Viewing the lush green fairways it is hard not to think this would been have set up perfectly for last year's winner Rory McIlroy. The level of frustration he must feel in the wake of last week's ankle injury that has cost him his title defence must be immense.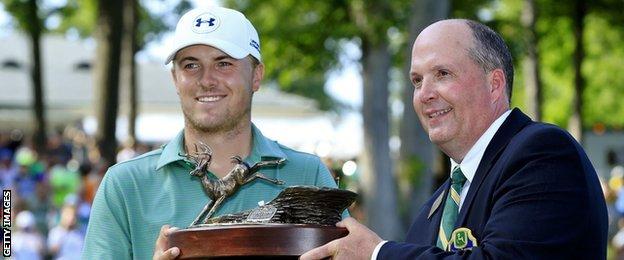 In the world number one's absence this looks a pretty open Open. Along with Johnson and Stenson, Chamblee talks up the chances of Brooks Koepka, Sergio Garcia and last week's Scottish Open winner Rickie Fowler.
Add to that list the South African challenges of Oosthuizen and Branden Grace, who mounted a brave challenge at the US Open. Grace is also a past winner of the Alfred Dunhill Links at St Andrews.
Expect decent showings from Britons Tommy Fleetwood and Danny Willett, while Luke Donald comes to the Old Course off the back of eight consecutive rounds in the 60s.
"Big hitting obviously helps but St Andrews isn't a longish course," Donald said. "I know it will be softer than we usually see it, but there's still a few wedges out there.
"If I wedge it well and putt well then I will be up there and have a chance."
And then there's the resurgent Paul Casey, who was in the final paring on the Old Course five years ago. As Chamblee observes: "I can't believe he's not contended in more major championships."
This would be a great week to do it for the British contingent. It's 25 years since Sir Nick Faldo's Old Course triumph. It was also the last St Andrews Open before the big hitters took over.