Open 2015: Mark Young's bid to make it as a professional golfer
By Ged Scott
BBC Sport at St Andrews
Last updated on .From the section Golf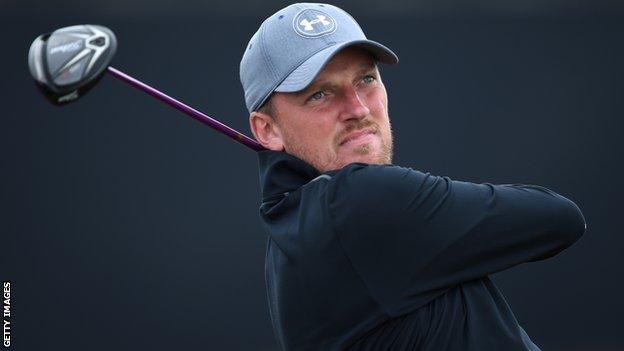 Former conservatory maker turned golfer Mark Young plays in his first Open at St Andrews - just eight months after turning pro.
As a former part-time footballer, who turned to golf at the age of 26 and did not become a professional until he was 33, little-known Englishman Mark Young is the first to admit that he's no Rory McIlroy.
But Young is playing at St Andrews this week. The injured McIlroy is not.
And, if there's one thing the 6ft 1in ex-striker can teach the man who should have been teeing off as defending champion, it's a lesson about timing.
"He didn't want to do that on the eve of the Open," laughs the Lancastrian, from Longridge.
It might ever so slightly lessen the St Andrews ambience for Young that, in his first Open, at the famous Old Course, just nine months after turning pro, he will not be competing in the same field as the world number one.
But it is hard to tell now that the nerves which accompanied Young when he arrived at the home of golf on Sunday have been overtaken by genuine excitement.
Young the amateur
This will be Mark Young's professional debut in a European Tour event. He has played twice on the satellite Europro Tour this year, earning tied finishes of 33rd and ninth.
The only time he has been to St Andrews was to play in the Links Trophy as an amateur. "I've been to watch when the Open has been played at our local courses, at Hoylake, Birkdale and Lytham," he said. "But I've never been to an Open at Andrews."
As an amateur, Young, who is now attached to Clitheroe, won the Northern Order of Merit five times and has three times won the Lancashire Amateur Championship.
The soothing of those nerves was initially aided by Young's experience of partnering the last man to win a St Andrews Open here in 2010, Manchester-based South African Louis Oosthuizen.
"I played the first two holes with him on Sunday when I first arrived," Young told BBC Sport. "I stood on the first tee and I was a bag of nerves. I only just managed to get the club on the ball.
"He didn't have to play with me, but he was a lovely bloke, he wished me all the best and I've now got used to the surroundings and playing with all the big names. I played with US tour player John Senden on Monday and with Justin Rose on Tuesday for the first 16 holes.
"I also played with Paul Kinnear, who's a good lad, who I know through county amateur golf with Lancashire. And I'm playing on Wednesday with Henrik Stenson, Sergio Garcia and Tommy Fleetwood, who I also played with for Lancashire, when he was the young whizzkid coming through.
"I'd take another 1pm tee time with Louis Oosthuizen next Sunday though," grins the former conservatory maker." I'd be happy with that."
And realistically? "I just want to make the cut, play four rounds and take it from there."
Young's pathway to professional golf
"In my younger days I enjoyed my football more than golf," he said. "I played for my local side Hurst Green before I played about half a season in the North West Counties League with Great Harwood Town. But golf took over when I was about 26.
"I had a job manufacturing conservatories which I did for 12 years until I turned pro in November.
"I got to the second stage of Tour School and we'll just have to wait and see what happens now, but it was something I had to have a go at.
"And I couldn't have done it without the help I've had from three members of my first club at Stonyhurst, Mike and Martin Kerrigan and Tony Baron.
"They've funded me a bit to see if I can make it, which enabled me to give up my job and I owe a lot to them. They're coming up to watch and I hope I can make them proud."
So far Young has justified his £150 entry fee, having finished second in Regional Qualifying at Mere in June before winning one of the four two-round Final Qualifying tournaments when he shot rounds of 68 and 70 at Glasgow Gailes.
Over the years, so many have had a go at Open glory. The butcher, the baker... now it's the turn of the conservatory maker.