Jordan Spieth outshines Tiger Woods at St Andrews Open

By Tom English
BBC Scotland at St Andrews
Last updated on .From the section Golf
144th Open Championship
Venue:
St Andrews
Dates:
16-19 July
Coverage:
Live across BBC TV, Red Button, Connected TVs, online, Radio 5 live, sports extra, tablets, mobiles and app
There was a moment round the back of the 18th green at St Andrews that encapsulated not just the day but, perhaps, a changed era, too.
Jordan Spieth was holding court in the interview area after beginning his Open championship with a five-under-par 67, rolling in a birdie putt on the last green that was now the subject of the conversation.
As he talked, Tiger Woods loomed up behind him, fresh - if that's the word - from his demoralising 76, his worst round at the Old Course since he came here first as a coltish amateur 20 years ago and shot 78 on Sunday.
Woods looked into the area where Spieth was speaking - there's room for two players at a time - and decided to hold back from joining him on stage, despite there being a spare microphone and a waiting audience. Normally, Tiger waits for nobody, but he waited for Spieth. Second best on the golf course, second fiddle in the aftermath.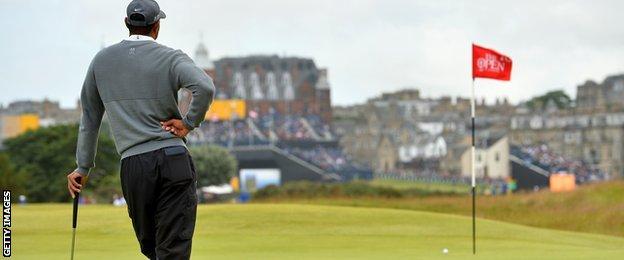 He waited and waited until he could wait no more. Then he took his position and it was possible to hear him and Spieth talking at the same time. From the right, where the Texan stood, came the gunslinger chat of a guy who's on the most incredible roll. From the left, Tigerland, came the faint and slightly forlorn hope that tomorrow might bring a renaissance.
The respective demeanours, just like their golf games, could not have been more stark.
Spieth didn't even know Woods was there until he started to make his exit and took a sideways glance to see the man who used to be king talking about his frustration and anger. Such emotions are not in Spieth's make-up right now.
After his round he spent time some singing the praises of his playing partner, the bomber's bomber, Dustin Johnson. There's history there, of course. Last month's US Open at Chambers Bay could have been Johnson's but, instead, became Spieth's after the big hitter shrank on that final green.
The subject of Johnson's implosion didn't come up, said Spieth. What came up were some laughs about how much further Johnson hit it off the tee.
Truly, it was extraordinary. The distance gap between them was 40, 50, 60 yards at times. At the 10th, it was closer to 100 yards. Spieth had a conservative game plan off the tee and Johnson had the opposite. They constructed their rounds in different ways but both were things of beauty in their own way.
Johnson shot 65. "If DJ keeps driving it the way he is then I'm going to have to play my best golf to have a chance," said Spieth. "It's hard to argue with somebody who's splitting bunkers at about 380 yards. I don't have that in the bag, so I've got to make up for it with ball-striking."
The conditions were benign, it's true. Little wind, soft greens; the Old Course was largely defenceless save for a few gusts on the back nine. Spieth birdied his opening two holes, a dream start for a guy who stood on the first tee as a St Andrews rookie and who had, half an hour later, metamorphosed into a St Andrews slayer.
He went to three under at the fifth, four under at the sixth, five under at the seventh and six under at the 11th. It was just past midday and the mind drifted back to all the talk - and a modicum of criticism - about his decision to play the John Deere Classic last week instead of coming to Scotland to prepare 'properly' for the Open.
"Our game plan worked out perfectly," he said later. The dissenting voices have been hushed, for sure. "Michael [Greller, his caddie] has walked two or three extra rounds on this course this week already. He was also out here at four o'clock, or something, this morning walking the course and looking at the pins. We have full and complete trust in our knowledge."
Chasing Hogan's record
Spieth is seeking to become just the second man - after Ben Hogan in 1953 - to win the first three majors of the year and set up the prospect of a Grand Slam of titles at the PGA Championship in August.
It wasn't all a procession. The Old Course might have not have many teeth in the opening round - stand by because it's going to be a different beast in round two with the weather that is forecast - but Spieth had moments of difficulty to work through nonetheless.
On 13, he found sand from the tee, had to chip out sideways and left himself a 15-footer for par. For once, he missed. He scrambled for par on 14, too.
The pace of play was slow. Painfully slow at times. "You can't think too much about it, though," he said. "It's tough when you stand on those tees and you have to wait for two groups to play and then you've got to hit a tee shot into a small area with the wind whipping into you from the left. It definitely makes it more challenging because you just want to keep it in the groove. But it happens."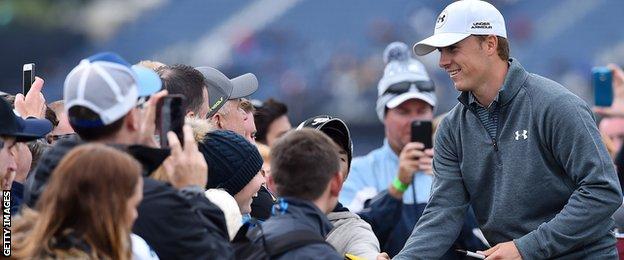 One of the delays was at the junction of 16th green and 17th tee. It was gridlock but the scene offered up a moment that illustrated Spieth's mounting popularity, particularly with the game's younger generation. The American was standing on the 17th tee waiting for the traffic to clear as Paul Lawrie prepared for a birdie putt that would have put him into the lead on eight-under had he made it.
He didn't, but that wasn't the point. Before he struck his putt, a shout, unmistakeably Scottish, went up from the grandstand, an early-teens cry of support not for the local man Lawrie in the midst of a charge, but for the tourist. "Come on, Jordan!" shouted the youngster.
Spieth's swift rise
He turned professional in 2012
The 21-year-old has five wins on the PGA Tour
Spieth equalled the lowest winning score in Masters history to win his first major in April
He then won the US Open by one shot in June for his second major in 2015
There was plenty of that out there. And it was appreciated. And it came again on the 18th. Spieth had found the Road Hole bunker on 17 and dropped a shot, but when he got it back again on the final hole there was an ovation that suggested that this is a guy that Scots might take to their heart; a golfing machine, no question, but one with humility and class and a warmth that resonates.
That feeling of a developing relationship might be mutual, too. When asked about the threat of doomsday weather on Friday, he just smiled, like a man who relished Scottish links golf at its most foul. "It's definitely going to be a brutal day," he said. "We just don't know when the rain is going to start, when it's going to stop. I think it's going to be a true Scottish day that we should all enjoy."
And the thing was - he sounded like he meant it.