Open 2015: Paul Lawrie lights up Old Course on day one

By Tom English
BBC Scotland at St Andrews
Last updated on .From the section Golf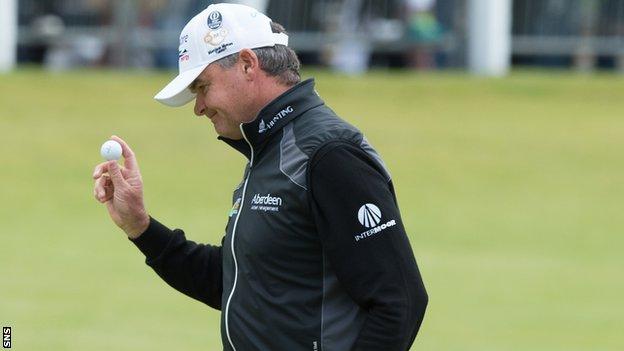 It may not have been the best round of Paul Lawrie's 23-year Open Championship career - the historic 67 in the misery and joy of Carnoustie in 1999 remains the day of days - but Thursday at St Andrews was pretty special all the same.
At the age of 42, Lawrie broke a record of sorts in his opening round at the Old Course.
His six-under-par 66 was his lowest ever score, to par, in the Open, better than his five-under 65 at Lytham in 2012 and another five-under 65 at Royal St George's away back in 1993 when he was just a pup on tour.
You can add caveats until the cows come home. St Andrews was flat-calm for the bulk of his round. It was soft and gentle and as vulnerable as can be. Of course it was. But the quality of Lawrie's golf was wonderful. More wonderful, indeed, than the vast majority of the field.
Lawrie's tournament wins

Catalan Open (1996)

Qatar Masters (1999)

Open Championship (1999)

Dunhill Links (2001)

Wales Open (2002)

Open de Andalucia (2011)

Qatar Masters (2012)

Johnnie Walker Championship (2012)
That's how you measure what he did out there. He played one group behind the Masters and US Open champion, Jordan Spieth, and he beat the hottest player in golf by a shot.
Finally, here was an 18-hole round that did not involve a post-mortem about beautifully struck putts that just refused to drop. He has sung that tune so many times over the last 18 months that his regular followers could start humming it long before he opens his mouth.
Not on Thursday, though. Pretty much everything dropped, including a bunker shot on the second hole that sent him on his merry way. At six-under he is sitting pretty and awaiting Friday's anticipated meteorological Armageddon with a smile.
"I holed the bunker shot on two and that tends to jump-start you a wee bit," he said. "I've been feeling it [my game] getting better for quite a while. That was more my vibe."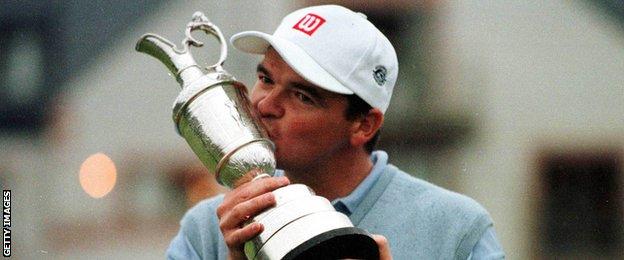 It was Lawrie at his most confident and most ruthless, a lesser-spotted animal since 2012, when he was a double-winner on the European Tour and an important part of an immortal Ryder Cup team at Medinah.
The Old Course, in the vernacular, was get-at-able and Lawrie reeled off three straight birdies from the par-5 fifth from a combined distance of nine feet. His wedge was as hot as his putter. On the ninth he chipped and putted for another birdie - four in five holes and out in 31 shots.
"I put a new grip on my putter and pretty much every chance I had I took," he said. "That hasn't happened in a while. I don't think I missed one from inside 12 feet."
Lawrie birdied the 12th and 13th to move into a share of the lead with Dustin Johnson on seven-under. He strolled down the fairways like he was playing with his boy, a friendly game with nothing riding on it.
The serenity did not change even when he got into a bad spot to the right of the 14th hole. It was a par-5 and he had to get up and down from the rough 123 yards from the flag. He did it with ease.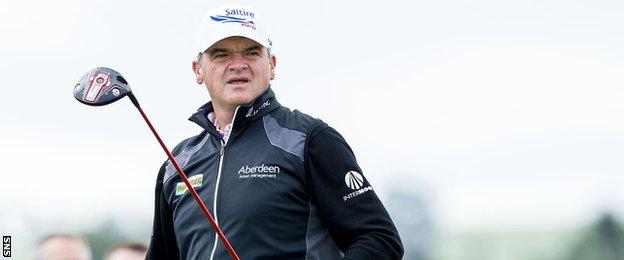 "It was just an ideal wedge," he explained. "Float it up into the air in the wind. It nearly popped in. These things come now and again. You get a wee break."
The Road Hole caught him and cost him a shot, but a par up the last put him a shot behind Johnson, a dream spot and more than he could have hoped for in his dreams. Not that he was euphoric. The temperament was calm, the realisation that once the weather comes on Friday all the good work could blow out of the window pretty quickly.
"I don't wish for it [the expected wind and rain in round two] but when it does come there's not much you can do about it," he added.
"You've just got to play your game and do what you can do and shoot the best score you can shoot. Getting upset about the weather is going to cost you shots. My attitude is a little bit better. I tend to get on with it."
This time last year he posted a 79 at Hoylake. At this point two years ago he was stewing on a first-round 81 at Muirfield. You did not need to look at his scorecard to know that this was so much better. It was all there in the contented look on his face. This was a platform. A reason to believe.