Sandy Lyle recalls famous 1985 Open Championship win

By Tom English
BBC Scotland
Last updated on .From the section Golf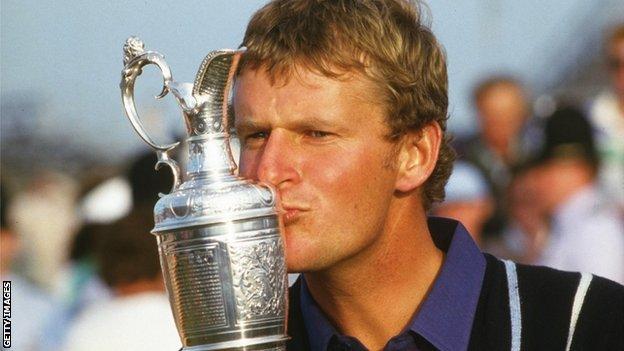 To look at Sandy Lyle in the opening round of the 1985 Irish Open at wind-battered Royal Dublin, there could not have been a single person watching who thought that greatness was imminent for the hapless Scot.
It was 30 years ago, but the memory of that day in June is pin-sharp in Lyle's mind, the hopelessness of the moment still capable of bringing a smile to the face of the 57-year-old.
"I was playing with Mark James and David Feherty and the wind was blowing severely," he recalls. "I'd just taken a five-putt on a hole and they were all giggling until it was their turn and they ended up with three-putts and four-putts. It was a bit of an interesting day.
"I got to the 18th hole and I had to make four to break 90. I hit my second shot and it was a semi-shank, out of bounds. I ended up with a 94. I put the white flag up and said, 'There's no hope, no point in coming back tomorrow'. The Open at Royal St George's was about three weeks away."
That was where history was made, that summer three decades ago. Lyle was 27 years old and already a winner. He had 10 victories and two European Orders of Merit to his name, but no major championship.
He'd had a sniff at the Open in 1982 at Troon, beginning his final round only two behind the leaders but ending it three behind the winner, Tom Watson. There'd been no British winner of the Open since Tony Jacklin in 1969, no Scottish major winner since Tommy Armour in 1931.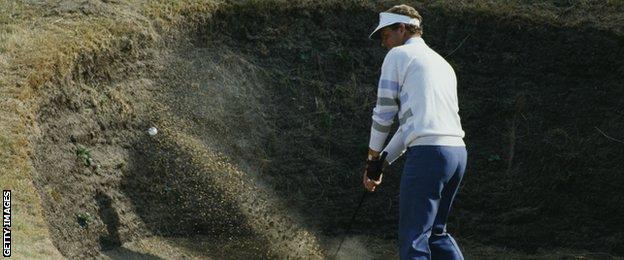 You might say that the history was a burden to Lyle but it wasn't. Not when you're carving up Royal Dublin in the 90s less than a month before. Lyle was a 28-1 shot going to Sandwich. The smart money was on the new Masters champion Bernhard Langer, the reigning Open champion Seve Ballesteros and the thrusting Australian Greg Norman.
"I changed my schedule after the Irish Open and squeezed in a few events that I hadn't planned on playing, in places like Monte Carlo," Lyle explains. "I got a bit of confidence back in those tournaments.
"That week I got a new driver. Well, it was new to me. It was an old McGregor driver that had been passed down from Eamonn Darcy, who couldn't hit it, to Ian Woosnam, who couldn't hit it either, so I adopted it and re-shafted it. It took two days to get it done in those days.
"The experience of driving the ball a little tidier gave me a bit of hope. If you can drive the ball well at the Open, particularly round Royal St George's, then it's half the battle. I drove it well all week and that really spurred me on."
The story of the hand-me-down driver was illustrative of an era before equipment trucks occupied vast terrain at golf championships responding to every cough and splutter from the main men.
And here is another. Lyle spoke of the closeness of the guys on tour and how many of them used to travel together and stay together. There was intimacy back then.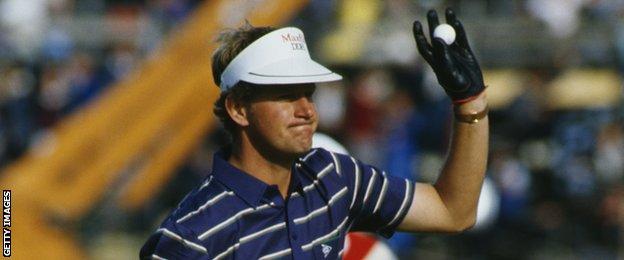 "We didn't have our own cars and drivers and I didn't fancy driving a hire car in Spain, or wherever, so I was happy to take the tour bus," Lyle says.
"There were courtesy cars available at tournaments but there was a total of about 14 of them. It's very different now."
The backdrop to that final round at St George's was this: Lyle had a share of the lead after 36 holes but after 54 was three behind Langer and Australia's David Graham. Payne Stewart held the 72-hole clubhouse lead on three over par. Standing on the 14th tee, Lyle was also three over.
"I drive it in the left rough on 14," he reflects. "I'm just trying to survive out there. I'm on a stretch of holes where if you can play them in level par for those five holes you're really happy with yourself.
"So, in the rough off the tee and in a really bad lie. Not good. I could only advance it forward about 50 yards. I had 220-odd yards to go with a severe cross-wind. Missed the green on the right, pin high and then made the putt from 40 feet. Then I made a 12-footer for birdie on 15 and it started to hit me then.
"On 15, my playing partner, Christy O'Connor Jnr, was hitting four-wood into the green and I had a six-iron, which gives you some idea of the kind of power I had available to me at the time.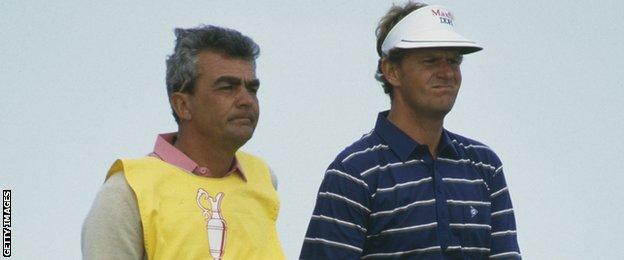 "After the 15th hole I really started to realise that I was close. I had a one-shot lead. Then it was a survival game in the last three holes.
"The heart-beat goes up a few ticks but I know what's ahead of me. I'm pretty good at that. I'm low key. I had a good caddie [Dave Musgrove] who said the right thing at the right time. It's all about the last three holes and I need to get in. I made a five-footer for par on 16, then on 17, a nightmare hole. I gave myself five feet for par again and made that one, too."
We all remember 18. The greenside pitch out of heavy rough that went up the bank and then back down towards him, a duff that saw him sink to his knees in the kind of angst-ridden display that was so out of character.
"You've gone through 71 holes of torture and you don't want to let it slip through your fingers," he says.
"The lie by the 18th green wasn't good and I could barely see the ball. It was a risky shot and I had to get it close for a four. I know if I can get in the clubhouse on one over that I will have a chance of being in a play-off. I didn't know that Langer and Graham were behind me having trouble on 16.
"The frustration came out after I played the pitch. I thought I'd probably lost it by one. I'd have been happy for a play-off given a chance. I waited for about 35 minutes and four seconds for Bernhard and David to finish. It was a day that changed my life. I've got it on VHS tape. I'll watch it the odd bit here and there. It's nice to be reminded of it."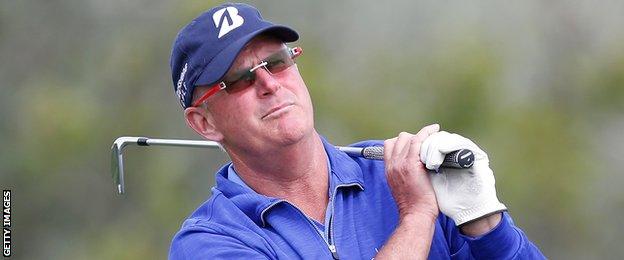 Lyle's golfing life today is a mix of Balquhidder in Stirlingshire and Ponte Vedra in Florida, a little of the main tour but mostly the seniors circuit, a world that continues to frustrate him.
"I thought I might have had four or five wins by now, but it hasn't happened," he explains. "I'm still enjoying it."
He's had his disappointments. No Ryder Cup captaincy for a start. "I'm over it, 100%," he insists. "I can't rely on Ryder Cup captaincy to be the best thing in my life."
His relationship with Colin Montgomerie remains non-existent in the wake of Lyle's comments in 2009 about Montgomerie's "form of cheating" at the Indonesian Open in Jakarta in 2005.
"No," he says when asked if there is peace between them. "We just get on with our lives. We don't send each other any Christmas cards, put it that way. I'm open if he wants to talk about it but he's dealt with it in his way and we get on with it.
"I virtually park 10 feet from him [on tour in America] because we all have our own parking slots and they're in alphabetical order and L is pretty close to M. There'd be eye contact, a nod, no warmth."
He returns to happier times, 30 years this month. One memory? "When I slumped down and headbutted the ground on 18," he says.
"I was muttering a lot of swear words there, but nobody could see or hear what I was saying."
A dramatic and ultimately joyous moment in the life of a champion golfer, but more than that, a very good man.
You can listen to Sandy Lyle in conversation with Tom English on BBC Radio Scotland at 18:03 BST on Saturday 18 July