Open 2015: Marc Warren cool and calm as he climbs leaderboard

By Tom English
BBC Scotland at St Andrews
Last updated on .From the section Golf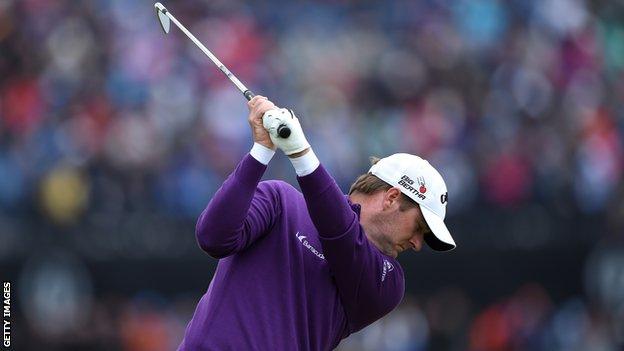 144th Open Championship
Venue:
St Andrews
Dates:
16-19 July
Coverage:
Live on BBC TV, Radio 5 live sports extra, Red Button and Connected TVs from 09:00 BST, Radio 5 live from 10:00 and tablets, mobiles and app from 06:30.
It was in the depths of the deluge at St Andrews that sport, in all its unpredictability, was revealed anew.
Marc Warren was standing on the putting green, soaked, cold but steeled for the challenge ahead.
It was 06:46 BST when the klaxon sounded on the Old Course to signal a delay in play in the second round of The Open Championship.
Warren was on the putting green at the time, hoping against hope that the suspension would come but sure in his own mind that it wouldn't.
The reprieve, like the rain, was a God-send. "It was going to be a tough morning if you had to go out and play in those conditions," he said, after posting a 69 to go with Thursday's 68 for a seven-under-par total that put him in a heady position on the 36-hole leaderboard.
"The wind was up, which is kind of unusual at that time of the morning," he explained. "I was trying to stay as dry for as long as I could. To be honest, I didn't really think the rain was going to stop play. I'd just started my warm-up and I got to take shelter for a couple of hours. I was delighted we didn't have to go out in it."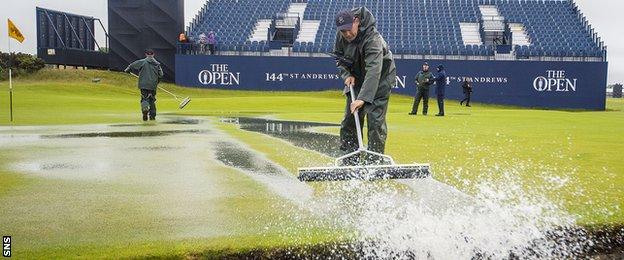 Instead of going into battle, Warren retreated to the warmth of the players' lounge and then went to the car, watched the American television programme Everybody Loves Raymond on his computer and fell asleep.
By the time he was back on the tee, three hours had passed and so had the biblical conditions. Now, the Old Course was wearing a different face, a kindly demeanour with the wind at the players' back on the outward nine and then, hey presto, switching to a crosswind on the inward nine instead of blowing into their face, as they had anticipated.
Coping with a crosswind is far from easy, but it's easier than blasting a three-wood off the deck and not making it as far as he would with a six-iron when the weather was calm, as happened to Zach Johnson on the Road Hole on Thursday.
"We got lucky," said Warren, later. "We got very lucky," chimed his playing partner, Padraig Harrington, soon after.
Good fortune is one thing, but capitalising on it is quite another. And this is where Warren excelled. Five birdies and two bogeys for that 69 was a fine score, especially since the last of the birdies came on 18, a feel-good three that put a smile on his face and a spring in his step.
Warren's karma is excellent. He rubs along with a patience and a coolness that has helped him to such a lofty height.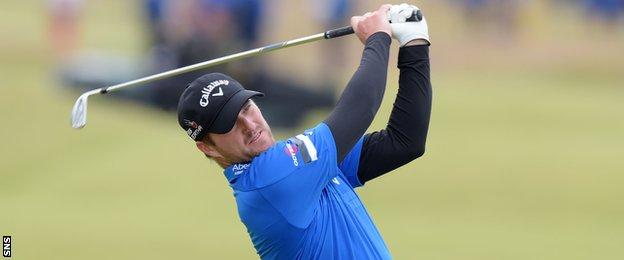 "I'm pretty relaxed," he said. "I know it's early days as far as the tournament goes. There's only two rounds gone.
"I'm really just relishing the opportunity ahead of me this weekend, enjoying the situation I've put myself into. This is a situation that everyone who has played golf as a kid dreams about. To live out at least part of that dream is pretty cool."
His back story is well known and is pockmarked by near misses, particularly in the Scottish Open, an event that has promised much for him and yet has been cruel in the endgame.
He looks a different animal to the one who fell so dramatically when within sight of victory at Castle Stuart in 2012 - Devon Loch in a sponsor's hat.
Warren's form has been solid for quite a while now. Good finish has followed good finish - at Gullane last week, at Chambers Bay in the US Open where he was tied for 27th, at Wentworth where he was top-20, in Malaysia where he was ninth and Qatar where he was second.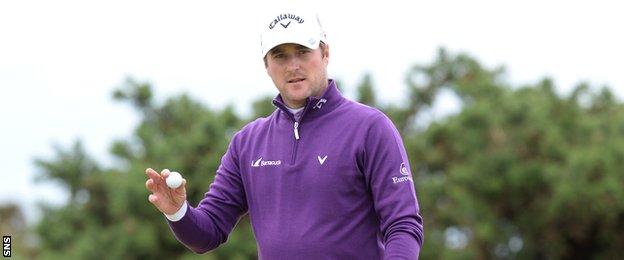 The Old Course, once a place that tormented him, has now, over the past couple of rounds, given him his two most memorable days in his major championship career. The first time he played a competitive round at St Andrews he shot 94 in a gale and left a broken man. Distant days.
The place put on its benign face once the storm blew over, but even so, he had things to deal with out there. Much of it involved him driving well, hitting good irons and displaying a subtle touch around the greens, but there were times when he had to scrap.
"On the back nine, it was gusting a lot," he said. "I had two or three putts where I was starting my backswing and I kind of got nudged over. I got pretty frustrated on 11, the par three. Eight iron should have been plenty of club, but I got a massive gust and it almost came back to me and I ended up making bogey.
"I'd got it to seven under and felt like I gave it straight back. I had to get myself in check a bit before my tee shot on 12 and I kept telling myself that it wasn't anything I'd done wrong, it was literally just the elements."
It's that kind of psychological strength that he will need over the coming days. A supreme golf game is only one of the tools he's going to require on the weekend. A strong mind is needed, too, as the pressure mounts.