The Open 2015: Tom Watson's moving farewell lights up St Andrews

By Tom English
BBC Scotland at St Andrews
Last updated on .From the section Golf
In the disappearing light of Friday night, six minutes before 10pm, Tom Watson struck his final putt in The Open Championship.
After 40 years, 130 rounds and five Claret Jugs, the great man holed-out for the final time in a championship that will be synonymous with his name long after all those who lined the fairway and surrounded the green are dead and gone.
Watson finished bottom of the leaderboard but said it was "a time for joy, not sadness". He didn't shed a tear because there was nothing to cry about. His memories evoke smiles not regret, he stressed. "The fans were so appreciative and their applause made me feel very humble."
It wasn't the farewell he or his legion of followers would have wanted - a grind in the dark, a dash to beat the light if not the golf course.
The golf course won - Watson carded an 80 for a 12-over-par total - but he won enough in his time. More than enough. More than anybody in the championship's history, except for Harry Vardon who won six Opens and James Braid, JH Taylor and Peter Thomson who, along with Watson, won five.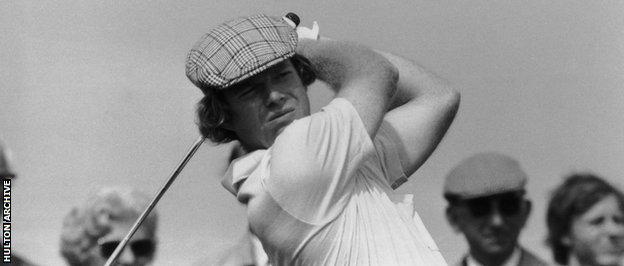 When he sat down to talk, he told a story about Bobby Jones walking that same 18th fairway that he had just walked. "About halfway up, just across the road, I'm looking all the way up the right side and then to the back and the road is all jammed with people. And I thought of the story about Bobby Jones.
"When Bobby Jones won the Grand Slam, he came back and played a friendly here. I'm not putting myself in the same shoes as Bobby Jones but walking up that 18th fairway, as the legend goes, he was engulfed by thousands of people who had come out and heard that he was on the golf course.
"When I was going up there, I think I had an inkling of what Bobby Jones probably felt."
He has given us such drama, but as night fell over St Andrews this was tension of a different kind. It centred around whether Watson could complete his round and say his goodbye amid the camera flashes of Friday rather than in the cock-crow gloom of Saturday morning.
Some groups behind him had already called it a night, but Watson, with Ernie Els and Brandt Snedeker, played on.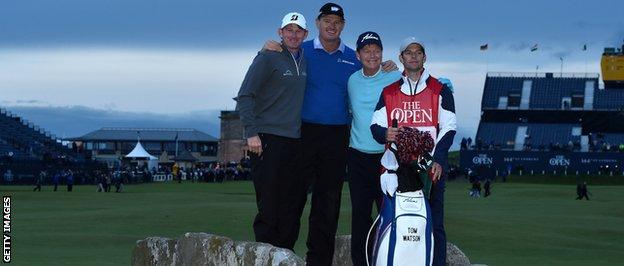 And if the finale didn't have the sound or the vision of Jack Nicklaus's farewell to the Old Course or Arnold Palmer's last stand, then it was still special in its way.
People came tumbling out of nearby pubs once word got round that Watson was going the distance. It was a different kind of relentlessness than in his halcyon days at Carnoustie, Turnberry, Muirfield, Troon and Birkdale, but it was powerful.
Matt Kuchar, the American Ryder Cup player, hung around to watch. So, too, did Tom Lehman, a former Open champion. Graeme McDowell was there, too.
"Not a single tear," said Watson later. "My son (his caddie, Michael), almost cried. He almost cried on the 18th tee when I said no tears.
"I didn't know how I was going to feel walking across the (Swilcan) Bridge but I do know I looked up in the sky and I said I know there are a lot of other people watching me - a lot of loved ones. It was a special time."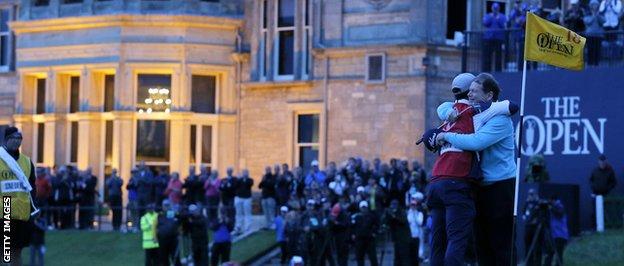 He mentioned lost friends and memories of a life in the game, checking himself towards the end and saying: "I know I've been rambling a whole hell of a lot. I'm sorry. I guess the emotion has taken a hold of me to a degree and I apologise for that.
"It's been one heck of a run. To be in front of you for the last time, I wish I could be a little bit more eloquent in what I'm saying."
In truth, it was a scene that required no words. The memories are quite enough.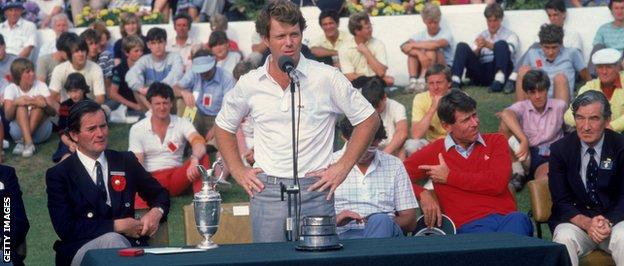 Listen to a tribute to Watson in BBC Radio 5 live's In Short programme.