Open 2015: Paul Lawrie a picture of calm amid St Andrews storm

By Tom English
BBC Scotland at St Andrews
Last updated on .From the section Golf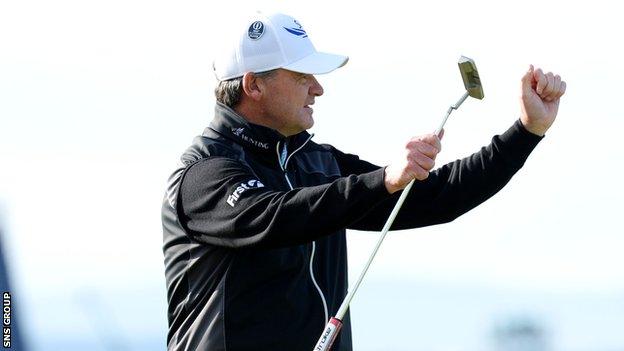 144th Open Championship
Venue:
St Andrews
Dates:
16-20 July
Sunday's coverage:
Live on BBC TV, Red Button, Connected TVs, radio, online, tablets, mobiles and the BBC Sport app
Paul Lawrie's serenity remains intact at the halfway point of The Open Championship, his mood and his position high up the leaderboard unaffected by a 10-hour weather delay and a wise guy in a magazine.
The Aberdonian is eight-under par after 36 holes, with only England's Danny Willett and America's Dustin Johnson ahead of him.
He is playing his best golf at this exalted level in many years, but if his game is on a high his temperament is on a more even-keel. Lawrie's not getting carried away. He says he's staying in the present rather than dreaming about a victory that might never come.
The magazine guy? Well, that was an article in an American organ that was brought to Lawrie's attention as he holed-up in the players lounge during the interminable wait for the wind to ease. It was another cheap shot - yawn - about the highpoint of his career, his win at Carnoustie in the 1999 Open.
"Paul Lawrie won at Carnoustie in 1999," wrote a genius in Golf World, "but he was handed his silver jug on a silver platter and without wanting to downplay his achievements, it should never have happened - he hasn't finished higher than T26 at the Open since."
Lawrie said on Twitter that it was "nothing new to me" and that he has had to read "that crap for years" adding #nameonjug. He expanded on it after his second 70.
"There's obviously been quite a bit of it since it happened," he said. "Come on, I mean, it gets a bit monotonous after a while. That was a particularly poor article in my opinion. But now and again you are going to get boys who want to write something and make it a bit controversial. You move on. No big deal."
The Scot doesn't need to bother with such things, not when he's sitting joint-third in The Open and has the support of so many in the galleries. His ovations from hole to hole left an impression and he thanked the supporters later. They spurred him on.
It had been such a brutal day, a day of controversy in the early morning when play was allowed to begin only for balls to start moving on greens.
One player, the American Brooks Koepka, refused to putt on the most exposed hole on the golf course, the par-3 11th, the scene of oscillation and vacillation as the match referee asked Koepka to carry on and Koepka said he wouldn't, not while the wind was gusting at 40mph and his ball was moving every time he tried to place it.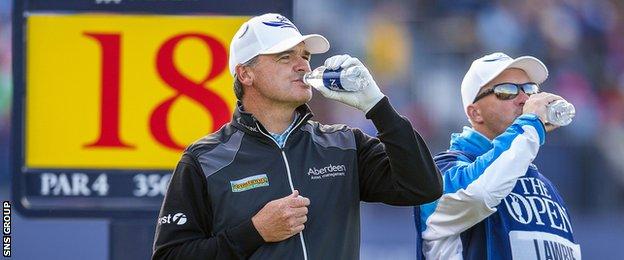 That treacherous 11th was a particular problem - a problem that the R&A claimed not long ago that they had fixed - but Lawrie was fortunate that he'd gone further than 11 before play finished on Friday night. He'd made it as far as 13 in a group behind Johnson and Jordan Spieth.
We mention Lawrie's calmness because up ahead of him, in the half-hour's play before it was called-off for 10 hours, there was a little rancour.
Johnson was the victim - but hardly the only one in the shambles of early morning - of a gust hitting his ball and contributing to a dropped shot. Spieth muttered that play should not have begun in the first place. The entire field agreed with him. Some expressed shock that the R&A made that call.
Lawrie carried on in his own sweet way, meeting each challenge with a series of putts that have kept him in a bold position in this championship. "To grind it out when you're not at your best is one of the most important things that we do," he said.
"When I went back out (after the delay), I was about 30-35 feet behind the pin at 14, down the slope and I putted it to three feet. The wind was still whipping a wee bit, so I hit a lovely putt for par there and then on 15 I left it about eight feet short and knocked that in, in a crosswind.
"On 16, I've hit a nice second shot just short of the pin and misjudged the speed up the hill but holed a good three-footer for par there. So putts like that make the difference. I could easily be sitting here on 5-under and not 8-under, so that's the positive thing. These putts are hugely important if you're going to win tournaments."
Winning is not a notion he would entertain on Saturday night. "I haven't really thought that far ahead," he said. "I've always prided myself on 'you are where you are' as opposed to where you would like to be. There's 36 holes to go. There's a lot of world-class players in there. If you start getting ahead of yourself you start making mistakes and tripping up.
"All I'm thinking about is getting on the first tee on Sunday, picking my line and making a good swing. Then you move on. I know it's boring, but as soon as you start dreaming about things is when disaster happens."
So far, so calm.