Open 2015: St Andrew's theatre set for thrilling finale

By Tom Fordyce
Chief sports writer
Last updated on .From the section Golf104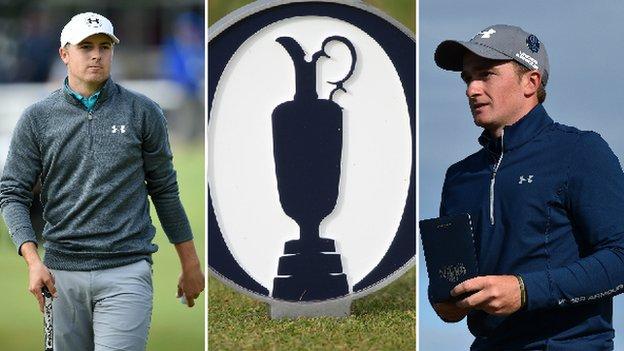 Early on the morning of the third round of this Open, after three days of rain and wind and false starts, not just the skies grey but seemingly every player decked out in the same dispiriting colour, St Andrews was a coastal town from a Morrissey lyric: wet sands and lonely seagulls, anoraks and damp socks, every day like Sunday.
Which just goes to show that golf is a sport that develops at its own sweet pace and can carry you along like few others. From such a downbeat dawn sprung one of the great days of Open entertainment, a thriller with multiple twists and plot-lines, a drama that could yet end in fairytale or fresh history.
It ended with a three-way tie at the top of the leaderboard, 14 men within three shots of that trio, 25 men within five shots of the lead.
At one point, midway through the afternoon, there were six joint leaders and 23 within two shots of the leader, explosions of cheers and gasps of dismay rolling in from different corners of the Old Course as men charged up the leaderboard and fell away again as others came cantering through.
Everywhere you looked was a story, each gripping enough to define an Open on its own but on this day competing with eight or nine others equally as alluring.
When 22-year-old Irish amateur Paul Dunne briefly led the field in the early holes of Thursday morning it had felt both charming and transitory.
"It's kind of a novelty thing for when I'm 70 years old," he said that night, "sitting in a bar, having a pint, maybe telling someone that I led The Open."
He is no longer a novelty, and it is no longer a story that needs to be saved until his dotage. After a six-under-par 66, Dunne will start Monday's final round in the final pairing, joint top of the field containing men with millions to their names, 12 shots under and aiming for more.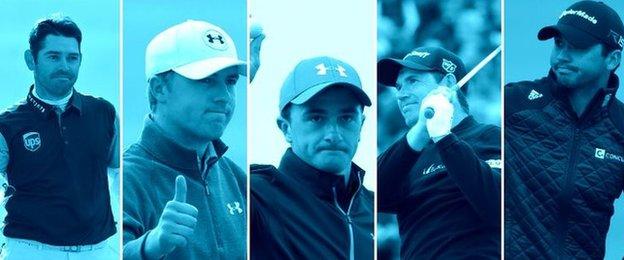 It was the joint-second lowest round by an amateur in the history of The Open, the lowest ever round by an amateur at St Andrews and the first time an Open amateur has hit three rounds in the 60s.
The last amateur to win the Open was Bobby Jones in 1930, but that is to underplay the differences between the eras. Jones was an amateur with a professional's talent and preparation. Dunne is a man who could win £1m and have to hand it straight to the bloke he beats.
Quite who might end up with their hands on the R&A's cheque is almost impossible to predict. All that can be said with any certainty is that the Championship's fifth day will feel like anything but an overspill or afterthought.
No Englishman has won the Claret Jug in 23 years. Shortly after 17:00 BST, 27-year-old Sheffield lad Danny Willett made successive birdies to take the outright lead. This being the snakes and ladders Open it is, he then went out of bounds with his tee shot on 14 and slid back down to join the chasers.
There were the expected heroes: 21-year-old Jordan Spieth, on Scotland's exposed east coast looking to become the first man since Ben Hogan in 1953 to win the first three majors of the year, contending in an unexpected way - grumpy at the gales on Saturday and slow to start on Sunday, then igniting a charge with birdies on the 10th, 11th and 12th for a round of six under and a start on Monday just one shot off the lead.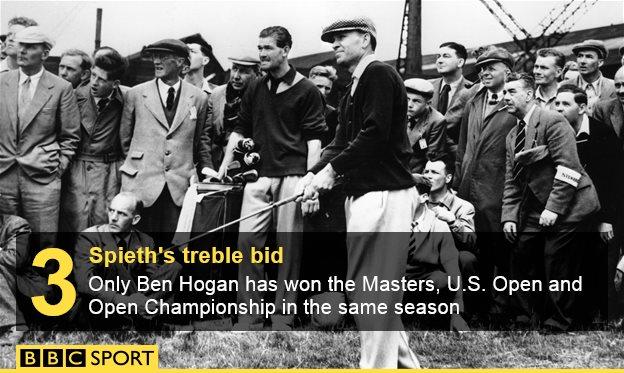 There were those forgotten or presumed lost: Padraig Harrington, champion in consecutive years back in 2007 and 2008 but out of the world's top 100 and so out of that old form that he has missed 11 cuts in the first seven months of this year alone, seven under for the day and a single shot further back.
There are the great redemptions: joint leader Jason Day, runner-up three times in majors, with four top-10 finishes in five starts at the US Open but never the bridegroom, back from the awful vertigo he suffered at Chambers Bay to look down again upon his rivals, his compatriot Adam Scott - as if Australia needed any more sporting success on British soil this week - nine under, ready to rid himself of the memory of three years ago at Royal Lytham & St Annes, when he led the Open field by four shots with four holes to play in the final round only to bogey all four and handing the Championship to a bemused Ernie Els.
And still they keep coming - Louis Oosthuizen, champion last time the Open came to St Andrews, finding three birdies in the last five holes to be the third man atop the pile; his fellow South African Retief Goosen, three shots off that lead, hoping at 46 years old to become the oldest Open champion of all time, older still than Old Tom Morris by 165 days, 24-year-old Englishman Eddie Pepperell, round in a 66 on Sunday that could have been a major record had his tee-shot not clattered into the Old Course Hotel on the 17th.
There is even a story in the sole man to fail, Dustin Johnson, who began the day as joint leader and produced a round that began slowly, tailed away and then collapsed under the weight of its own frustration.
At his last five majors the lugubrious American has been a cumulative 31 under for his first two rounds and level par for his last two, a man who finds both novel ways to slip out of contention (penalty strokes for grounding his club in a bunker) and the tried and tested, bogeying the last three as many have before and many will since.
This being St Andrews, it was all played out on a set that has inspired many but never once been truly replicated: sea breezes and gorse, long grass and mineshaft bunkers, undulations on the soft fabric of the fairways like a rucked-up tablecloth, punters piling out of the pubs in town to stand on each other's shoulders along Links Road and cheer their man home.
Dunne? The coolest kid in town, leaning on ancient truths on the links that gave the world the game.
"The golf ball just does what you tell it to. It just happens to be the biggest event in the world. Hopefully I can do it again, but whether I do or not, I'll survive either way."