Walker Cup 2015: Open proof of Ashley Chesters' temperament
Last updated on .From the section Golf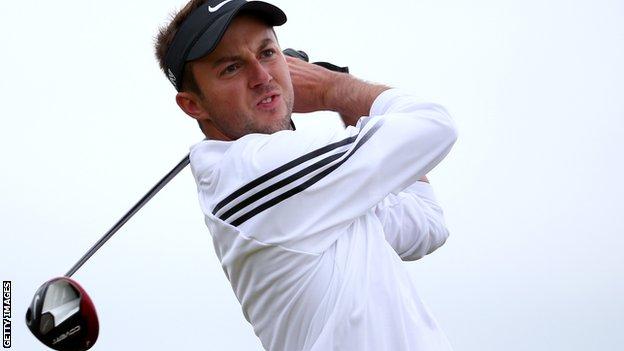 Ashley Chesters says his experience at July's Open Championship will help him to handle the pressure of playing in the Walker Cup at Royal Lytham & St Annes.
He will turn professional following the biennial meeting of Great Britain & Ireland with the United States.
"I proved at The Open I can play well in front of large crowds," he said.
"Once you get used to the crowds and the noise, you just blank it out. I've played in two Opens and the second time was a lot easier.
"The experience I got from that would have been a big part of being selected for this. Although, this will be different," Chesters told BBC Radio Shropshire.
"You've got nine other people in the team. It adds pressure, knowing you've got nine players depending on you."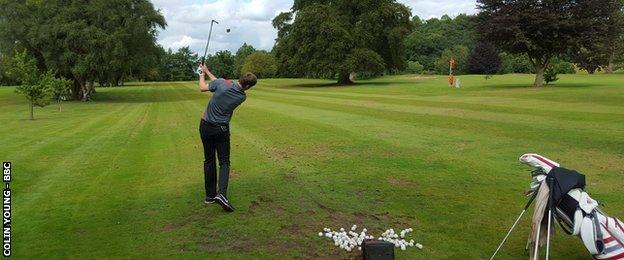 Chesters celebrated his 26th birthday between the end of the Open on 20 July and the commencement of the Walker Cup on Saturday.
He will enter the professional ranks hoping to receive some invitations to play before this season ends, in a bid to earn his European Tour card other than by having to attend Tour School.
"It'll be the last thing I play in as an amateur," he confirmed.
But those end-of-season Tour invites could be made even easier to come by if he can perform well at Lytham, emulate the Great Britain & Ireland team that beat an American side including Jordan Spieth at Royal Aberdeen in 2011, and help his team-mates reclaim the 93-year-old trophy lost on Long Island to the Americans two years ago.
144th Open Championship's amateur legacy
Ashley Chesters was one of four amateurs to finish in the top 30 at St Andrews. Three of them were in the Top 12, the first time that had happened in 100 years.
Chesters finished on nine under, six shots behind the trio who went into the four-hole play-off eventually won by Zach Johnson. That was the same mark as American Oliver Schniederjans, who is not available this week.
Two shots better off was the American who is playing at Lytham, Jordan Niebrugge, who tied for sixth. And one of Chesters' Great Britain & Ireland team-mates, Irishman Paul Dunne, eventually finished tied for 30th after memorably going into the final day with a share of the lead.
Chesters told BBC Sport: "I can't remember an Open in which three or four amateurs figured so high. Whether it's a one-off or something that happens regularly from now on, I just don't know.
It's a thin divide between success and failure. Last year I missed the cut by a shot and I was only three shots different this time.
"All I know is it took a couple of days to fully sink in. I woke up that Tuesday morning and thought: 'Did I really finish 12th in the Open?"
Dunne told BBC Sport: "You just can't buy experience like that. Amateurs have the capability to shoot the scores. It's whether we can do it all four days. I had the ability to score 68 round there in the final round, which would have won it for me, but it's another thing going out and doing it.
"I didn't sleep as well as I hoped to, as all sorts of things were going through my head. I'd love to have gone straight from the 18th green on Sunday to the first tee on Monday without all the waiting.
"In the first three rounds I went out with the attitude to not let the fear of playing bad golf get in the way. On the final day, I was not pushing to play well, I was trying not to play badly. That was the mindset which changed but that's what I can learn from."
The Walker Cup format
Saturday:
Four morning foursomes, eight singles in afternoon.
Sunday:
Four morning foursomes, 10 singles in afternoon.
Winners:
26 matches to be played in total. The USA need 13 points to keep the trophy. Great Britain & Ireland must get to 13.5 points to reclaim the trophy.
Previous winners:
The Walker Cup has been contested 44 times since the inaugural match on Long Island in 1922. The USA have won 35 matches, while Great Britain & Ireland have won eight times, most recently at Royal Aberdeen in 2011. The 1965 match at Baltimore was tied.