Asia needs its own Solheim Cup for golf to reap rewards

By Iain Carter
BBC golf correspondent
Last updated on .From the section Golf124
Apart from further confirming Inbee Park as the world's top female player, the Women's British Open highlighted a need for a more imaginative approach to the game.
The Korea-born Lydia Ko (fourth) has New Zealand nationality and Minjee Lee (ninth) represents Australia, but both are also emblems of Asia's ability to produce great golfing talent.
But what is the women's game doing to capitalise on this fact? Not enough when you consider the disjointed strategy that prevails.
A couple of years ago a fifth major was added to the calendar, and it would have been a more understandable move had it been an event staged in Seoul or its surrounds.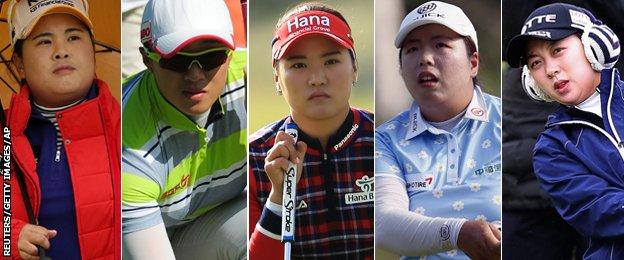 But no. All that happened was an elevation in status of the Evian Championship - an important and historic tournament, but one that now dilutes the lustre of the more established majors.
The move was made to satisfy the demands of sponsors but took little notice of what is happening in the world game. If there was a need for a fifth major, it was surely for one to be taken to the growing Asian heartland of the women's game.
Now we have a muddled situation. Park is claiming a career Grand Slam with her Turnberry victory, after all her name is now on all five major trophies - the British Open, the US Open, ANA Inspiration (formerly Kraft Nabisco), the Women's PGA and the Evian.
But when she won the Evian in 2012, it was a year shy of being accorded major status so is arguably a Slam with an asterisk until she repeats her success at the French tournament with the picturesque venue.
There is an even bigger issue in the women's game to be addressed, though - to fulfil the obvious need for a team format that makes the most of Asia's position of superiority.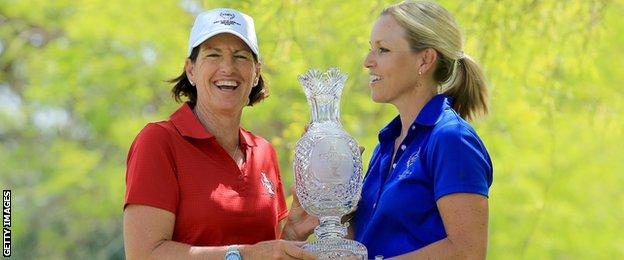 The Solheim and Ryder Cup clashes that pit Europe against the United States showcase golf in its most exciting form. There is no need to change the Solheim Cup but there must be a meaningful contest that includes an Asian women's team.
In non-Solheim years there would surely be a market for matches that follow the proven format used for the intercontinental contests that are such highlights of the women's and men's schedules.
Next month, Europe will be looking for an unprecedented third consecutive Solheim victory against the US when the two teams meet in Germany. We are now into the final phase of qualifying that will provide a focus to the coming weeks.
With a degree of imagination, there is no reason why next year we couldn't be reflecting on a scramble to make the European team to take on the might of Asia. And just imagine how competitive the fight would be for a place in the Asian team.
This qualifying process and the matches themselves help generate characters with whom the watching public can connect. Interesting narratives suddenly take on a more compelling hue.
This type of exposure for the ladies' game would be a welcome addition to the creative attempts being made by the authorities in Britain to attract more girls to the game.
If Europe and America were to alternate as opponents it would be a match that would come around once every four years for them, while it would be a biennial contest for Asia.
It needs to be a trophy the players are desperate to win and, if properly marketed, it would be an event to anticipate in the way we look forward to Ryder and Solheim Cups.
This week, Europe's leading players are meeting in Germany with captain Carin Koch ahead of their Solheim defence. It is a big deal, and Koch knows she will have tough decisions to make over her four wildcard picks.
The situation is more demanding for American skipper Juli Inkster as she seeks the formula for a first US win since 2009. There was little encouragement for her at Turnberry, with not one American in the top dozen finishers.
Past five Solheim Cup winners

2013

Europe

2011

Europe

2009

United States

2007

United States

2005

United States
This is in stark contrast to America's men, who are looking increasingly strong, as illustrated by their Olympic qualifying scenario.
This time next year golf will be back in the Games, and if the US side was selected now, the world number seven - Dustin Johnson - would not make it to Rio.
With a limit of four players per country, Johnson falls behind Jordan Spieth, Bubba Watson, Rickie Fowler and Jim Furyk.
Despite the wane of Tiger Woods, America's men are on the rise and will provide Europe with their most formidable opposition since the 1990s at next year's Ryder Cup.
It illustrates the cyclical nature of the sport - but in the women's game, Asia is firmly in the ascendancy. It provides opportunities that shouldn't be wasted.