John Daly out of hospital after collapse on golf course
Last updated on .From the section Golf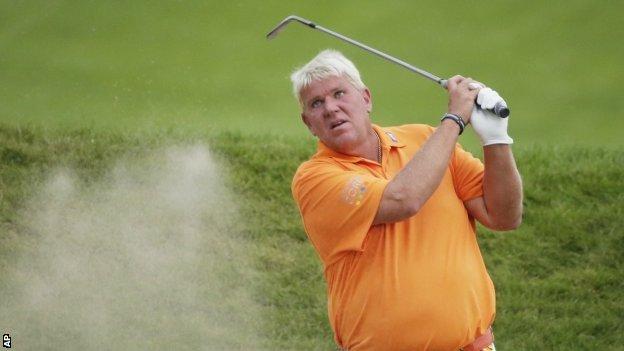 Two-time major winner John Daly is out of hospital after collapsing during a minor tournament in the USA.
The American, 49, was checked over by doctors who diagnosed a collapsed lung.
He returned to playing less than 24 hours later and, according to the Associated Press, was smoking cigarettes on the clubhouse patio.
Speaking about Saturday's health scare, Daly said: "I was having a great time and then suddenly - boom - I'm falling down while on the 18th tee."
He added: "The next thing I know I'm in an ambulance. It was scary."
He later tweeted: "Still very sore and dealing with the issues from my rib injury in 2007 that has caused me a lot of pain. Looking forward to seeing everyone soon!"
Daly's right hand was heavily taped on Sunday, and he said he hurt it while putting a new tyre on his son's golf cart earlier in the week which indirectly led to Saturday's problems.
"I had to change my swing some to get a good grip and the doctor said the changed motion is likely what led to the collapsed lung," Daly added.
Daly won the US PGA Championship in 1991 and The Open in 1995.