Scottish Golf: New amateur body gets St Andrews launch

By Brian McLauchlin
BBC Scotland
Last updated on .From the section Golf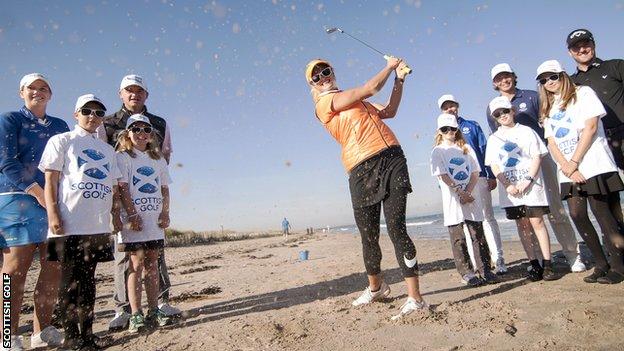 A new governing body looking after the interests of Scotland's amateur golfers is launched on Thursday at St Andrews.
Scottish Golf replaces the Scottish Golf Union, which administered the men's game, and the Scottish Ladies Golf Association.
One of the organisation's key goals is to increase club membership.
"The most important thing is to take advantage of the opportunity that now exists for Scottish golf," inaugural chair Eleanor Cannon told BBC Scotland.
"Work has been going on for a number of years, just working out how the organisations were going to amalgamate.
"We need to focus on golf as a family sport and need to make sure the clubs know how to make the most of their community offer and grow the game as a family perspective."
A number of golf clubs in Scotland still deny women the opportunity to join as members, but Cannon says this is no barrier and she hopes to work alongside such clubs to help them develop.
"There are many single-sex clubs in Scotland and they are some of our strongest clubs and I applaud that," said Cannon.
"These clubs have memberships queues to get in and I don't see that as being a barrier at all. If people want to join a single sex club, they can.
"I can't imagine being in a club where I couldn't enjoy the banter with my other half and all of his friends in the pursuit of the sport that we love."
In February, members of the SLGA backed the creation of the new body by an overwhelming margin of 204 to 0 at their annual meeting.
The amalgamation proposal was then voted through unanimously by all 16 area associations of the male-only SGU.