Bernard Langer says The Open Championship could see a senior player win

By Brian McLauchlin
BBC Scotland
Last updated on .From the section Golf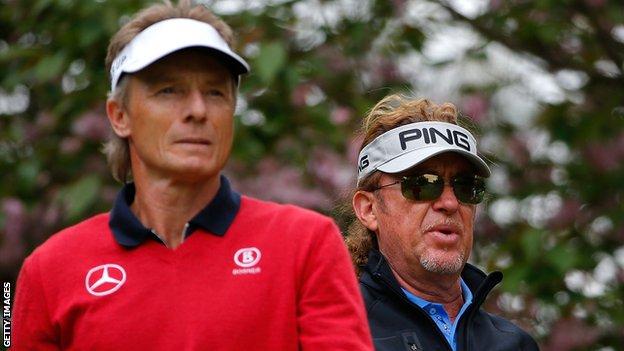 Bernard Langer says he feels a senior player still has a chance of winning a major tournament and insists The Open Championship is the most likely.
Langer has finished in second place at The Open on two occasions.
In 1981 he was four shots behind American Bill Rogers at Royal St George's and then four year later on the same course was one behind Sandy Lyle.
"The Open maybe more than any of the other majors." Langer explained.
"In terms of the US Open, they make the course extremely long. They turn par 5's into par 4's. Augusta has become extremely long and players have a huge advantage if they drive the ball far.
"As for The Open Championship there are a couple of venues that are long but you are battling the elements. You can bounce the ball in and a lot of these young guys now they don't shape the ball in. They just hit the ball high up in the air and try and land it soft.
"That is not what you need at The Open. So that maybe is the best chance for an over 50 year old to win."
This summer the 58-year-old will return to Carnoustie, which is the venue for this year's British Seniors Open and is where the German won his first seniors major title back in 2010.
The German says this win ranks very highly in his career.
"For me personally, it was a big win because my goal on the Champions Tour is to win major championships.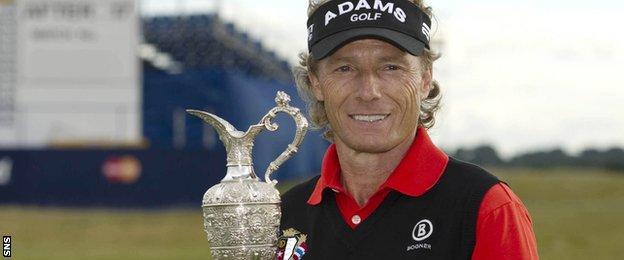 "It was always one of my goals to win the Open Championship and I have come close on a number of occasions but never was able to lift the Claret jug so this was basically the next best thing.
Langer is a two-time Masters champion and was in contention in this years event until a final round of 79 saw him finish in a tie for 24th place.
He says it was down to bad luck on the day why he drifted away from the top of the leaderboard.
"I played extremely aggressively on the Sunday," he said. "I knew I had to as I wanted to win the championship. I didn't want to finish 5th or 10th.
"You only get so many times to win a major so I played aggressive. I got very unfortunate bounces a couple of times. I hit a great shot into one and I missed my target on the first by a foot and a half and made bogey and missed my target on the third by a foot and a half and made double bogey.
"But that is the type of golf course it is. Sometimes you get punished if you are not hitting exactly the spot you need to."