Rory McIlroy to play alongside Tom McKibbin, 13, at Irish Open pro-am
Last updated on .From the section Golf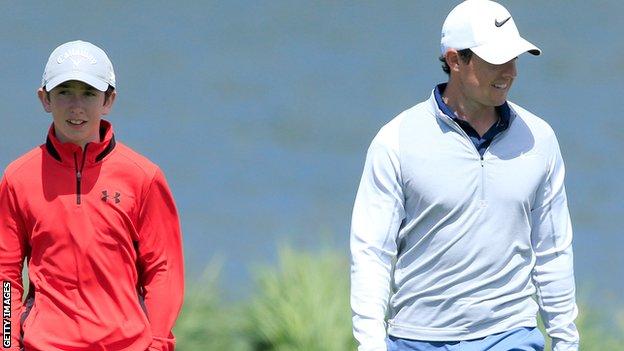 Rory McIlroy has invited Northern Irish teenage prospect Tom McKibbin to play alongside him ahead of the Irish Open.
McKibbin, 13, won the World Junior Championships in 2015, a tournament in which world number three McIlroy was victorious at the age of nine.
"Not only do I get a day off school, but I get to play alongside one of the best golfers in the world," said McKibbin, who takes part in the pro-am.
"I'm pretty excited. I've been practising as often as possible."
McKibbin, who comes from County Antrim, also won the Junior Honda Classic in Florida earlier this year.
Northern Ireland's McIlroy, whose foundation is hosting the Irish Open at the K Club in Dublin from 19-22 May, said: "I played a round with Tom in Florida recently and he is the real deal.
"At only 13 years of age, I think he has a remarkable golfing future ahead of him. Having seen him play a couple of times now, he impresses me more each time."
Never want to miss the latest golf news? You can now add this sport and all the other sports and teams you follow to your personalised My Sport home.