Matt Southgate: Cancer battle driving my career
Last updated on .From the section Golf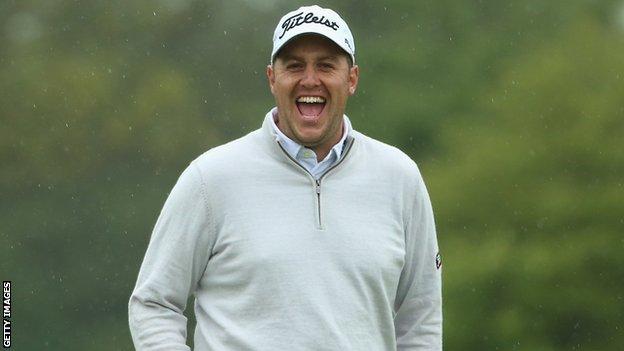 Matt Southgate says having testicular cancer gave him extra incentive to achieve success in his golf career.
"Playing in front of a crowd and hitting great golf shots, I just live for that," he told BBC Sport.
"[Cancer] opened my eyes to how much I really wanted to do this and that's why I got emotional when I finished. All that hard work paying off is the best."
The Englishman was actually on the reserve list for the event at The K Club, but "had a funny feeling" he might play and flew to Dublin last Monday, before getting a call the following day after a number of withdrawals.
After playing the final 10 holes in five under par Southgate, whose highest career prize money was previously €28,848 (£22,261), finished four shots behind winner Rory McIlroy to earn €200,000 (£154,340).
'I shouldn't have been out of bed'
Southgate had to play on the second-tier Challenge Tour last year while helping to look after his two-year-old niece, who is suffering from leukaemia.
But he was diagnosed with cancer in July and underwent surgery in the week of the Open Championship, before recovering in time to compete at European Tour qualifying school in the first week of October.
"It was all very quick. I just went to the doctors with a complaint. They sent me for a scan and the result didn't come back the way we wanted it to," he said.
"They didn't hesitate, got me straight into hospital and removed the right testicle.
"I had to try my hardest to just recover as quickly as I possibly could to get to tour school, because I shouldn't have been out of bed."
'I find it easier to smile'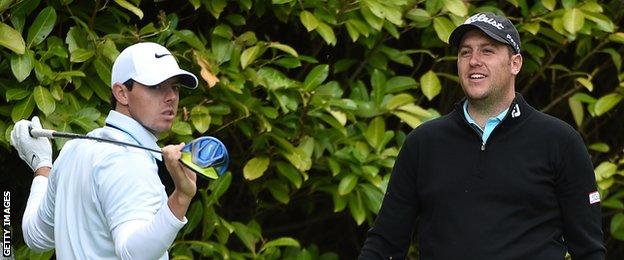 Southgate earned his tour card by finishing sixth at the final qualifier in Girona in November and the Irish Open was his 11th event on the main Tour.
He believes the cancer has given him greater confidence in his own ability.
"I definitely find it easier to smile on a golf course. I still get very angry with myself if I hit poor shots or things don't go my way, but that's what the game is all about - the game is frustrating and emotional," he said.
"It's helped me back myself to achieve things in my mind, whereas before I might be a little bit less confident.
"It puts golf into perspective, but it doesn't mean you take your foot off the pedal [in the sense of] 'life's in perspective and golf doesn't matter'."
Being an armchair viewer during last year's Open illustrated to Southgate how desperate he wanted to make it in the game - and how much he loves it.
He added: "I was heartbroken watching The Open last year when I couldn't play with my feet up in the air feeling sorry for myself.
"That proves how much it does mean, this game really matters to me, I love it with all my heart."