No R&A pressure on Royal Troon review on women members
By David Currie
BBC Scotland
Last updated on .From the section Golf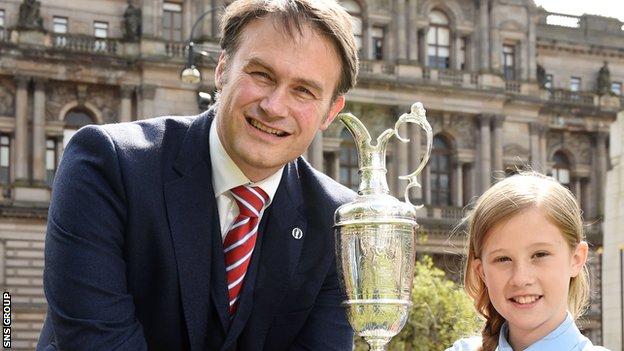 Royal Troon will have "time and space" to carry out a review on admitting women as full members, says Johnnie Cole-Hamilton of the R&A.
The Ayrshire club, hosting the Open in July, is consulting members over whether to end its men-only policy.
Last week, the R&A decided Muirfield will not stage another Open after maintaining its ban on women members.
"We look forward to the review," said Cole-Hamilton, executive director of championships at the governing body.
"But we must give them, as a private club, the time and space to carry out that review so they can do it thoroughly and professionally.
"Royal Troon has always been aware that our view at the R&A is that golf should be open to all.
"We take our role very seriously and are very protective of the game and the future of the game."
Cole-Hamilton also made it clear that his organisation will not be pressurising Muirfeld to have another vote on admitting women members.
"Muirfield carried out a review as they were perfectly entitled to do and they reached the decision they did. We were unequivocal in our response.
"It's a private club and it will be up to them but we'll always be watching and listening to them."
Turnberry not off Open rota
Cole-Hamilton was also asked about the future of Turnberry, which last hosted the Open in 2009 and has been owned by US presidential hopeful Donald Trump since 2014.
Last year, the PGA of America moved October's Grand Slam of Golf from Trump's Los Angeles course following his comments about illegal immigration.
"We've announced the Open venues until 2019, and I think we've been clear saying that in 2020 and 2021 it'll be in England or St Andrews, but there's no talk of Turnberry being off the rota.
"It's up to the championship committee to make that decision in due course."