The Open 2016: I fear nobody, I've already won the battle within - Soren Kjeldsen

By Tom English
BBC Scotland at Troon
Last updated on .From the section Golf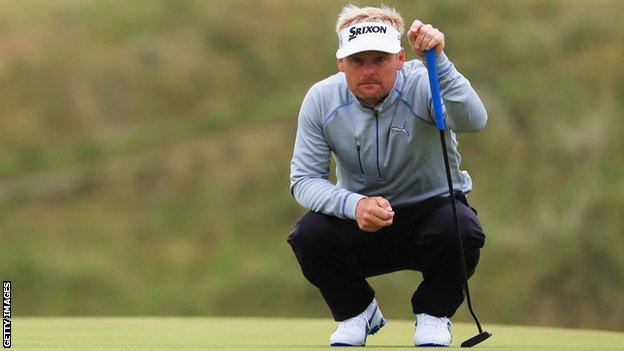 Soren Kjeldsen is in some serious company at the top of the leaderboard at the 145th Open Championship at Royal Troon.
The Dane does not have the star quality, or the major titles, of Phil Mickelson, nor the fantastic consistency of Henrik Stenson.
He doesn't have a Green Jacket or a Claret Jug, like Zach Johnson, or Ryder Cup memories, like Keegan Bradley and Patrick Reed.
What he does have, this diminutive 41-year-old from Arhus, is an incredible belief in himself and a wonderful way of explaining how he got to this point - on the tail of the leaders in a major that has brought him only pain and occasional embarrassment.
After signing for a second round 68 to go with his first round 67 for a seven-under total that brought him to within three shots of the leader at the halfway stage, Kjeldsen said he fears nobody in this field.
"I don't feel intimidated by anybody," he stressed. "I think I won the battle within and that was a tougher battle to win than against any other player."
You need to know something about Kjeldsen. Since the age of 11, he's written a synopsis of every competitive round he has played; the shots he hit, the feelings he experienced, the highs and the lows.
"I always thought it would be nice to have a library of thoughts," he told Golfweek magazine last year. "Sometimes you get times when you think, 'Oh, I remember that feeling, I think I had that in 2004 in Germany, I think I'll go back and have a look'."
This is a deep character. Deep, but fun; self-effacing and self-analytical. Some people tell him that, at 5ft 7in and a shortish hitter in this world of boomers, he's over-achieved.
He is, after all, close enough to make a bid for Darren Clarke's Ryder Cup team. A high-finish on Sunday and things will get very interesting for him.
"Yeah, people tell me I've over-achieved," he smiles. "And I'm married to Charlotte and I think I've overachieved there as well."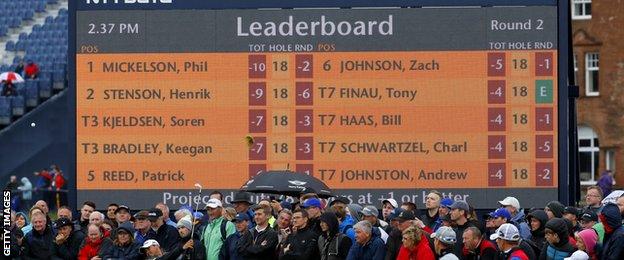 He talks about the 'battle with himself' through much of 2014 and early 2015, a run of tournaments that brought close to 20 missed cuts and just two top-20 finishes. It was a real catalogue of woe.
"Turning 40, you certainly heard that story about when people turn 40 it's downhill from there. My problem was mainly on the tee shots. You could probably call it a golfing midlife crisis. I just felt very insecure, really weak. I don't hit it a long way and, at the time, I was hitting it short and pretty crooked.
"There were times when I played with guys who were flying it 320 yards and seemed to hit it down the middle every time. You sort of wonder. The media always tell you that you need to hit it 340 yards through the air to win. I'm 41 and I hit it 280 and I try to make the most of it.
"You can get caught up in that. It doesn't matter if I'm playing with guys who are 6ft 4in and hit it 350. It's all about my ball and me. It's between the two of us.
"I look at most of the top players and they've all got something they struggle with. It doesn't matter how good you are, there's always a little 'if' in there. Everybody's fighting something. Back in 2014 and early 2015, the graph was going down. It wasn't going in the right direction at all."
In May of 2015, Kjeldsen finished ninth in Spain. That was the catalyst. He won in Ireland, was second in Sweden and made the top 10 five more times before the year was out. This year, he's had three more top 10s, including a seventh at the Masters - his best performance in a major championship.
The Open? Well, it's been cruel to him. Seven appearances before this one, four missed cuts and nothing inside the top 25. Thursday's 67 was his best-ever round at The Open. Friday's 68 was his joint second best.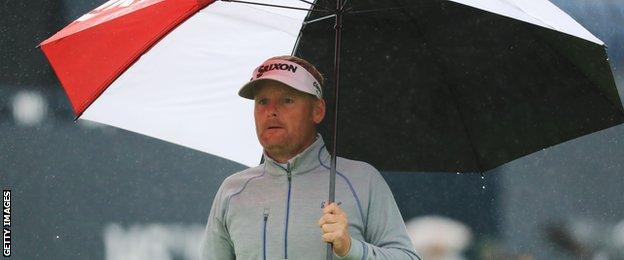 "The worst memory was at Birkdale [2008], I had a really good tee-time; 6.52am on Thursday. The rain came down so heavy that day. And it was so windy.
"I'll never forget walking off the 18th green. I'd shot 11-over [81] and thought I hadn't done too bad.
"There was a guy from the Danish media waiting for me. He was dry and I could smell the coffee on his breath. His first question was, 'What happened out there?' Generally, I'm quite polite. I said, 'Maybe you should try and walk outside the tent'."
These last two days have been the best of it. He says he sometimes watches Mickelson hitting wedge shots on YouTube because he finds his style of play inspiring, but he won't be cowed by him.
Does he think he can win? "I do, yeah. I can say that because of those years when I really struggled. Going from feeling so weak on the course to feeling so strong."
He might be a lesser light among the stars, but Kjeldsen is a danger, that's for sure.