US PGA Championship and Women's British Open deserve spotlight - Iain Carter
Last updated on .From the section Golf91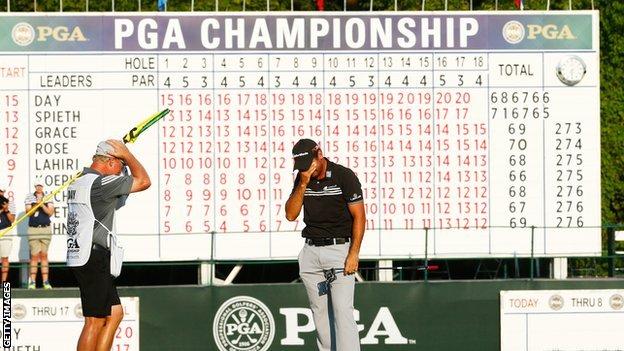 Growing up, you are told not to eat all your sweets at once; pace yourself to avoid a sick feeling and too many painful visits to the dentist.
This week feels as though golf is continuing a greedy raid on Willy Wonka's chocolate factory, with two majors to feast upon in the run-up to the sport's return to the Olympics.
All this in the aftermath of the tastiest and richest Open for years. However, inevitably, there is a chance it will come over rather queasy as a result.
The US PGA Championship at Baltusrol, New Jersey, and the Ricoh Women's British Open at Woburn are stand-alone events that should not be getting in each other's way. Both deserve their moment in the spotlight.
Brought forward a week to accommodate golf's place at the Rio Games, the US PGA provides the climax to what has been an extraordinary year in the men's majors.
Danny Willett's Masters triumph set the tone, Dustin Johnson dramatically carried the baton with his US Open victory at Oakmont, and Henrik Stenson produced arguably the finest golf ever seen at an Open in his epic duel with Phil Mickelson at Royal Troon.
Since Zach Johnson winning the 2015 Claret Jug at St Andrews, there has been a run of four consecutive first-time major winners. All of them are stellar international competitors; Australia's Jason Day rose to world number one with his US PGA victory last August.
Yet Day gets only a 51-week run as champion. That's not a vital issue, of course, but it does feel like the next major is arriving with indecent haste.
Surely, in the unique circumstances of the 2016 season, it would have been better to delay the US PGA until October to provide a fitting bookend to the year. It would also have allowed the women's game to enjoy a deservedly unfettered moment in the spotlight at Woburn.
There are a couple of reasons why such a move was not considered by the PGA of America. It does not want its championship competing for ratings with the NFL season and would want it to count significantly in the race for Ryder Cup places.
However, for the good of the game and, who knows, the possible betterment of the tournament regarded as the fourth biggest of the four majors, a move to the autumn might just have worked.
It would have allowed the summer schedule to breathe a little - to loosen its belt amid the feasting.
But it would have involved setting aside self-interest, which is something golfers and those who run the sport are traditionally loath to do.
Leading male players have pointed to the crowded schedule as one of the reasons for skipping the Olympics - along with Zika fears - and general apathy towards the sport returning to the Games.
A glorious opportunity is in danger of being squandered because golf did not do enough to convince its leading players of the huge benefits of Olympic status.
Persuading the sporting public, golf fans included, that the game should be part of the Olympic family was always going to take time.
The absence from Rio of Day, Dustin Johnson, Rory McIlroy and Jordan Spieth may mean golf has already lost any chance of winning that argument.
What a waste for a sport that has plateaued in its traditional heartlands, suffered lower crowd and viewing figures for a sensational Open and is desperate to expand into the fertile markets of Asia and beyond.
Last week's Canadian Open winner Jhonattan Vegas is in form that suggests he can contend for a medal in Rio. Imagine the impact in his homeland if he is responsible for the raising of the Venezuelan flag.
Expansion into new territories means new courses and infrastructure for future generations. The likes of McIlroy, Spieth and Day could easily cash in on design projects in places inspired by Olympic exposure.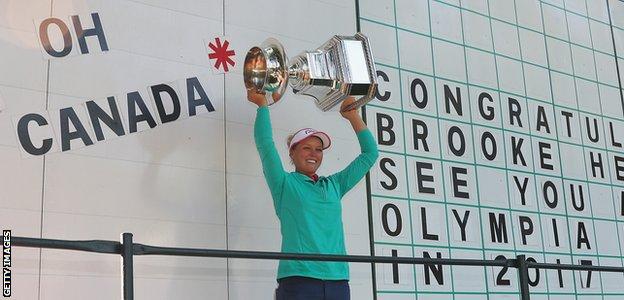 Instead there is a growing possibility that, beyond 2020, only the traditional four majors for the men and five for women will provide the sport's staple. The failure to seize this moment could cost its Olympic place beyond the Tokyo Games.
Certainly, this week's offerings, among the tree-lined courses of Baltusrol and Woburn, should be well worth watching for aficionados with insatiable golfing appetites.
Day, Spieth and McIlroy will be striving to make sure 2016 is not a major-less year (it would be the second in a row for McIlroy). Mickelson, meanwhile, will be keen to make up for his defeat by Stenson by repeating his 2005 US PGA triumph at the same course.
The burgeoning rivalry between 19-year-old world number one Lydia Ko and Canada's Brooke Henderson, who won the women's PGA Championship aged 18, sets the agenda in Bedfordshire.
There's also a decent prospect of home success after England's encouraging third place at last week's International Crown tournament, where Charley Hull, Jodie Ewart Shadoff, Holly Clyburn and Melissa Reid were beaten only by the US and Korea.
The team event is an innovative addition to the women's calendar and, thankfully, there is some forward thinking in golf at the moment.
As the European Tour's chief executive Keith Pelley recently told BBC Radio 5 live: "If you are not prepared to be innovative, not prepared to actually take chances, then I do believe the sports that aren't will fall behind."
It's a shame such an attitude did not prevail when the crowded 2016 summer schedule was drawn up.
After all, golf should have much to smile about. The problem is you become reluctant to do so when your teeth are rotten.
We've launched a new BBC Sport newsletter, bringing all the best stories, features and video right to your inbox. You can sign up here.